Strawberry chicken salad is light, full of delicious juicy strawberries and tossed with a homemade strawberry dressing. It's the perfect essay meal prep idea or summer salad.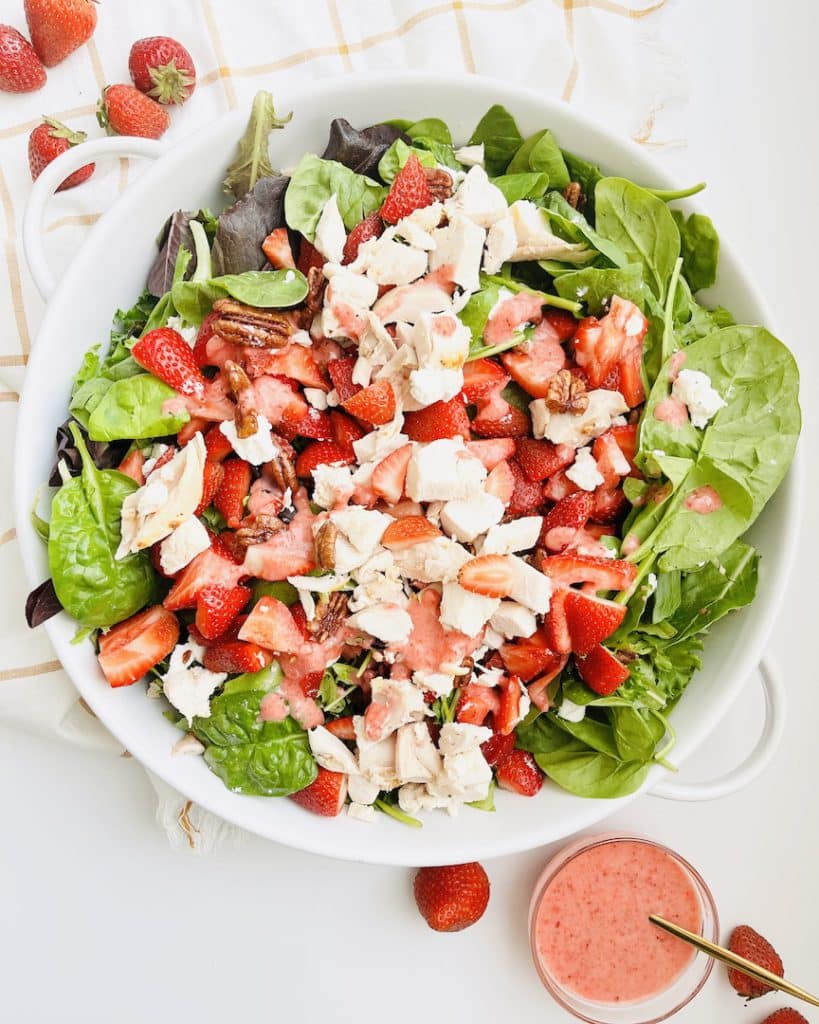 The Strawberry Chicken Salad is a delicious mix of sweet and savory flavors, with crispy and tender ingredients.
This refreshing and vibrant dish not only tantalizes the taste buds but also captures the essence of seasonal abundance.
This blog post will discuss how to make a delicious Strawberry Chicken Salad. We will explore its ingredients, health benefits, and the joy it brings to cooking and eating.
A Symphony of Flavors and Textures
The Star Ingredients:
At the heart of this salad are two ingredients that harmonize beautifully: succulent grilled chicken and juicy, ripe strawberries.
The marriage of these flavors might seem unexpected, but it's precisely this that makes the salad an experience to savor.
Leafy Greens:
The base of the Strawberry Chicken Salad is a bed of fresh, crisp leafy greens.
Choose spinach, arugula, or mixed lettuces as a base for your dish. The greens highlight the other ingredients.
Playful Additions:
To enhance the flavors, you can add creamy goat cheese or tangy feta. Additionally, you can include crunchy nuts and thinly sliced red onions for a touch of sharpness.
These elements add depth and contrast, transforming a simple salad into a culinary masterpiece.
Dressing Delight:
The dressing is the bridge that ties the salad's elements together.
A simple dressing with balsamic vinegar or homemade strawberry dressing enhances the flavors of strawberries and chicken without being too strong.
Strawberry Chicken Salad: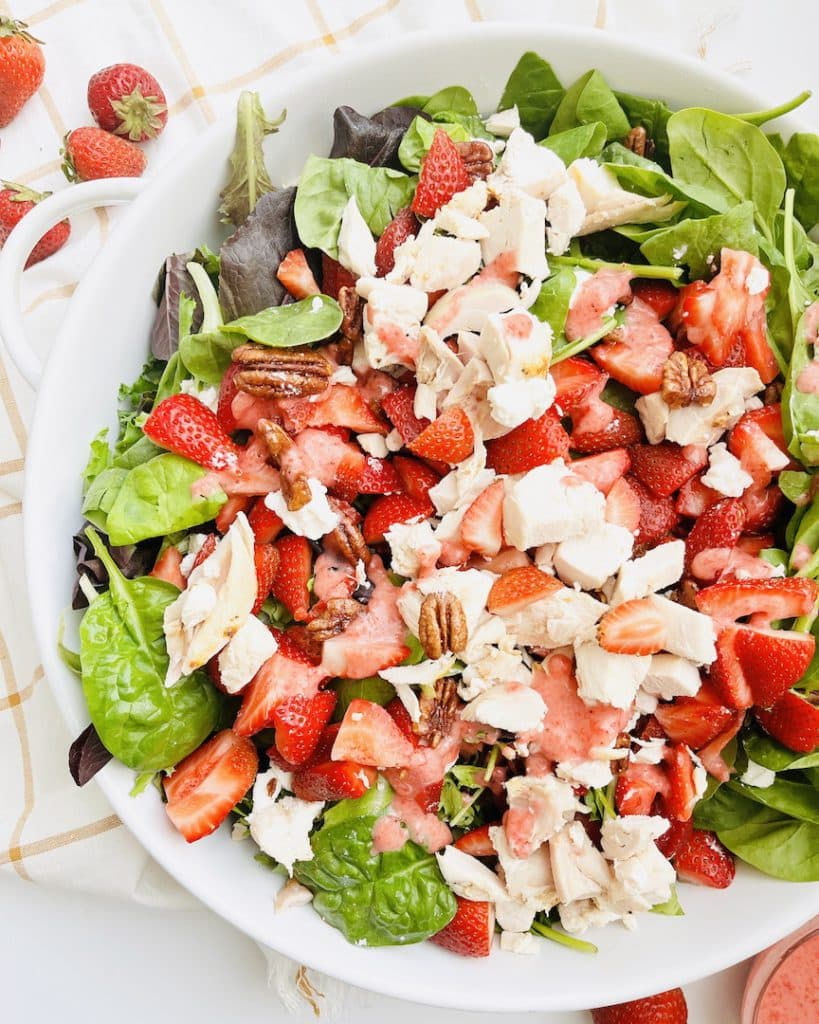 A Nutrient-Rich Delight
The Strawberry Chicken Salad is not only delicious but also very healthy, making it a smart option for any meal.
Here are a few reasons why this salad should be a regular on your menu:
Antioxidant-Rich Strawberries:
Strawberries are not only irresistibly delicious but also packed with antioxidants, vitamins, and minerals.
Their vibrant red color is a clue to their high levels of vitamin C, which supports immunity and skin health.
Lean Protein:
Grilled chicken provides a lean source of protein, essential for muscle growth, repair, and overall wellness. Protein also helps keep you feeling full and satisfied.
Leafy Greens Galore:
The leafy greens in the salad contribute a wealth of nutrients, including fiber, folate, and vitamins A and K.
These elements support digestion, bone health, and overall vitality.
Heart-Healthy Fats:
Adding cheese and nuts to your Strawberry Chicken Salad gives you healthy fats that make you feel full and provide nourishment.
Ingredients You Will Need:
Here is what you will need to make this delicious salad.
Mixed greens: You can also use romaine lettuce, arugula or any lettuce you prefer.
Candied Pecans: I get mine from Trader Joe's, but you can also make your own.
Honey Goat Cheese: I love the flavor of honey goat cheese. You can find it in most grocery stores. You can also substitute with goat cheese or feta cheese.
Strawberries: You have to use fresh strawberries for this dish!
Rotisserie Chicken: You can also use grilled chicken breast or any type of cooked chicken. I prefer rotisserie chicken for convenience.
Strawberry Vinaigrette Dressing:

To make the strawberry dressing you will need the following ingredients:
Strawberries: Make sure you wash and dry the strawberries.
Honey: This adds a delicious sweetness.
White Balsamic Vinegar: I love this white balsamic vinegar for this dressing.
Coconut Oil: Olive oil is too strong for this dressing. Use a liquid coconut oil or canola oil.
How To Make Strawberry Chicken Salad:
Prepare the Chicken:
Prepare the chicken by removing the skin and dicing in small cubes. You can also use grilled chicken for this recipe. I prefer the rotisserie chicken for convenience.
Preparing the Strawberries:
Wash and hull the strawberries, then slice them into halves or quarters. The berries' natural sweetness will meld with the other ingredients to create a delectable balance.
Assembling the Salad:
Start by arranging the leafy greens in a large bowl or individual serving plates.
Next, scatter the grilled chicken slices and strawberry pieces over the greens. Sprinkle the cheese and nuts, strategically placing them for an enticing visual appeal.
Dressing the Ensemble:
Drizzle the dressing over the Strawberry Chicken Salad just before serving. Use a light touch to ensure that every bite carries a balanced combination of flavors.
Finish It Off:
Finish the strawberry salad with some salt and pepper and toss everything together with the strawberry dressing.
Other Delicious Salad Recipes:
If you are on the hunt for some other delicious salad recipes try these out.
Heirloom Tomato Salad With Burrata and Pancetta
Cantaloupe Salad With Fig Basil Vinaigrette
My Favorite Mediterranean Salad
Blueberry Salad with Peaches and Strawberry Dressing
Mexican Salad With Honey Lime Vinaigrette
Strawberry Chicken Salad Recipe: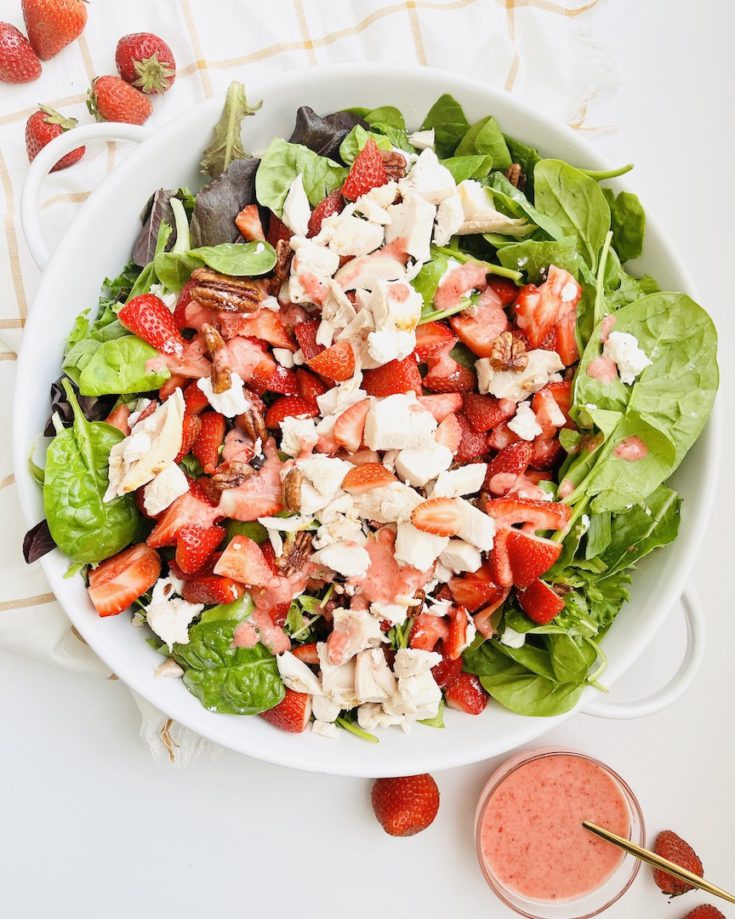 Yield:

Serves 6
Strawberry Chicken Salad With Strawberry Dressing
The best Summer salad. This strawberry chicken salad with homemade strawberry dressing is perfect for a hot day!
Ingredients
1 bag spinach or mixed greens
1 cup strawberries, sliced
1/2 cup candied pecans (From Trader Joes's or homemade)
1/4 cup honey goat cheese, crumbled (From Trader Joe's)
1 cup rotisserie chicken, diced
Strawberry Dressing:
1/2 cup strawberries, sliced
1 tablespoon honey
1/4 cup white balsamic vinegar
1/4 teaspoon kosher salt
1/4 cup liquid coconut oil
Instructions
Place the spinach into a large salad bowl.
Slice the strawberries and place on top of the spinach.
Top with candied pecans and crumbled honey goat cheese.
Then add chicken.
Make the dressing by blending all dressing ingredients in a mini food processor or blender.
Drizzle over the salad.
Toss to combine.
Recommended Products
As an Amazon Associate and member of other affiliate programs, I earn from qualifying purchases.
Nutrition Information:
Yield:
6
Serving Size:
1
Amount Per Serving:
Calories:

297
Total Fat:

18g
Saturated Fat:

10g
Trans Fat:

0g
Unsaturated Fat:

6g
Cholesterol:

48mg
Sodium:

273mg
Carbohydrates:

24g
Fiber:

2g
Sugar:

21g
Protein:

13g