This Instant Pot coconut rice is easy to make and is a delicious side dish to serve with so many different dishes. Try this rice recipe the next time you need to make a side dish.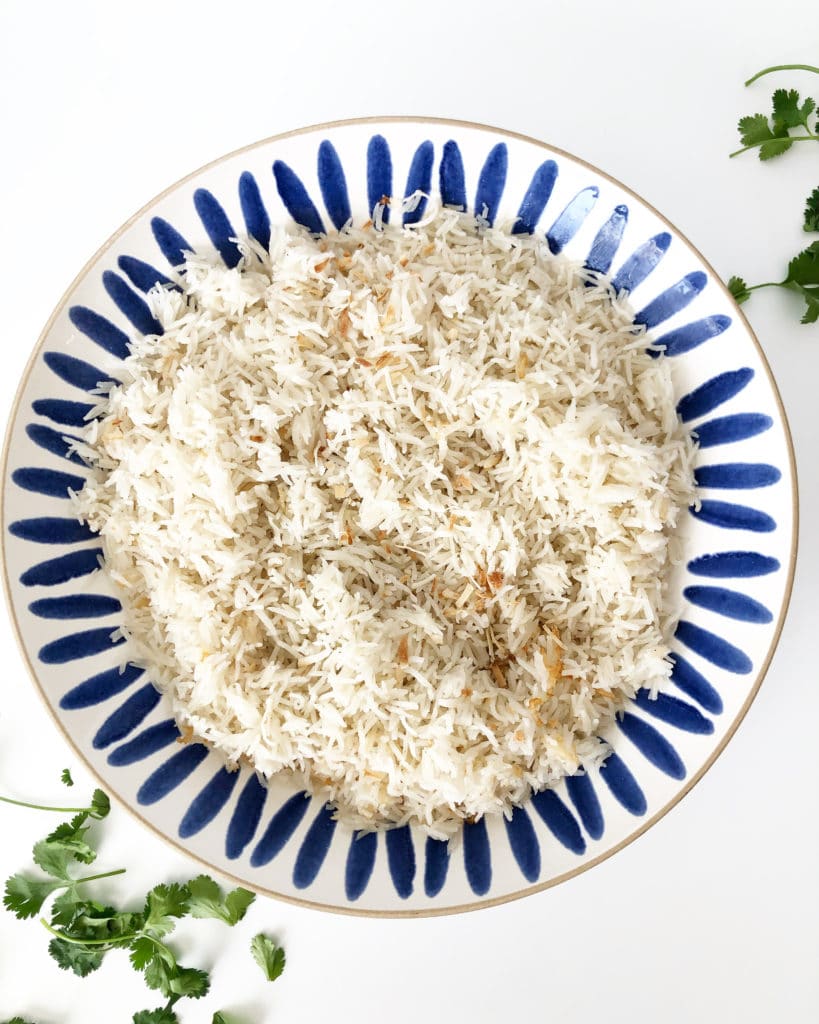 If you struggle making rice at home this instant pot coconut rice comes out perfectly every time.
It has a slight coconut flavor and is perfect to serve with Hawaiian Chicken Kebabs or Instant Pot Butter Chicken.
Try it out the next time you need to make rice. It goes so well with just about everything!
Type of Rice To Use:
I like to use basmati rice or long grain white rice for this recipe. These varieties tend to not become sticky when cooking it in the instant pot. They also become nice and fluffy when cooked.
You can also use other rice varieties if needed. The only variety I would not use would be brown rice because it has a different cooking time and absorbs the liquid differently.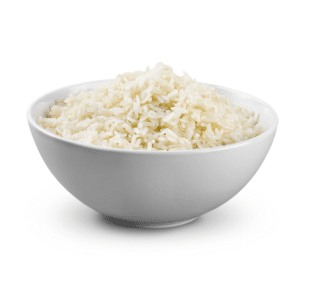 Ingredients You Will Need:
A few simple ingredients go a long way with this recipe. Here is what you will need to make this dish.
Rice: Remember to use a long grain white rice for this dish like a basmati or jasmine rice.
Coconut Milk: Canned coconut milk works great.
Water: You will need to add a little water along with the coconut milk.
Salt: I always like to season my rice. This really makes a difference in this dish as it brings out all the flavors.
Sugar: I prefer my coconut rice with a touch of sweetness. Granulated sugar works best for this recipe.
Toasted Coconut: This is optional but adds a beautiful flavor and texture.
Toasted Salted Macadamia Nuts: Also optional but adds a beautiful flavor and texture.
How To Make Instant Pot Coconut Rice: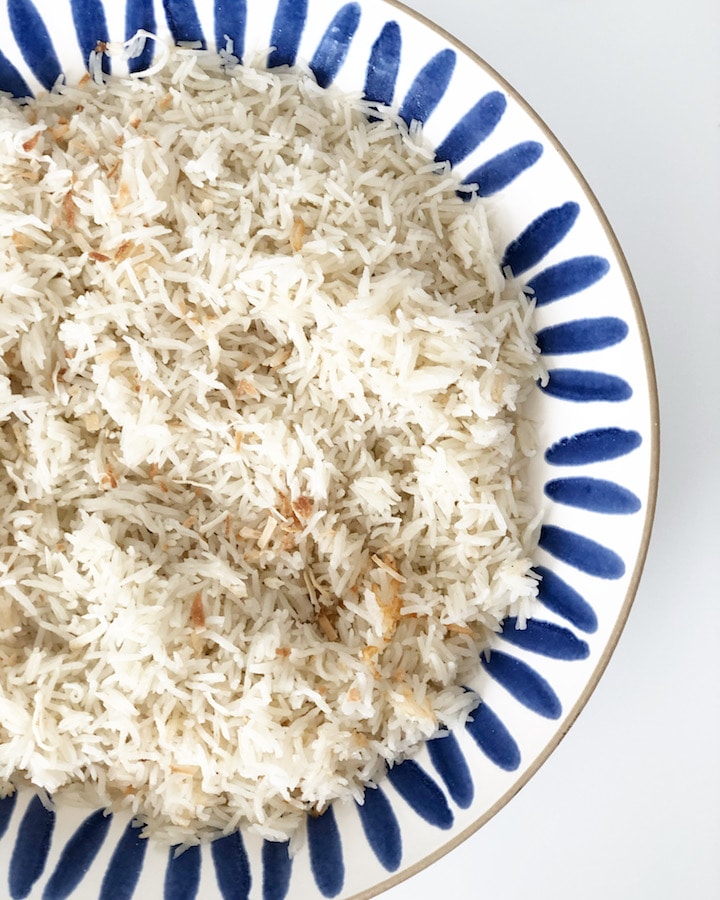 Step 1:
Rinse your rice thoroughly. This is an important step as it washes off some of the starch. This prevents the rice from becoming gummy or sticky.
Step 2:
Add your rice along with the rest of the ingredients into your Instant Pot insert.
Step 3:
Seal the lid and set to the rice setting.
Step 4:
After the rice has cooked fluff with a fork and top with toasted coconut and macadamia nuts.
Stovetop Version:
If you don't have an instant pot you can also make this recipe on the stovetop.
To make coconut rice on the stovetop follow these steps:
Step 1:
Place the ingredients into a saucepan and bring to a simmer.
Step 2:
Once simmering reduce the heat to low and cover with a lid.
Step 3:
Cook according to package directions.
Step 4:
Fluff with a fork and then add toasted coconut and nuts if desired.
What To Serve With Coconut Rice:
This rice is slightly sweet and is the perfect side dish for so many dishes. Here are some of my favorites.
Cedar Plank Salmon In The Oven
Thai Yellow Curry With Chicken and Potatoes
Hawaiian Chicken Kebabs With Coconut Rice
And if you have leftovers use the rice to make a delicious Thai Pineapple Fried Rice.
Instant Pot Coconut Rice Recipe: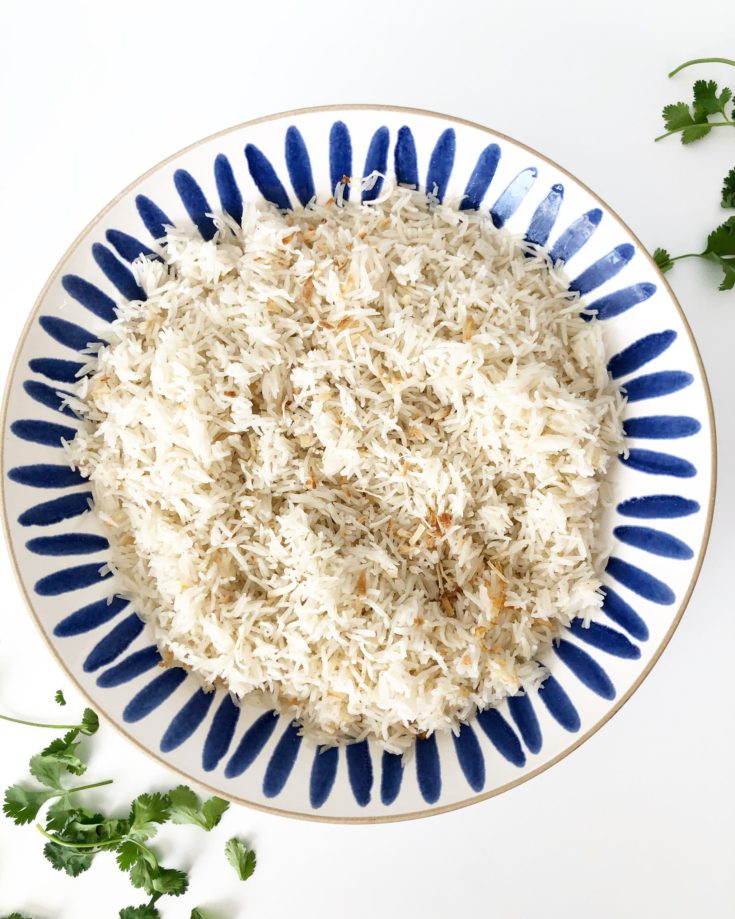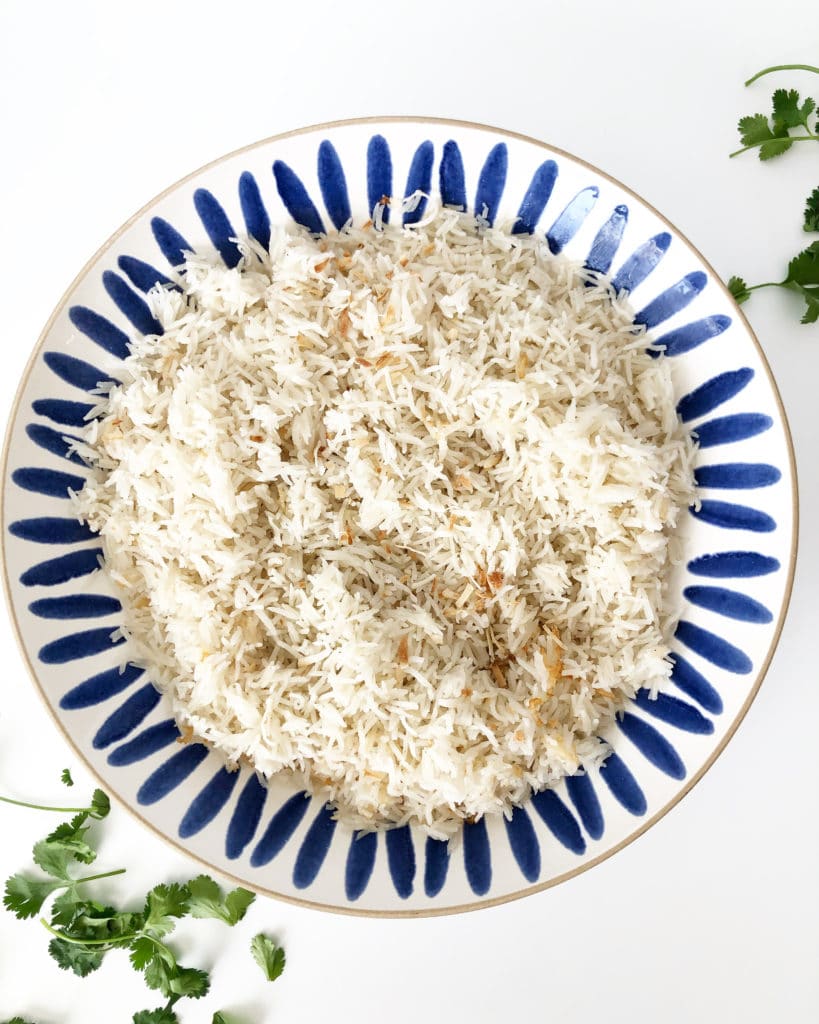 Yield:

Serves 6
Instant Pot Coconut Rice
Additional Time:
10 minutes
The perfect side dish for so many dishes.
Ingredients
2 cups basmati rice, rinsed
1 can coconut milk
1/2 cup water
1 tablespoon granulated sugar
1 teaspoon salt
1 cup shredded sweetened coconut, toasted
1/2 cup toasted, salted macadamia nuts, roughly chopped or coconut cashews (from trader joes)
Instructions
Wash the rice under cold water until the water runs clear.
Drain the rice and place into the Instant Pot insert. Add the coconut milk.
Then add the water.
Add the sugar
Add the salt.
Seal the lid and turn on the Instant Pot onto the rice setting. (10 minutes low pressure and 10 minutes naturally release)
When the rice is done, fluff with a fork. Top with toasted coconut, macadamia nuts or coconut cashews.