This is the best air fryer orange chicken. It's so much healthier made in the air fryer without all the fat. Tossed in a homemade orange sauce this is the perfect take out at home dish to serve for your family.

This is the best air fryer orange chicken. It's so much healthier made in the air fryer without all the fat and has such an amazing orange flavor. Tossed in a homemade orange sauce this is the perfect take out at home dish to serve for your family.
If you are a fan of Trader Joe's Orange Chicken Or orange chicken from Panda Express this recipe is a delicious healthier air fryer version of your favorite take out dish. The chicken becomes perfectly crispy in the air fryer and is tossed in a homemade orange sauce made with orange juice and braggs aminos. It's gluten free and is family friendly.
Air fryer orange chicken is easy to make and family friendly. It is so much healthier than regular orange chicken because we make this version in the air fryer.
You may or may not have jumped on the air fryer band wagon, but this recipe is worth the ride.
The air fryer creates crispy pieces of coated chicken and it tastes like the deep fried version but is so much healthier.
There are many air fryers out there and not all of them are created equal. I love my Ninja Air Fryer, but I have a whole post on air fryers, how to use them, and how to choose the best one for you.
Air Fryer Tips:
If you are using an air fryer that has a basket make sure to follow these simple air fryer tips:
Preheat the air fryer for a few minutes before you put in your food.
Dry off any excess liquid.
Spray your food with cooking spray to get a nice, crispy crust.
Use the crisper basket and/or rack to crisp the whole surface area of the food.
Don't overcrowd the basket.
Shake the basket half way through the cooking time.
Do not coat food in sugary sauces before cooking.
Save the sauce for the last part of cooking so as not to dry it or burn.
Ingredients You Will Need:
Here are the ingredients needed to make this air fryer orange chicken.
Chicken breast: you can also use boneless, skinless chicken thighs.
Corn starch: this will act as a coating to create a nice crispy crust on the chicken.
Frozen Ginger: I love using the frozen cubes for convenience. You can find them at most local grocery stores.
Frozen Garlic: I love using the frozen cubes for convenience. You can find them at most local grocery stores.
Orange Juice: Use a good quality orange juice. My favorite is the Simply brand.
Brown Sugar: This adds sweetness to the sauce.
Sesame Oil: You can use regular or dark sesame oil.
Braggs Aminos: I like to use Braggs Aminos instead of soy sauce.
Rice Vinegar: This rounds out the sweetness and saltiness of the sauce.
Rice: White or brown rice will work. I love grabbing the frozen ones so that all I need to do is throw it in the microwave.
Broccoli: I love adding a little color with broccoli. You can also use any vegetable you like.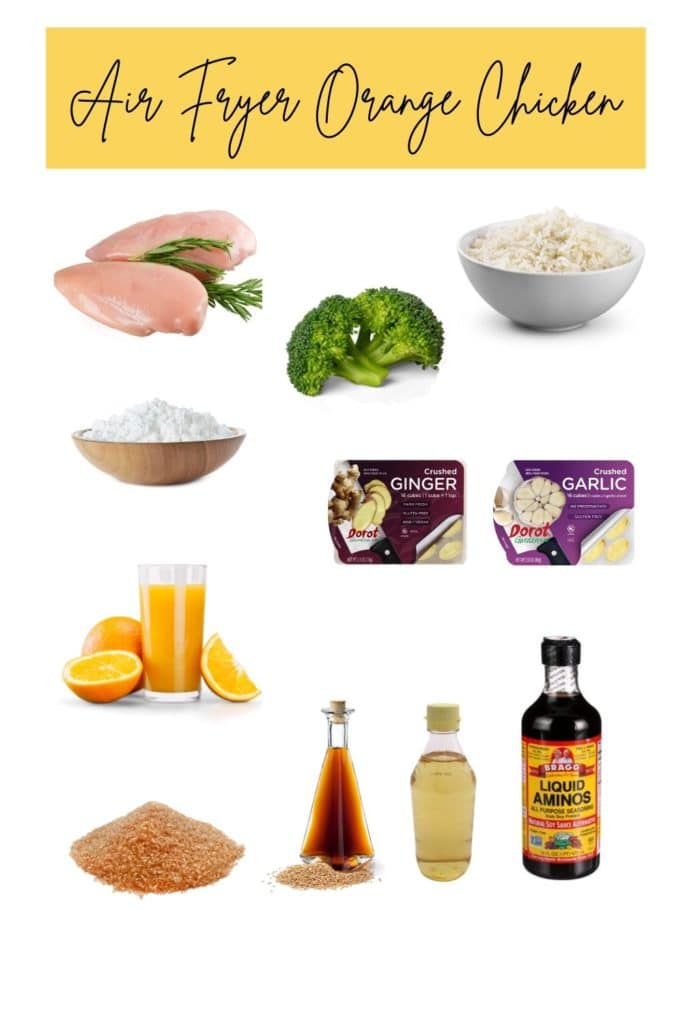 Corn Starch Coating:
Corn starch is the traditional coating used for orange chicken. However you don't want to overdo the coating in this recipe or it will become gummy. There should be a thin even coating on the chicken for optimal air frying.
You can easily coat the chicken by placing the chicken pieces into a gallon size Ziploc bag. Add the cornstarch, seal the bag and shake until the chicken pieces have been evenly coated.
Then you are ready to air fry.
Homemade Orange Sauce:
After you taste this homemade orange sauce you will never want to buy a bottle of pre-made orange sauce again. It's so fresh and full of citrus flavor.
How To Thicken Orange Chicken Sauce:
We thicken the orange chicken sauce by the use of a slurry.
A slurry is a culinary term when using a mixture of cold water and cornstarch.
It is very important to use cold water.
Hot water will cause lumps to form in your sauce and no one wants a lumpy sauce.
How Long Does It Take To Cook Raw Chicken In An Air Fryer?
Chicken cooks surprisingly fast in the air fryer. Because we are cutting the chicken into 1 inch cubes it cooks in under 18 minutes. Whole pieces of chicken will tend to take longer.
Be advised that some air fryers will cook quicker or slower depending on the brand. I would recommend to check the chicken around the 15 minute mark for doneness.
Can I Make Air Fryer Orange Chicken Ahead?
Yes! That's one of the benefits of this dish! You can make the air fryer chicken ahead of time and then place in the freezer spread out evenly on a sheet try.
You can also freeze sauce in a freezer safe container.
When you are ready to serve thaw the sauce in some hot water.
Place the chicken pieces on a foil lined baking sheet and cook at 350 for about 10 minutes or until warmed through.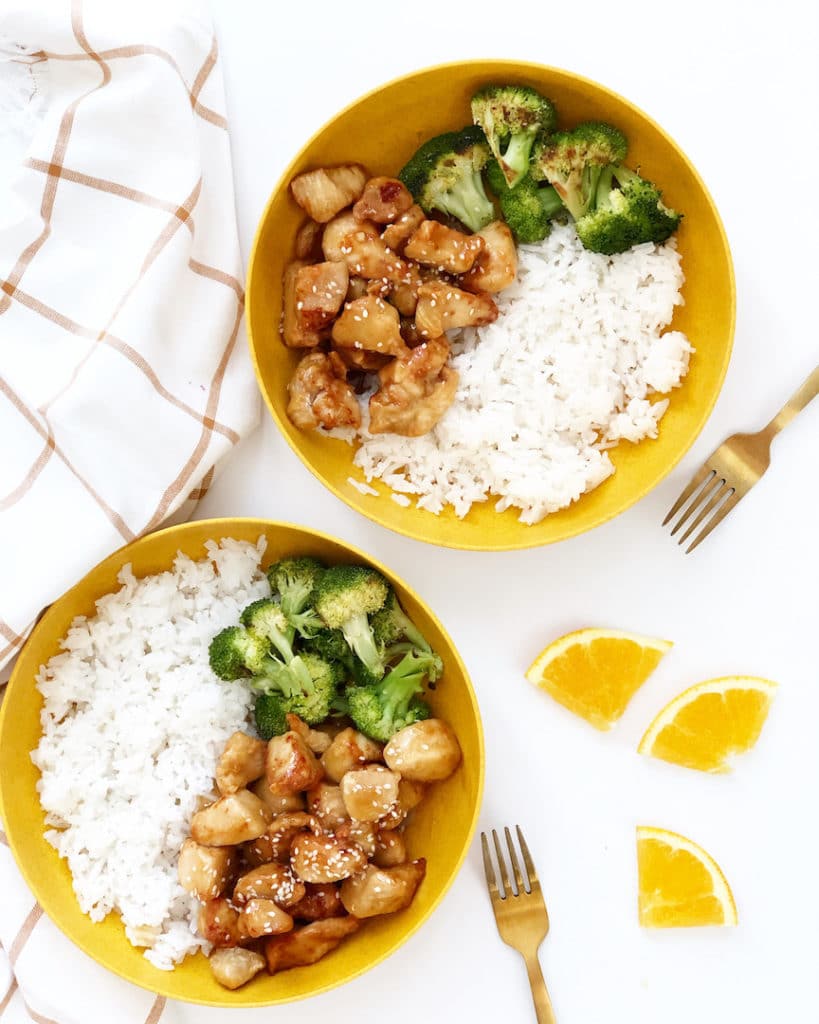 Other Take Out At Home Dishes:
If you are a fan of healthier take out dishes you can make them at home! Try these other take out at home dishes.
Thai Yellow Curry With Chicken and Potatoes
Hibachi Chicken With Fried Rice And Vegetables
Air Fryer Orange Chicken Recipe: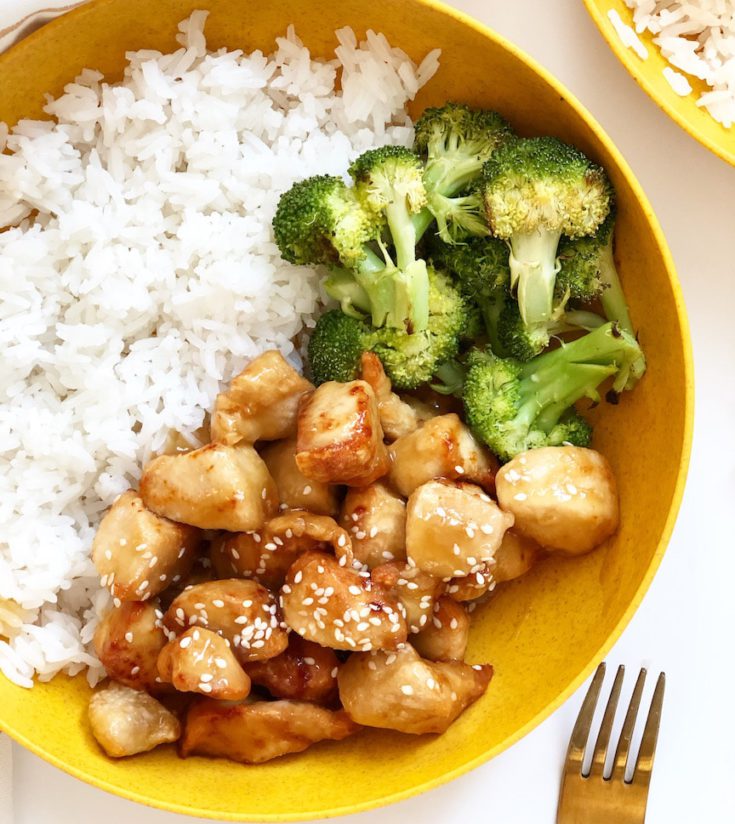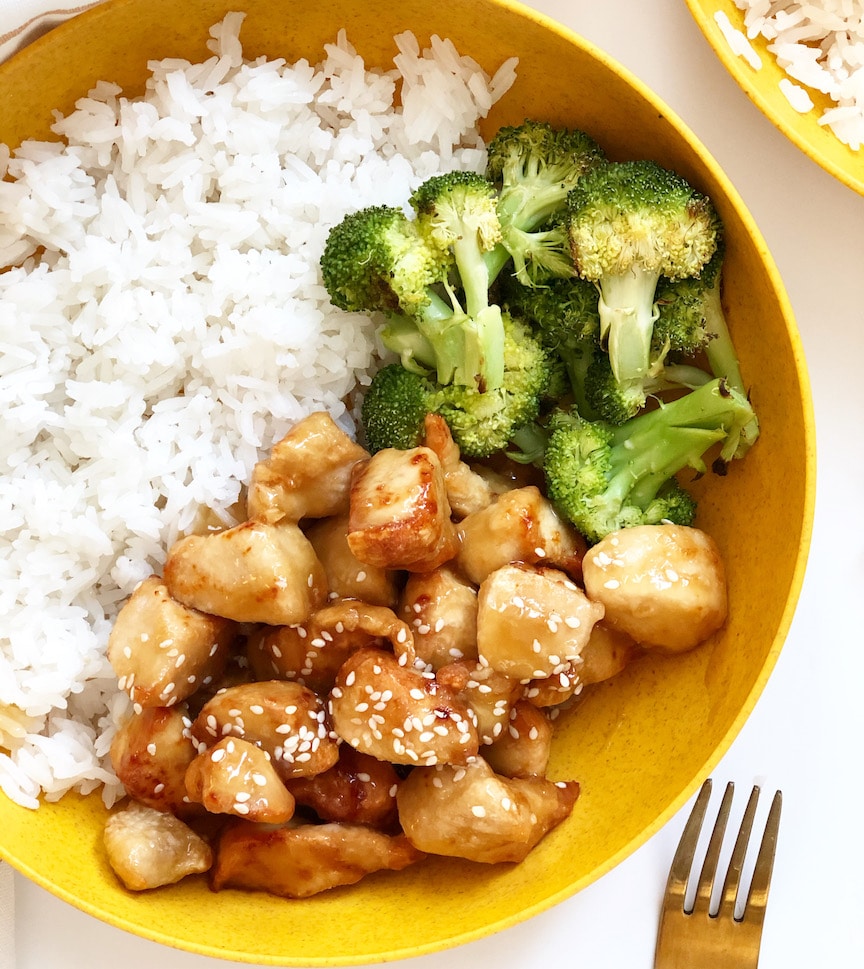 Yield:

Serves 4
Air Fryer Orange Chicken
Crispy succulent air fryer orange chicken is healthy and delicious!
Ingredients
2 cloves, minced garlic (2 cubes frozen garlic)
4 teaspoons grated ginger (4 cubes frozen ginger)
1 cup orange juice
2 tablespoons brown sugar
1 tablespoon sesame oil
1/4 cup braggs aminos
1 tablespoon rice vinegar
1.5 pound chicken breast, boneless, skinless, cut into 1 inch cubes
1 pound broccoli, florets
4 cups cooked white rice
Instructions
Add garlic and ginger, orange juice, brown sugar, sesame oil, braggs aminos, and rice vinegar to a mixing bowl.
Add the mixture to a small saucepan and heat over medium heat for 5 minutes.
Cut the chicken into 1 inch cubes.
Add 2 tablespoons cornstarch to a gallon size ziplock bag and then add chicken. Then add 2 more tablespoons cornstarch on top of the chicken in the bag and seal the bag.
Toss to coat the chicken completely.
Preheat your air fryer. Place the chicken in the air fryer basket or tray in one single layer. Spray liberally with cooking spray.
Cook on air fry setting at 390 F for 15-18 minutes. Shaking the basket half way through cooking.
Cook rice according to package directions.
When the chicken is cooked through remove and keep warm in a 200 F oven while you cook the broccoli.
Spray the broccoli with cooking spray and season with salt to taste. Cook in the air fryer for 10 minutes, shaking the basket half way through.
Make a slurry with 1 tablespoon cornstarch and 1 tablespoon cold water and mix to combine. Add to the simmering sauce to thicken.
Once the sauce is thickened remove from the heat and toss with the hot crispy chicken. Top with sesame seeds.
Serve with rice and broccoli.
Recommended Products
As an Amazon Associate and member of other affiliate programs, I earn from qualifying purchases.
Nutrition Information:
Yield:
4
Serving Size:
1
Amount Per Serving:
Calories:

618
Total Fat:

11g
Saturated Fat:

2g
Trans Fat:

0g
Unsaturated Fat:

7g
Cholesterol:

145mg
Sodium:

1052mg
Carbohydrates:

66g
Fiber:

5g
Sugar:

12g
Protein:

62g