If you need a pie recipe for the upcoming holidays try this mint chocolate mousse pie with no raw eggs.
It's the perfect pie to bring for Thanksgiving, Christmas or for a holiday get together.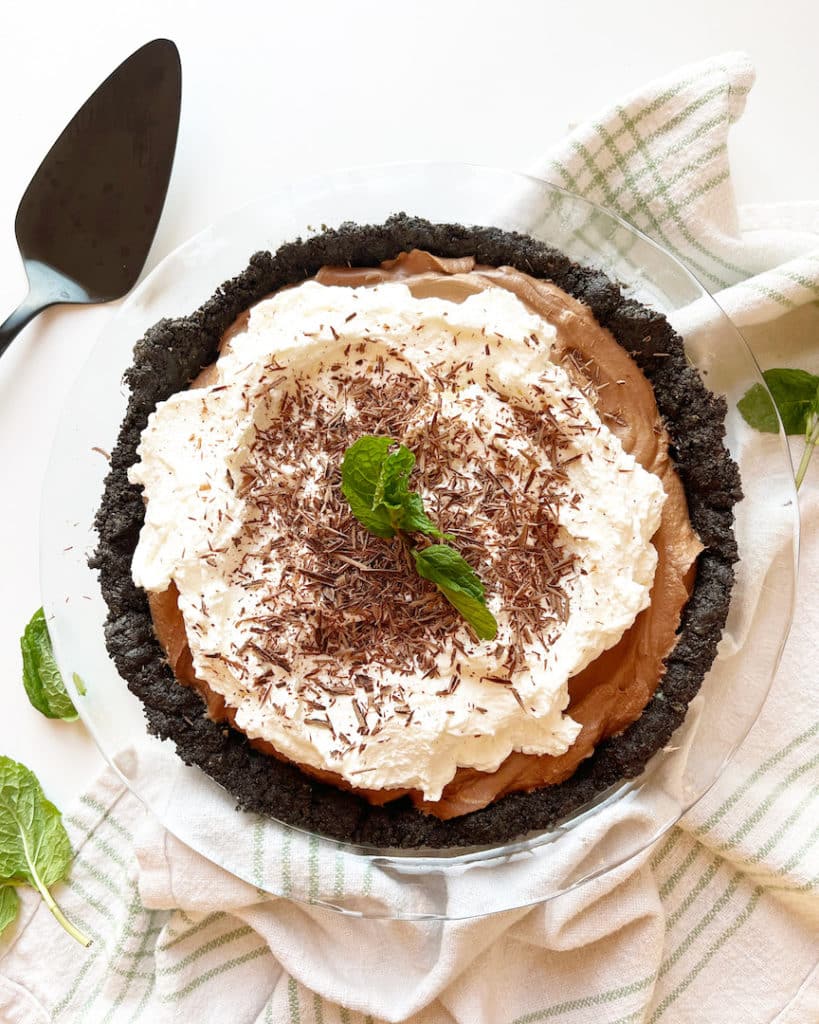 This mint chocolate mousse pie is made with a mint Oreo crumb crust and is full of minty, fluffy chocolate mousse, fresh whipped cream and topped with shaved dark chocolate and fresh mint.
It's elegant and easy to make and can be made a few days in advanced.
I am a huge fan of chocolate mousse pie! It actually holds so many memories for me.
Not only did my grandma make it, but it was also a tradition after my high school choir concerts to go to the local pie shop and grab a piece of pie. And chocolate mousse pie was always my go to flavor!
I love chocolate mousse pie but being pregnant I just don't want to chance having it made with raw eggs.
Traditionally chocolate mousse is made with raw eggs but I have perfected a way to make this delicious pie without them.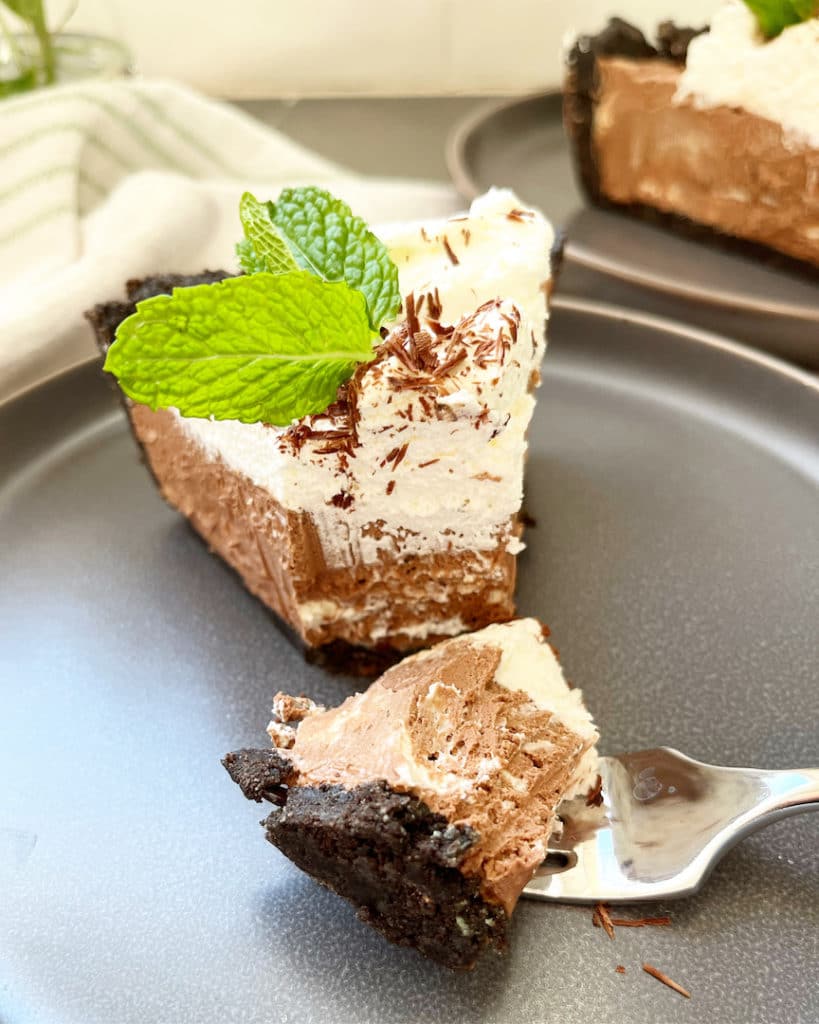 What is The Difference Between Chocolate Mousse Pie and French Silk Pie:
Chocolate mousse pie is typically made with an Oreo crust. French silk pie is traditionally made with a traditional pie crust.
Although you can make either with the opposite crust depending on your crust preference.
Personally I like the Oreo crust better.
Ingredients for Mint Chocolate Mousse Pie:
Here are a list of ingredients to make this pie recipe. I have also included some variations along with alternatives if you need to switch anything out.
For the Crust:
Mint Oreos: For a delicious peppermint variation use peppermint Oreos.
Butter: I like to use salted butter for this recipe.
For The Mousse:
Heavy Whipping Cream: Make sure to use heavy whipping cream and whip until stiff.
Sugar: I use granulated sugar.
Eggs: Use pasteurized eggs just to be extra safe.
Butter: Again use salted butter.
Dark Chocolate: I prefer dark chocolate but if you aren't a fan you can also use semisweet or milk chocolate.
*Make sure to not use chocolate chips though as many contain a wax and will not give you the desired texture.
Mint Extract: You can find mint extract at your local grocery store. For a peppermint version use peppermint extract.
How To Make Mint Chocolate Mousse Pie:
Step 1:
Pulse the Oreos in a food processor until they become fine crumbs.
Add the melted butter and stir to combine.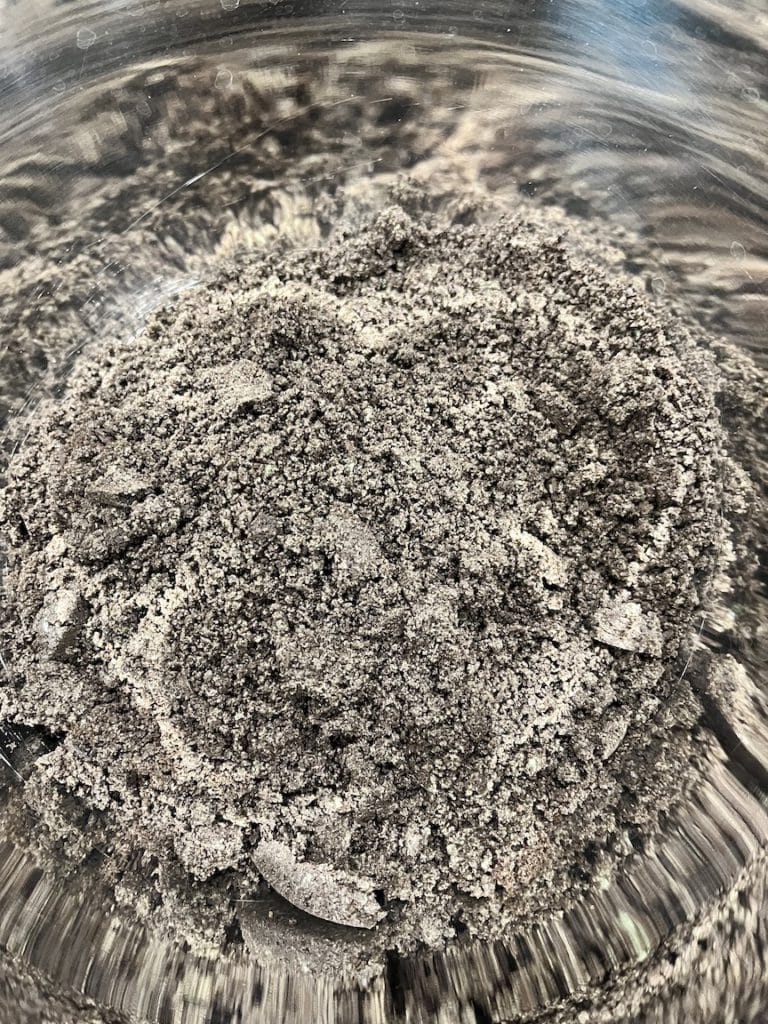 Step 2:
Press the crumb mixture into a pie plate.
Make sure to press down and up the sides. I like to do this with some Saran wrap and a cup. Check the recipe card for all the details.
Refrigerate the crust until you have made the filling.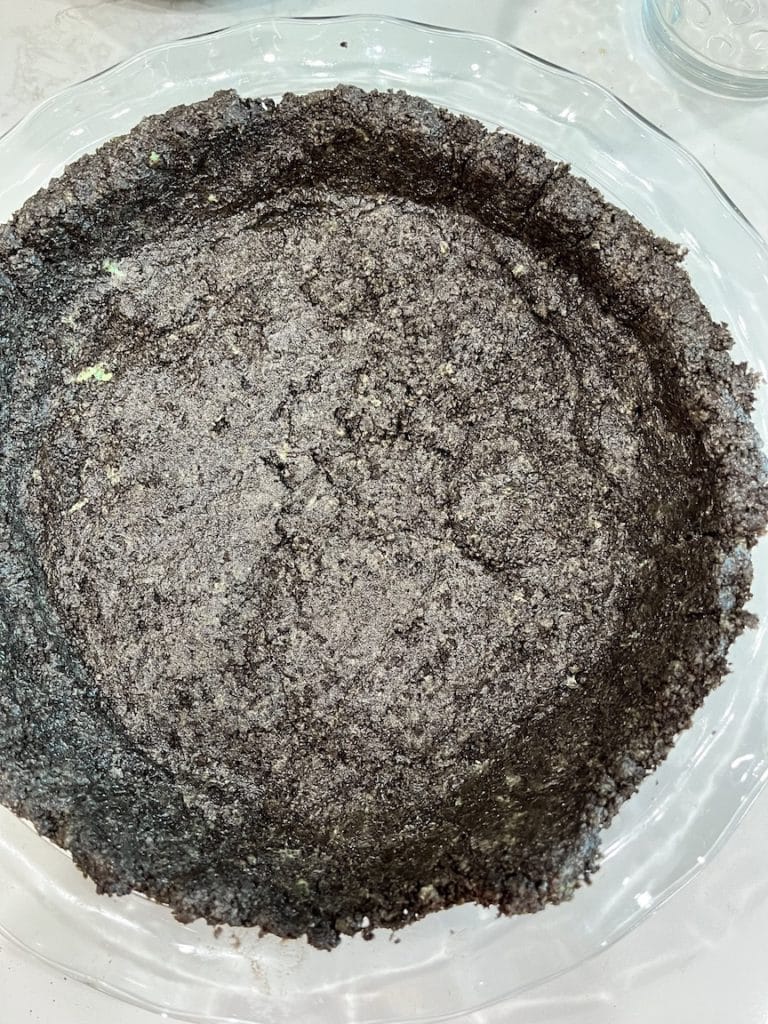 Step 3:
Make the filling by combining eggs, extract and sugar and whisking over a double boiler. Make sure to constantly be whisking so the eggs do not curdle. You will only cook them for about 3-5 minutes.
Add the egg mixture to a stand mixer and mix in melted butter and chocolate.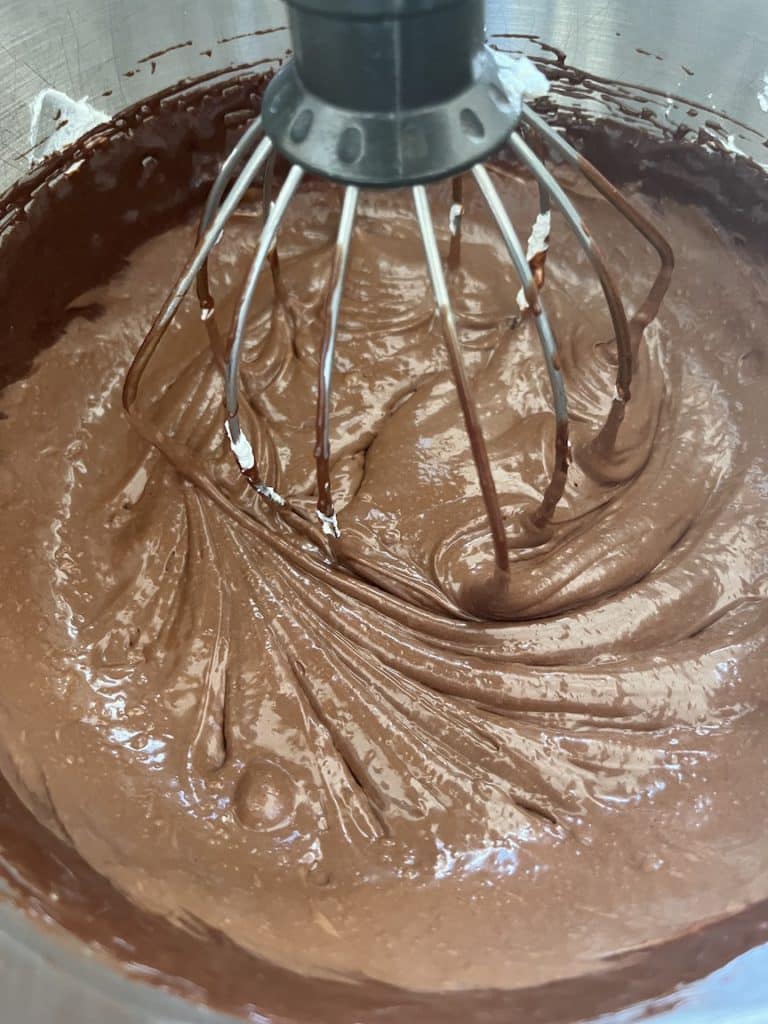 Step 4:
Fold the whipped cream in with a spatula until just combined. Be careful not to over-mix. The whipped cream will give the mousse it's light, fluffy texture.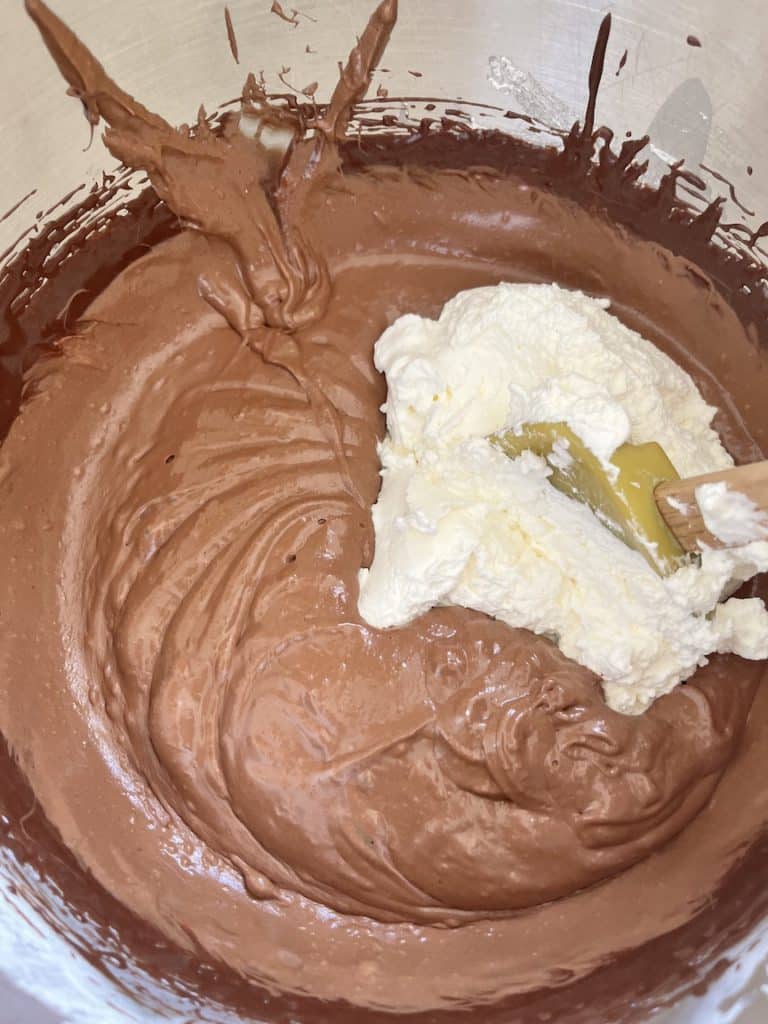 Step 5:
Place the mousse into the chilled crust and refrigerate for at least 4 hours or overnight.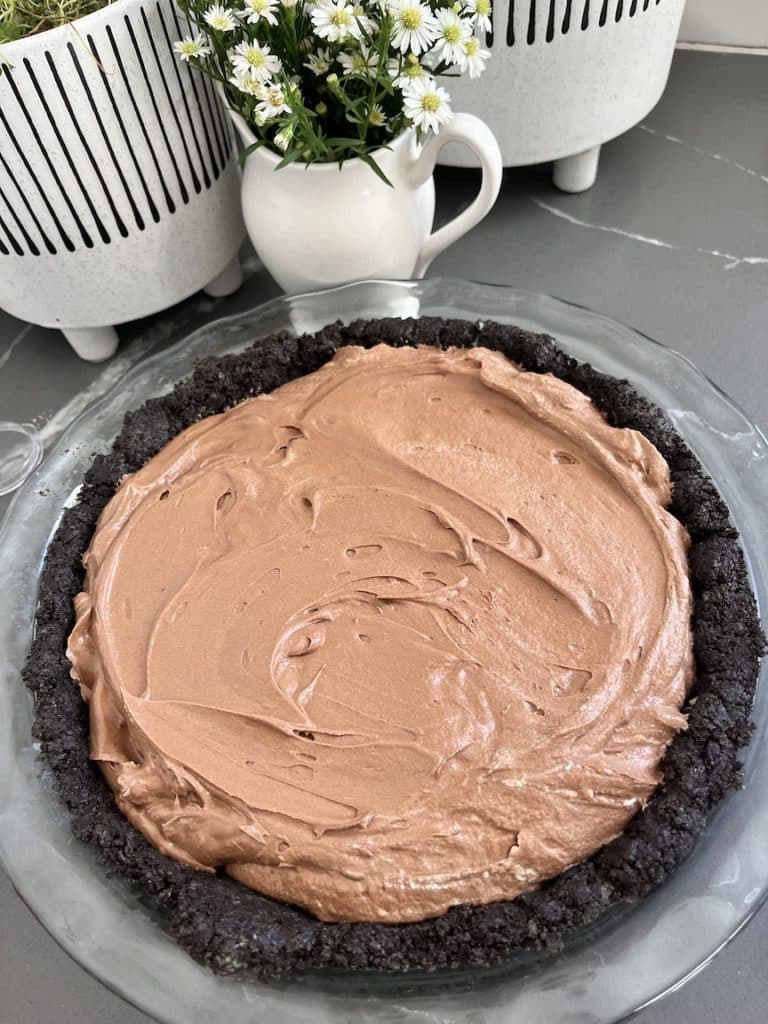 Step 6:
Top with more fresh whipped cream, chocolate shavings and fresh mint sprigs.
Other Delicious Pie Recipes:
If you are a pie lover, try these other delicious pie recipes.
Banana Cream Pie With Peanut Butter and Caramel
Chocolate Chess Pie With Homemade Whipped Cream
Mint Chocolate Mousse Pie Recipe: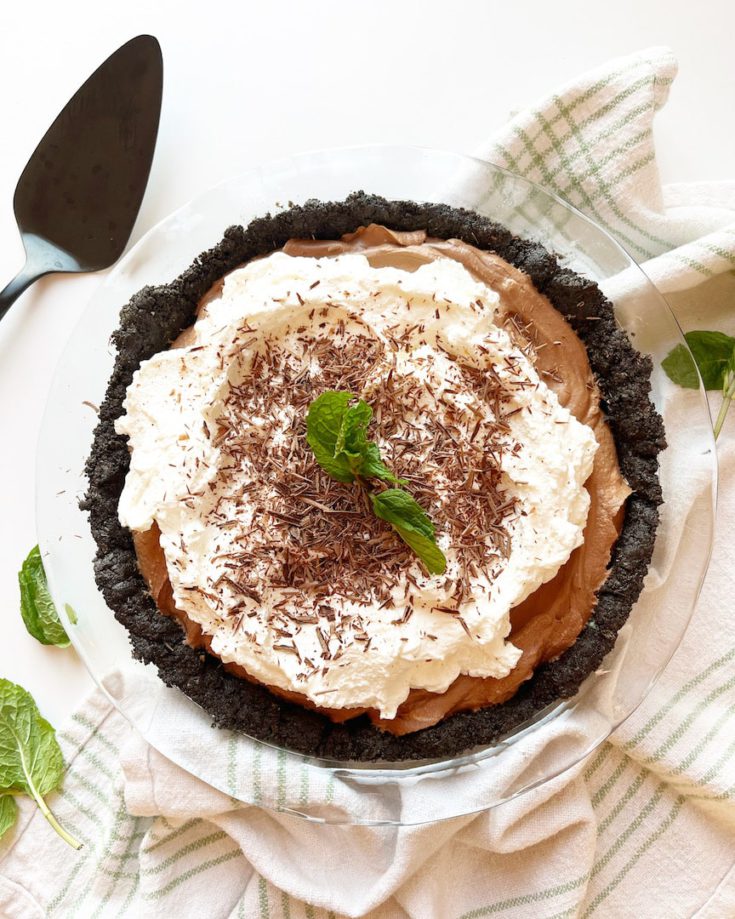 Yield:

12
Mint Chocolate Mousse Pie with No Raw Egg
Total Time:
4 hours
20 minutes
This delicious pie is made with a minty oreo crust and filled with a fluffy chocolate mint mousse and topped with fresh whipped cream.
Ingredients
For The Crust:
26 mint Oreos
1/3 cup melted butter
For The Filling:
1 cup heavy cream
1 cup granulated sugar
4 eggs
1/2 teaspoon mint extract
1/2 cup butter, melted
8 ounces dark chocolate, melted
For The Top:
1 1/2 cups heavy cream
2 tablespoons powdered sugar
1 ounce chocolate, shaved
fresh mint sprig
Instructions
In a food processor, blend Oreos until fine crumbs. Pour the crumbs into a mixing bowl.
Add the melted butter and stir to combine.
Place the crumb mixture into a pie plate. Then place a piece of saran wrap or wax paper on top and press the crumbs down and up the sides (I do this with the bottom of a cup) to form a single even layer.
Place the crust in the fridge until you have made the filling.
To make the filling whip the 1 cup heavy cream in a bowl until stiff and set aside.
Add the sugar and eggs into a mixing bowl (for the stand mixer) and whisk on low for 3-5 minutes or until the mixture becomes silky and a pale yellow. Whisk in the mint extract.
Remove the bowl from the mixer and place over a double boiler (if your bowl is glass I would transfer the mixture to a metal bowl).
Stirring constantly heat the eggs for just about 3 minutes or until thickened slightly (make sure the eggs do not scramble or curdle. It is essential to stir constantly and make sure the boiling water is not touching the bottom of the bowl). Remove and place back onto the stand mixer.
Add the melted butter to the mixer and mix to combine.
Then add the melted chocolate to the mixer and mix to combine.
Fold in the whipped cream with a spatula just until combined.
Pour the filling into the crust and refrigerate for at least 4 hours or overnight.
When you are ready to serve whip the remaining 1 1/2 cups heavy cream until stiff with the powdered sugar. Place on top of the chilled mousse and sprinkle with chocolate shavings and fresh mint.
Slice and serve.
Recommended Products
As an Amazon Associate and member of other affiliate programs, I earn from qualifying purchases.
Nutrition Information:
Yield:
12
Serving Size:
1
Amount Per Serving:
Calories:

517
Total Fat:

39g
Saturated Fat:

24g
Trans Fat:

1g
Unsaturated Fat:

12g
Cholesterol:

154mg
Sodium:

158mg
Carbohydrates:

38g
Fiber:

2g
Sugar:

32g
Protein:

5g