Beef stroganoff is the ultimate comfort food. I promise this gluten free beef stroganoff is one of the best recipes you will find floating around the internet.
The velvety beef gravy is naturally gluten free. You can make this with regular egg noodles or with gluten free egg noodles for a gluten free version.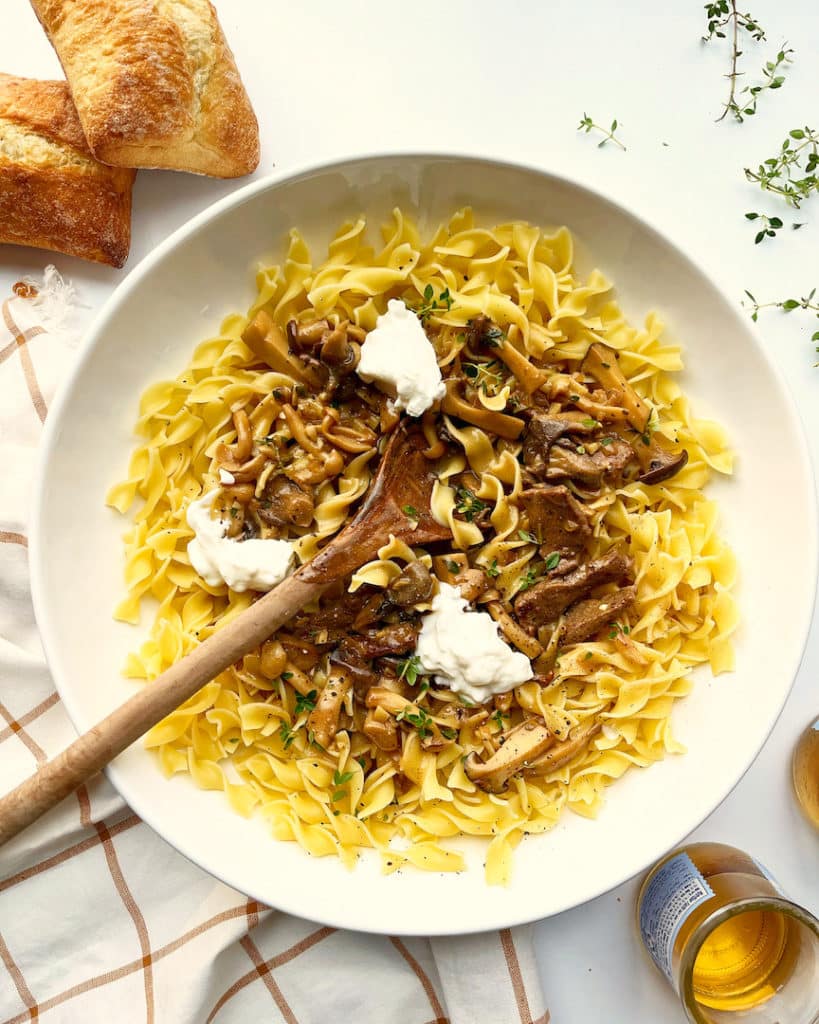 I can't wait to hear how you like this succulent, creamy beef stroganoff recipe.
If you like the recipe make sure to rate it in the recipe card section.
Rating the recipe helps more people to see this post. It also helps me know what you all want to see more of on the blog.
For my gluten free friends this will be the best recipe for both texture and flavor. There are no funny aftertastes or odd textures.
The sauce is naturally gluten free. The only difference between the regular version and the gluten free version is the egg noodles.
And for my non-gluten free friends you won't miss the flour from some other beef stroganoff recipes.
This recipe is made without any flour and the gravy is completely gluten free.
It gets a thick, creamy consistency with a slurry mixture and sour cream.
A slurry is simply a combination of cornstarch and cold water. If you aren't a fan of corn starch you can also use arrowroot.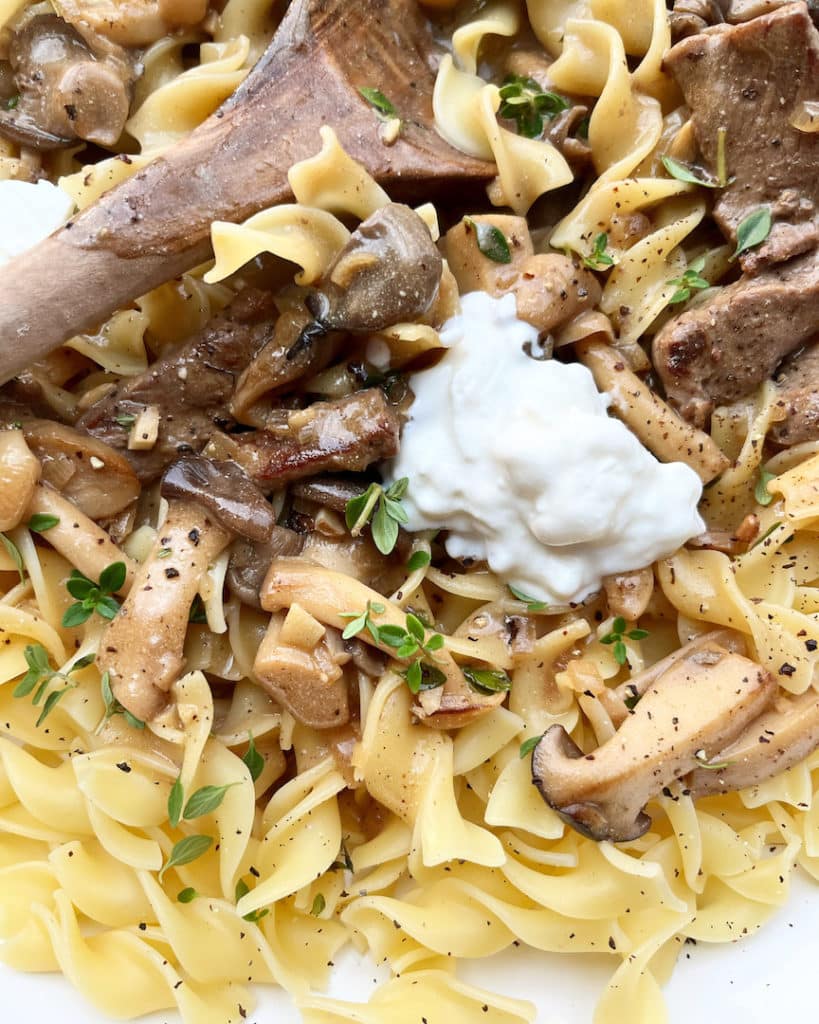 If you are looking for comfort food this winter this is it! This meal is quick and easy and made in under 30 minutes. It is the perfect family friendly comfort food recipe on a cold winter day or for a friend in need.
Here are some common questions and answers and step by step directions on how to make the recipe.
What Meat is the Best For Stroganoff?
Beef stroganoff is said to come from Russia. It was traditionally made with cubes of meat sautéed in butter and served in a mustard and broth sauce. The sauce was topped on top of pasta with sour cream.
Traditionally this meal wasn't made with expensive cuts of meat. It is a great recipe to use up unwanted cuts of meat.
Whatever meat you choose to use you will want to cut the meat very thin. This will help to tenderize any meat choice you use.
The trick is to cook it really quickly at a high temperature. You do not want to not overcook it or it can become rubbery and tough. Only 2-3 minutes or so will be sufficient.
The best meat to use for stroganoff is beef sirloin, beef tenderloin, skirt steak, flank steak or New York Strip.
What is Stroganoff Sauce Made Of?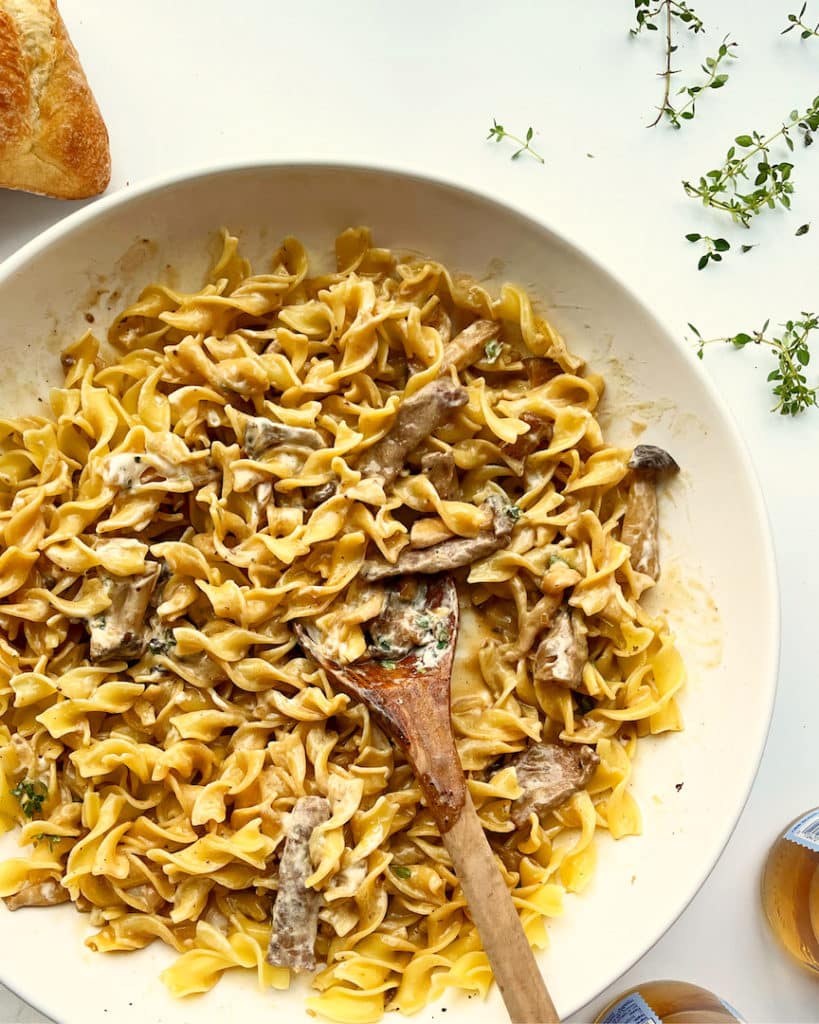 The delicious, velvety sauce is made with thin sliced beef, a variety of mushrooms and aromatics such as garlic and shallots.
The beef gets quickly seared and removed from the pan. Then all the fond is brought up by sautéing the mushrooms and aromatics in butter.
The pan is then deglazed with some Worcestershire sauce, Sherry wine and beef broth.
The sauce is thickened with a cornstarch slurry, sour cream and flavored with fresh thyme, salt and pepper.
I skipped the traditional mustard in this dish and get a delicious umami flavor with the Worcestershire sauce and Sherry.
There are so many variations with stroganoff and you can make it your own.
You can use chicken instead or make it a vegetarian dish and leave out the meat.
What Do I Serve With Beef Stroganoff?
Traditionally beef stroganoff is made with buttered egg noodles but you can serve it over anything you would like.
For a gluten free version you can serve the gravy mixture over brown rice, gluten free egg noodles or cauliflower mashed potatoes.
Gluten Free Beef Stroganoff:
If you are Celiac make sure to always double check your labels for hidden gluten.
Make sure your Worcestershire sauce is gluten free. Most brands sold in the U.S. are naturally gluten free and are made without barley malt, but double check your bottle.
Instead of using gluten free flour we are thickening the stroganoff with corn starch. I find this tastes much better and is especially better for texture purposes.
Ingredients For Beef Stroganoff?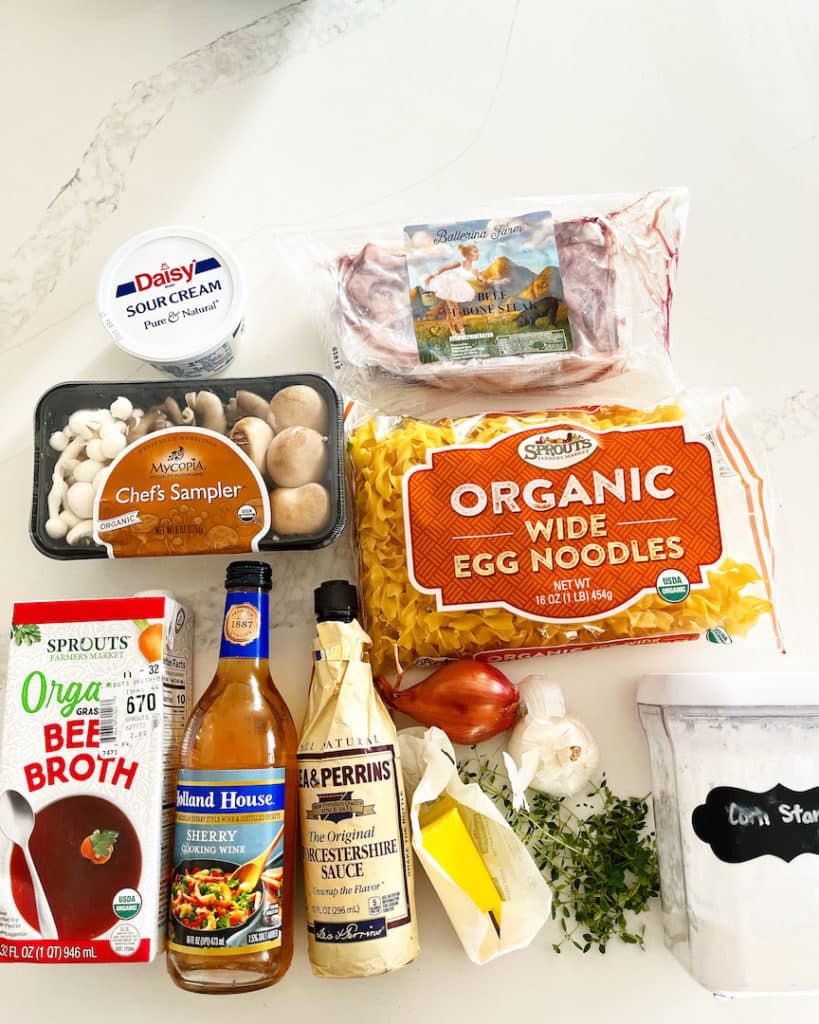 This recipe is made with simple ingredients. If you can't find one of the ingredients or don't already have them on hand I have included some alternatives.
Beef Steak: I used sirloin, but refer to the section above to find a cut that is right for you.
Mushrooms: I love using a variety of mushrooms for this dish. If you can find different types of mushrooms you can use regular button mushrooms.
Egg Noodles: Pictured above are regular egg noodles. Obviously use gluten free egg noodles if you are making this as a gluten free version.
Beef Broth: Get a good quality beef broth.
Sherry Cooking Wine: The sherry adds a unique flavor. I would highly recommend using it.
I use a cooking wine which is non-alcoholic and you can find at most grocery stores. You can also use white wine if needed.
Worcestershire Sauce: This adds a terrific umami flavor.
Avocado Oil: You can also use olive oil.
Butter: I use Kerrygold butter.
Thyme: I recommend using fresh thyme.
Sour Cream: You can use plane Greek yogurt, cream cheese, heavy cream as alternatives.
Shallot: Shallots add a mild onion flavor. You can also use white or yellow onion.
Garlic: Use fresh garlic for ultimate flavor.
Corn Starch: This is used as a thickening agent. Make sure you mix the cornstarch with some of the Sherry before adding it to the sauce to prevent clumps.
You can also use arrowroot if needed.
What can I use instead of sour cream in stroganoff?
You can use plain Greek yogurt, cream, or cream cheese as a substitute for sour cream.
If you need a dairy free option you can also use unsweetened coconut cream.
How To Make Beef Stroganoff Step By Step:
Other Delicious Comfort Food Recipes:
If you are in the mood for comfort food try these other delicious recipes!
Rigatoni Bolognese With Herby Whipped Ricotta
Instant Pot Chicken and Dumplings
The Best Classic Chicken Noodle Soup
Gluten Free Beef Stroganoff Recipe: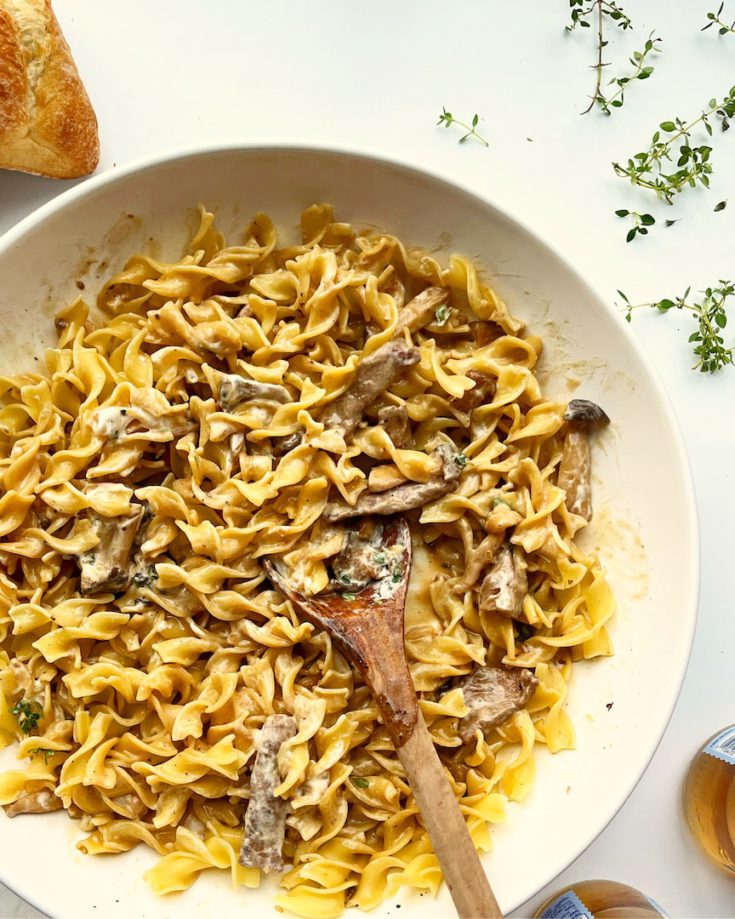 Yield:

Serves 6
Regular or Gluten Free Beef Stroganoff
Whether you want this beef stroganoff gluten free or regular its rich, creamy, velvety and full of flavor.
Ingredients
1 teaspoon avocado oil
2 pounds beef sirloin, thinly sliced, pat dry
salt and pepper to taste
8 ounces variety of mushrooms, roughly sliced
1 shallot, finely minced
3 cloves garlic, finely minced
2 tablespoons butter
1 tablespoon Worcestershire sauce
1/2 cup dry cooking sherry
2 cups beef stock
2 teaspoons fresh thyme
1 tablespoon cornstarch
1/2 cup sour cream
salt and pepper to taste
1 pound egg noodles or gluten free egg noodles
Instructions
Preheat a large cast iron skillet over medium high heat.
Pat dry the beef slices and season with salt and pepper.
Add the oil and sear the beef for 2-3 minutes per side. Remove from the pan and set aside. Turn the pan on low.
Add the butter, mushrooms, shallot and garlic to the pan and stir to combine. Cook for 2-3 minutes.
Then add the Worcestershire sauce and 1/4 cup sherry (reserve the remaining 1/4 cup for later).
Stir with a wooden spoon to pull any brown bits from the bottom of the pan. Then add the beef stock and thyme and cook for 5-7 minutes over medium heat. Then turn the burner to low.
Place the remaining 1/4 cup sherry into a cup with the cornstarch and stir until completely dissolved. Add the slurry to the gravy and stir until thickened. Season with salt and pepper to taste. Turn off the heat and stir in the sour cream. You can also just dollop the sour cream over the finished pasta if desired.
Cook the pasta according to package directions.
When the pasta is ready add turn the gravy on low and add the beef to the gravy and stir to combine and warm through.
Toss the noodles with the sauce and serve. (I like to garnish with Maldon salt, fresh thyme and a dollop of sour cream).
Nutrition Information:
Yield:
6
Serving Size:
1
Amount Per Serving:
Calories:

541
Total Fat:

27g
Saturated Fat:

11g
Trans Fat:

0g
Unsaturated Fat:

11g
Cholesterol:

155mg
Sodium:

513mg
Carbohydrates:

34g
Fiber:

2g
Sugar:

4g
Protein:

39g