Italian wedding soup is full of vegetables, mini meatballs and pasta. I love using my freezer turkey meatballs recipe for a healthier twist. 
This Italian wedding soup is a healthier version of the authentic Italian soup. I use vegetable packed turkey meatballs and chalk them full of healthy vegetables. 
Shred vegetables like zucchini or carrots to add moisture and an extra nutrient boost. 
Wedding soup is the perfect meal prep item to make double and take to a friend in need or even freeze for a later use. I love using these containers for the soup. 
I also love to make extra meatball mixture to have on hand. You can double that portion of the recipe, bake them off and place half in the freezer for a later use. 
You can even use this meatball base recipe to make Baked Turkey Meatballs With Wheels and Healthy Turkey Burger Recipe- Hawaiian Style!
Does Italian Wedding Soup Have Pasta In It?
Typically a traditional Italian Wedding Soup is made with ground pork or beef meatballs, escarole, vegetables and small shaped pasta. 
You can use any small shaped pasta you have on hand. 
Can I use ground beef or pork for the meatballs?
You certainly can! Use whatever type of ground meat you would like. Ground turkey is just a healthier option. 
How To Make Healthier Soup:
This soup recipe is very simple and straight forward without a lot of extra ingredients. I like adding zucchini to my carrot, celery and onion mixture but you can add any extra vegetables you like. 
I also use ground turkey for the meatball portion to make it healthier.
Italian Wedding Soup Recipe: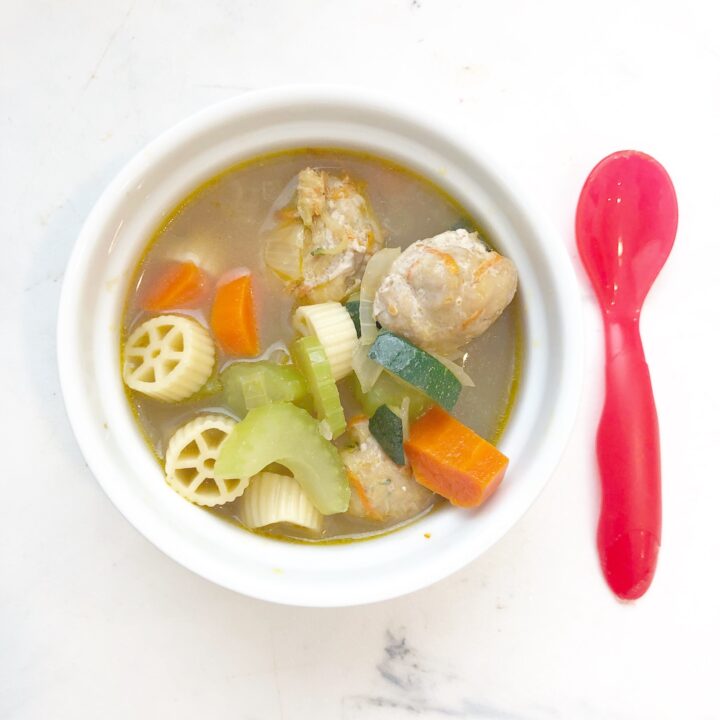 Italian Wedding Soup
Healthy comfort food! This is the perfect soup to make for your kids.
Ingredients
1 pound ground turkey
1/4 cup zucchini, finely shredded
1/4 cup carrots, finely shredded
2 teaspoons Montreal Steak Seasoning
1 teaspoon avocado oil
6 large carrots, diced small
1 head celery, diced small
1 white onion, diced small
2 zucchini, diced small
8 cups chicken stock
2 cups dry pasta wheels
Salt and pepper to taste
Instructions
In a large mixing bowl, combine ground turkey, zucchini, carrots and steak seasoning.
With clean hands, scoop out a heaping tablespoon of meat mixture to form mini meatballs. Place on a foil-lined baking sheet.
Cook the meatballs in the oven for 12-15 minutes.
Preheat a large stockpot over medium high heat. Add the oil, carrots, celery, onion and zucchini and saute for 5 minutes.
Add the chicken stock and bring to a simmer. When simmering add the pasta, and cook for 7-10 minutes or until noodles are cooked. Add the meatballs, season with salt and pepper to taste and serve.