This Shake Shack burger recipe is the best copycat Shake Shack burger you will find on the internet! It's topped with American cheese, caramelized onion, crispy bacon and pequillo peppers. Try it the next time you are craving a delicious burger.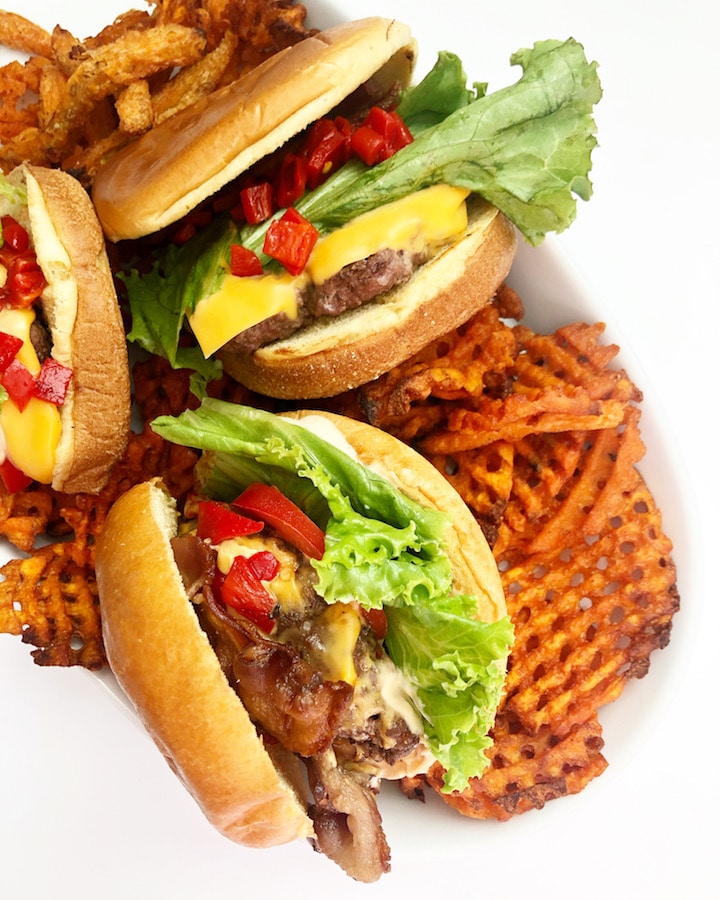 We are long time fans of Shake Shack but don't have one near us so you know I have to re-create a Shack Shack burger recipe. This recipe is so delicious and easy to make. I can't wait for you to try it out for yourself.
For those of you who have never heard of Shake Shack it is a fast casual restaurant based in New York City that serves the most amazing handmade burgers, chicken sandwiches, fries, frozen custards and more!
I had it for the first time in the Salt Lake City airport and was blown away!
Shake Shake Menu:
Shake Shack offers a variety of different burgers, hot dogs, chicken sandwiches, fries and homemade frozen custards. Their menu is much larger than In In Out and the variety is amazing! You can find something for everyone.
What Makes Shake Shack Burgers So Good?
These burgers are so good because they taste homemade! They use fresh ingredients and high quality items to make their food taste amazing!
As a southern Californian I used to think no burger could ever beat In In Out. But honestly I think this one might be a little better. Just because of the ingredients and variety they offer.
What Are Shake Shack Burgers Made Of?
Shake Shack uses the freshest ingredients. The meat is freshly ground, never frozen, from 100% Angus beef that's pasture raised, grain finished and has no hormones or antibiotics. Their ingredients are simple but high quality which is a huge win in the fast casual dining space.
They also offer a chicken burger and mushroom burger which are equally delicious!
Ingredients You Will Need For This Recipe:
Here is what you need to make these delicious burgers!
Grass-Fed Ground Beef: Use good quality ground beef! It really makes a difference. It should be freshly ground and loose, not the packaged stuff.
Salt and pepper: Don't be shy to use a good amount of salt and pepper. This is the only seasoning we put on the burgers. Simple is best. I prefer Kosher salt.
American Cheese: Good old American cheese works the best for this recipe as it melts perfectly.
Pequillo Peppers: You can find these in a jar at most markets. They add a delicious smokey-like flavor. Drain and chop them finely.
Caramelized Onions: Caramelized onions add a sweet element to the burger. To caramelize onions place them in a pan over low heat with some butter. Cook low and slow stirring frequently to slowly cook the onions until they are golden brown.
Bacon: I love to either use black forest bacon from Trader Joe's or a good high quality thick-cut bacon. Make sure to cook the bacon until it is crispy. This adds great texture and flavor to the burgers.
Lettuce: I like to use a green leaf lettuce for the burgers.
Tomato: Grab a beefsteak tomato for this recipe. They are juicy and a little larger than other varieties.
Melted Butter: Don't skip the butter for your toasted brioche buns!
Brioche Bun: You can also use a potato buns.
Mayonaise: I prefer Best Foods Mayonaise.
Good Quality Pickles: My all time favorite pickles are the Gillro's pickles. You find them in the refrigerated section and they are by far the best!
Ketchup: Any ketchup will do.
BBQ Sauce: I like to use Stubb's Sticky Sweet variety.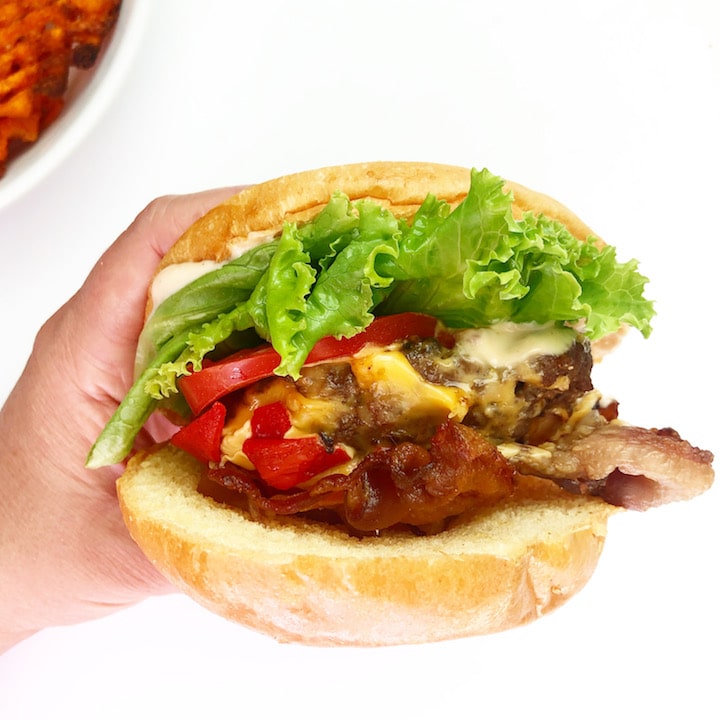 How To Make A Shake Shack Burger At Home:
Step 1:
Prepare the burgers by forming thin patties with the ground beef. Season liberally with salt and pepper on both sides. Prepare the shack sauce, bacon, caramelized onions, lettuce and tomatoes.
Step 2:
Pre-heat a cast iron skillet or cast iron griddle. Heat to medium high heat. Place the meat onto the griddle and with a metal spatula firmly smash each puck down. Cook for 5 minutes and then flip.
Cook for another 5 minutes and then top with a slice of American cheese, crispy bacon, caramelized onion, and pequillo pepper. Let cook until the cheese melts and the outer edges are brown and crisp.
Step 3:
Prepare the hamburger buns and brush with melted butter. Make sure to butter both sides. Toast the buns in a hot pan or in the cast iron pan if you have room.
Step 4:
Open the hamburger buns and spread each side with shack sauce. Top with lettuce, slices of tomato and the burger patties. Top with the top bun and enjoy.
What to Serve With Shake Shack Burgers:
Air Fryer Potato Wedges with Garlic Brown Butter
Shake Shack Burger Recipe: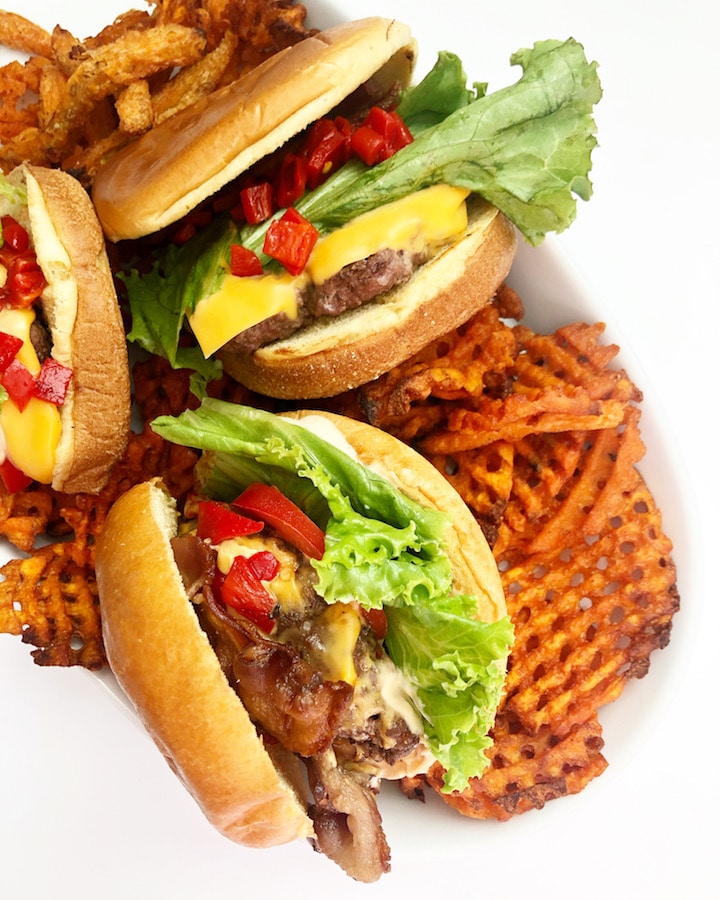 Yield:

8
Shake Shack Burger Recipe
The perfect copycat shake shack burger recipe for when you are craving a good burger!
Ingredients
1 white onion, diced small
1 teaspoon olive oil
Shack Sauce:
1/4 cup good quality pickles, diced small
1 cup mayonnaise
1 tablespoon ketchup
1 tablespoon BBQ sauce
For The Burgers:
8 brioche burger buns
1//4 cup butter, melted
1 pound bacon, cooked until crispy
1 head lettuce
4 tomato, sliced
1 jar piquillo peppers, drained and diced small
2 pounds grass-fed loose ground beef
salt and pepper to taste
8 slices American cheese
Instructions
Start by caramelizing the onion. Finely dice a small white onion. Place the onion in a nonstick saute pan heated over low heat.
Add 1 teaspoon olive oil or butter to the pan. Cook over low heat stirring frequently for about 20 minutes or until the onions are golden brown.
To make the shack sauce finely dice the pickles and place them in a small bowl.
Add 1 cup mayonnaise to a mixing bowl. Then add ketchup, bbq sauce and the pickles. Stir to combine.
Make the burgers by grabbing about 2/3 cup ground beef and forming a thin patty. Place on a foil lined baking sheet.
Season liberally with salt and pepper on both sides. Preheat a cast iron grill pan over medium hight heat.
Sear the patties on the hot grill pan for 5 minutes. Press them down with a metal spatula.
Brush the brioche buns with butter and toast.
Cook the bacon until crispy.
Prep the lettuce and tomatoes.
Drain and dice the piquillo peppers.
Flip and grill for another 5 minutes on the other side or until cooked through. Press down with the metal spatula.
Top the burgers with caramelized onion, pequillo peppers, crispy bacon and American cheese. Cook until cheese is melted about 1-2 minutes.
Assemble the burgers by spreading the toasted buns with sauce and then top with lettuce, tomato and cooked burgers.