Juicy, rosemary grilled lamb lollipops have only a few ingredients and are always a crowd pleaser! Served with a lemony whipped feta these are the perfect Mediterranean appetizer, side dish or main dish.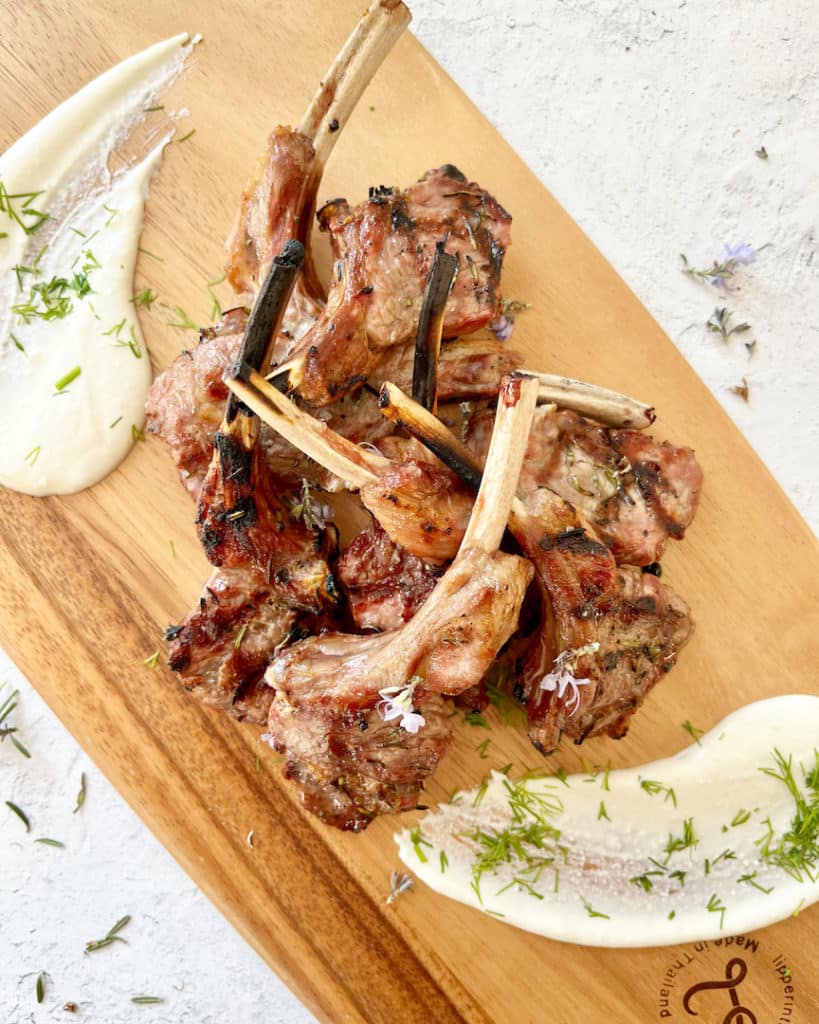 Lamb lollipops really are the perfect easy dish to serve for an appetizer or a main dish. I have made these countless times and they are always a fan favorite. Your guests will ask for the recipe and they will be shocked at how easy it is to make.
Lollipop Lamb Chops:
Lallipop lamb chops are my go to recipe for an elegant dinner or appetizer for catering.
I've met a lot of skeptics who tell me it's impossible to make a five-star entrée at home. Of course, I beg to differ! I definitely don't think you should have to go to an expensive restaurant in order to have a delectable main course like this recipe.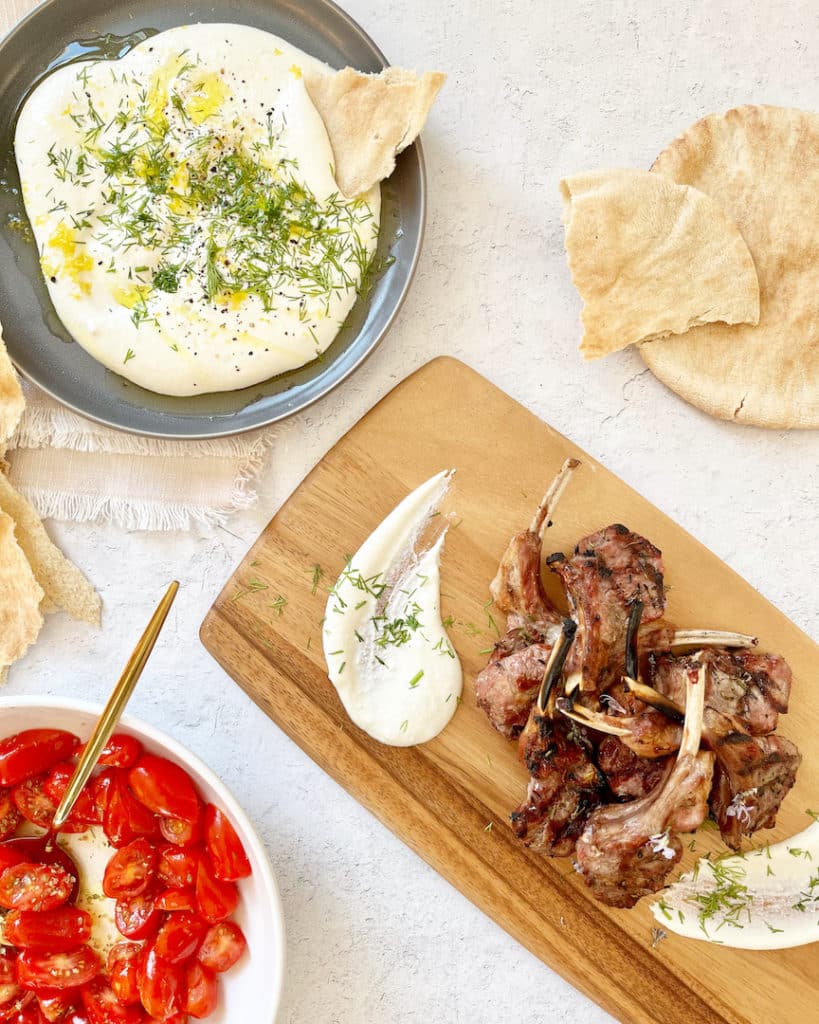 Lamb has such good flavor, and some people actually prefer it over steak. Chef Jamie Oliver shares a helpful guide to lamb cuts. It's a great resource to check out and pin for the future. In addition to using the guide, I suggest you ask your butcher for some guidance if you've never purchased lamb before.
Where To Buy Lamb Chops:
Even though lamb chops happen to be the most expensive cut of lamb, they are also the most tender and what we use to make this recipe.
Did you know that when several lamb chops are together, they're called a rack? I recommend purchasing a rack and separating them at home.
I normally buy my lamb at Costco or Sprouts. Make sure to buy New Zealand Lamb.
How To Cut Lollipop Lamb Chops:
To cut the rack of lamb use a sharp knife cut in between each bone. Make sure to cut all the way through to seperate each lollipop.
How to Grill Lillipop Lamb Chops:
Cut the lamb chops in between each bone. Use a sharp knife to cut evenly. Place in a baking dish and marinate with oil, rosemary and salt for about 30 minutes.
The seasoning in this lamb recipe is quite distinct with its piney rosemary shining through and hints of woodsy, peppery lemon. My mouth is watering as I type this!
While there are many methods to cooking lamb chops, grilling is the quickest, which produces caramelized, tender meat.
Consider lamb chops as the focal point in your entrée, meaning you're going to complement the meal with one or two less dramatic side dishes.
Grill the lamb chops on high heat for 5 minutes per side. We use this wood charcoal which adds a delicious, smokey flavor. You can also use a gas grill.
This really is the perfect lamb chop recipe when you are looking to make something extra special for your loved ones.
I love when you share what you're cooking on IG by tagging @moremomma.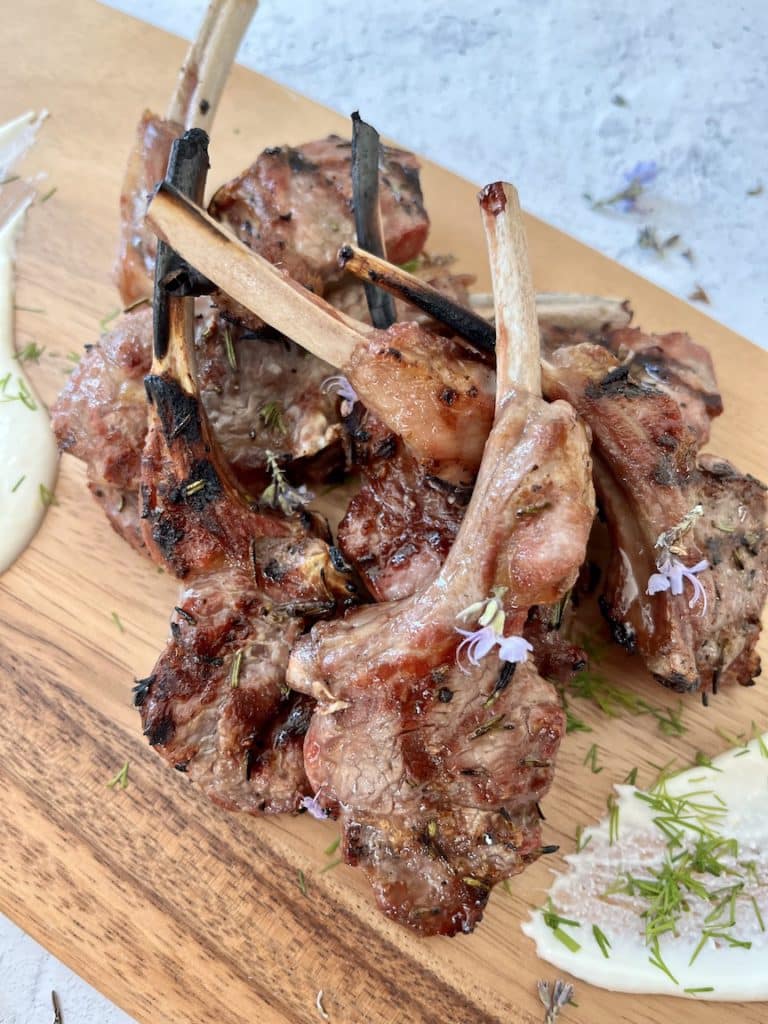 What To Serve With Lollipop Lamb Chops:
These lamb chops go perfectly with any of these side dishes.
Orzo Pasta Salad With Roasted Vegetables
My Favorite Mediterranean Salad
Roasted Greek Asparagus With Dill and Feta
Lollipop Lamb Chops Recipe: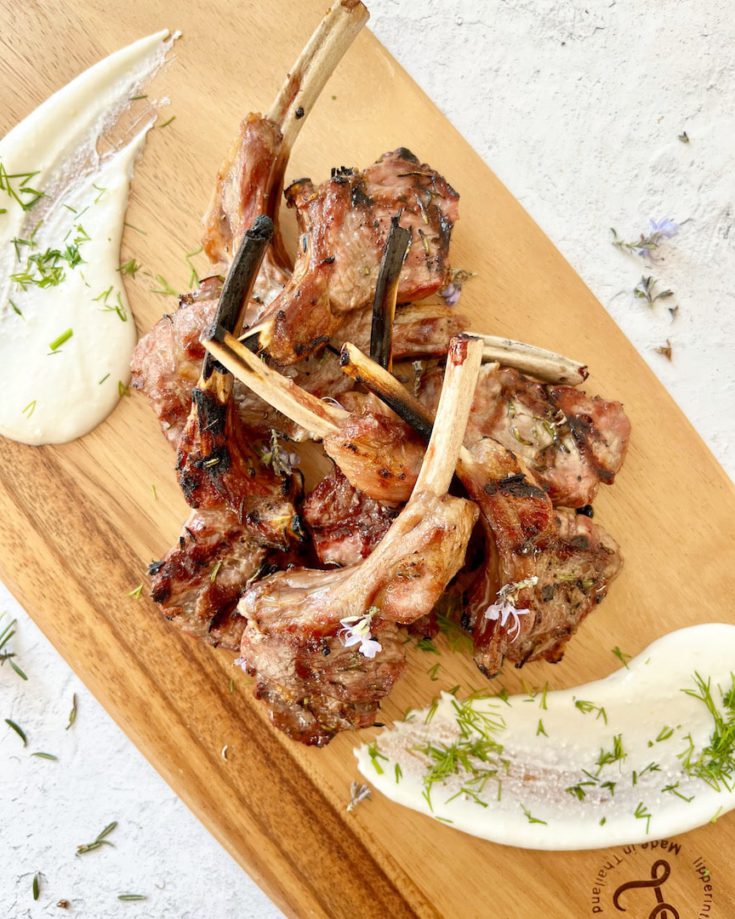 Yield:

Serves 4
Lamb Lollipops
Only a few ingredients to make an elegant five-star appetizer or entrée.
Ingredients
1 Rack Lamb Chops
Drizzle of Avocado Oil
Kosher Salt, to Taste
Black Pepper, to Taste
1 Tablespoon Fresh Rosemary, Finely Chopped
To Finish:
Drizzle of Extra Virgin Olive Oil
Maldon Salt
Lemon Whipped Feta:
8 ounces Feta (block in brine)
1 Lemon, zested and juiced
1/4 Teaspoon Black Pepper
Instructions
Preheat a grill to medium-high heat.
Cut the lamb chops between each bone.
Drizzle the lamb chops with avocado oil and sprinkle with salt, pepper, and chopped rosemary. Let sit for 10 minutes.
Grill the lamb chops for 5 minutes per side.
Remove from the grill and drizzle with extra virgin olive oil and a squeeze of lemon.
To make the whipped feta crumble the feta into a food processor or a high powered blender.
Add the lemon zest, juice and pepper. Blend for 2-3 minutes or until smooth.
Recommended Products
As an Amazon Associate and member of other affiliate programs, I earn from qualifying purchases.