These beach pudding cups are the perfect kids snack or treat for Summer. They are easy to make and are so adorable to serve around the pool!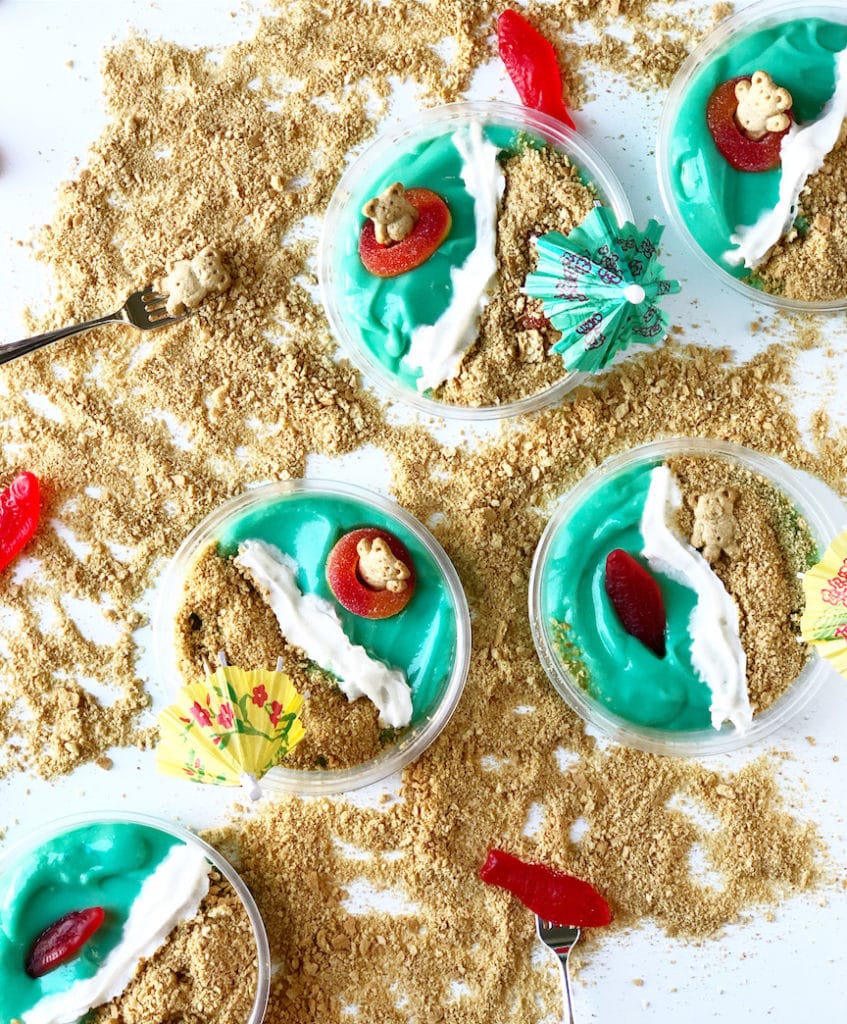 Nothing is better than getting kids involved in the kitchen, especially when they are making these fun beach inspired pudding cups.
Is it just me or does every mom need some fun activities to keep their kids occupied during the Summer months? My kid's favorite Summer activity is to get in the kitchen and this recipe will do just that.
I love cooking with kids in the Summer time! It's a great time to teach kids the life skill of cooking in a more relaxed and fun environment. If you need some ideas or want to teach your kids how to cook try out the More Momma Kids Cooking Course.
It's a 12 month on demand online cooking school where professional chefs teach your children how to cook. With one savory class and one sweet class a month, along with STEM centric cooking experiments, it gets kids involved in the kitchen safely and efficiently while teaching them an essential life skill.
Now lets get into making this delicious recipe!
Snack Pack Pudding Cups:
Everyone is probably familiar with snack pack pudding cups! But now you can make your own and control what goes into them! This recipe is such a great one to make with kids. You can make it into these beach cups or even a more traditional dirt cup.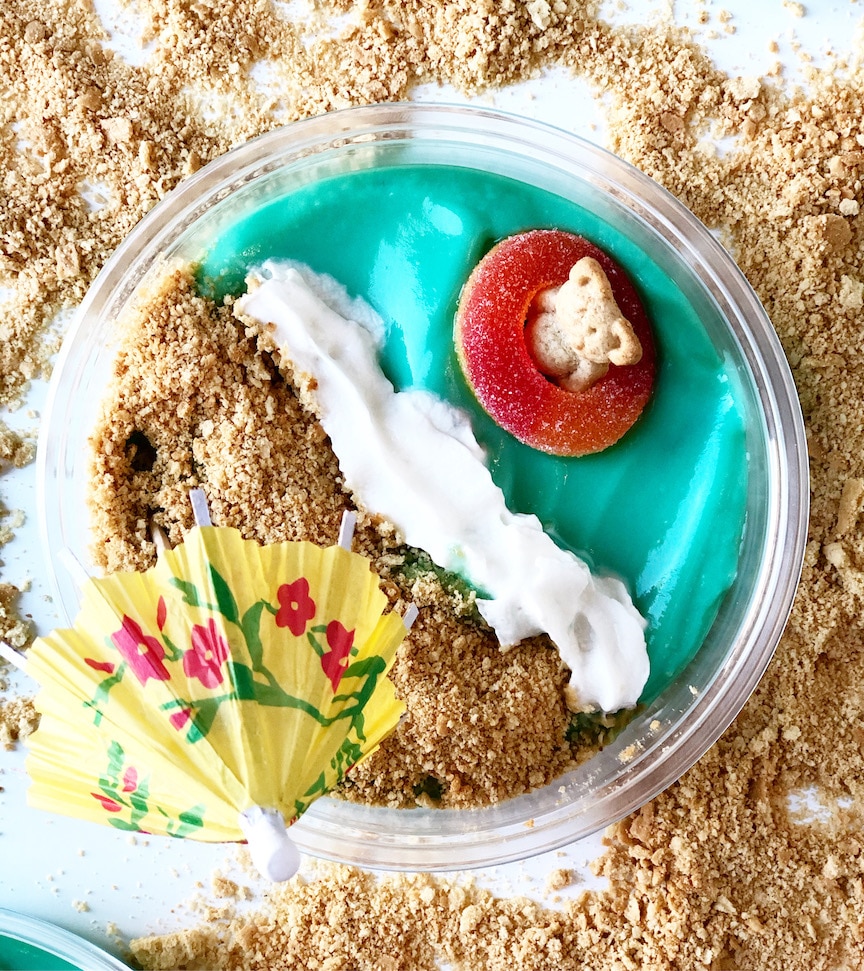 What are in Pudding Cups:
This homemade version is made with pudding mix, milk, graham cracker crumbs, whipped cream and some candy for details.
I like how I can control what I put in the cups. You can use natural food coloring by blending the pudding with some fresh blueberries or use organic graham crackers for your crumbs.
How To Make Homemade Pudding Cups:
Making homemade pudding cups are a lot easier than you may think! Here are the simple steps to make these homemade cups.
Make the pudding.
Prepare the toppings.
Place the pudding into your serving dish. I like to serve these beach pudding cups in these plastic cups. They are wide and shallow which make for the perfect kid portion, while still getting enough surface area to create your beach scene.
Top the pudding cups with the toppings.
Other Kids Treats For Summer:
If you like this idea try out some of the other recipes for kids to whip up this Summer.
Snow Cone Syrup With Real Fruit
Kids Charcuterie Board For Summer
Homemade Drumstick Ice Cream With Pop Rocks
Ingredients You Will Need:
Pudding mix: Use any vanilla instant pudding mix you prefer. You could also use banana flavor for a fun twist.
Cold milk: Use dairy milk for this recipe. Nut milks won't create a creamy consistency.
Blue food coloring: If you don't want to use food coloring you could also blend some blueberries into the pudding. Although it won't be as blue.
Graham crackers: Use your favorite brand of graham crackers.
Peach rings: You could also use apple rings if you prefer.
Teddy grahams: Use any flavor or variety of teddy grahams.
Swedish fish: You can also use candy sharks for a fun Shark Week themed dessert.
Whipped cream: Canned whipped cream works great for this recipe.
Drink Umbrella: You can find these here.
Pudding Cups Recipe: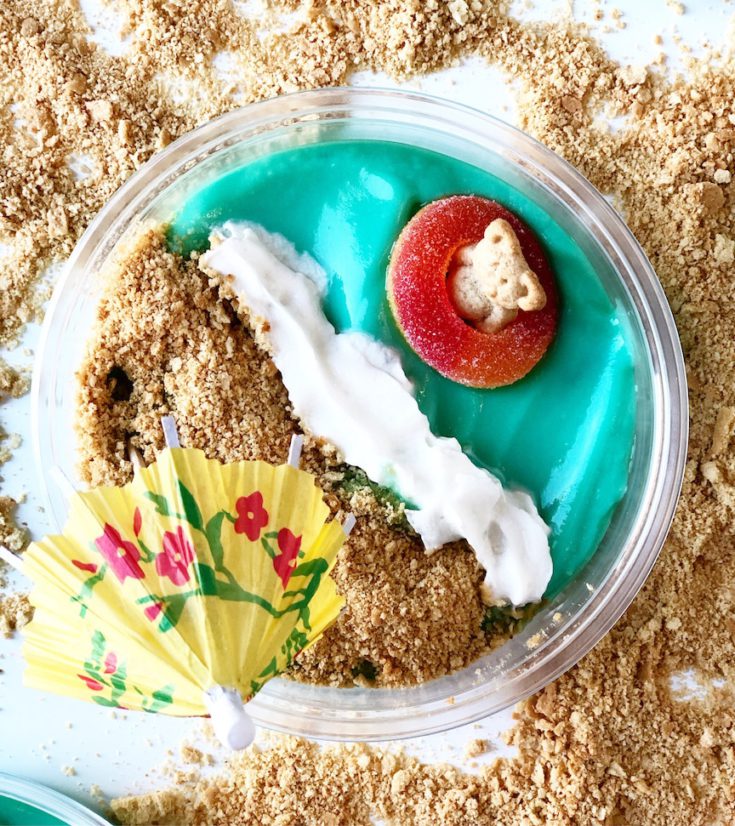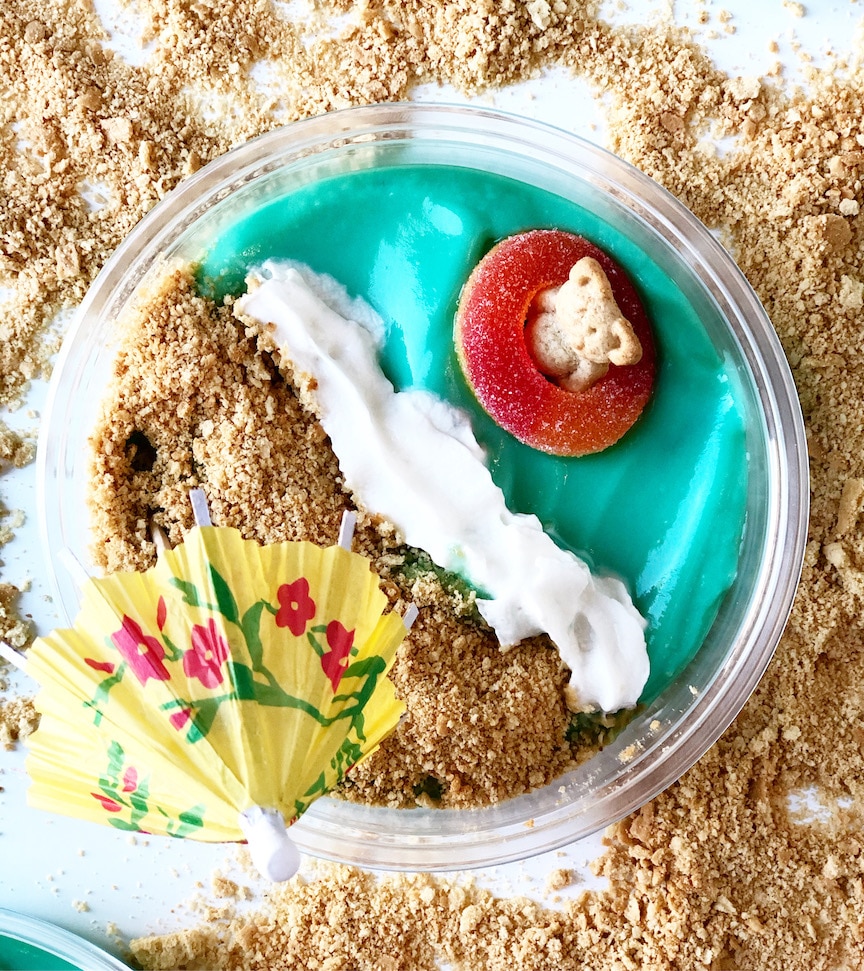 Yield:

Serves 6
Pudding Cups For Kids (Beach Cups)
The best Summer treat or snack for kids
Ingredients
1 box instant vanilla pudding mix
2 cups cold milk
1-2 drops blue food coloring
6 graham crackers
Instructions
Add the vanilla pudding mix to a mixing bowl. Add the milk and whisk for 2 minutes.
Add 1-2 drops of food coloring to the pudding and stir to combine. Refrigerate for 10 minutes.
Add the graham crackers to a ziplock bag and smash with a rolling pin into fine crumbs.
Prepare the garnishes. Place teddy grahams into the peach rings and undo the umbrellas.
Fill each container with pudding.
Cut the corner off of the ziplock bag of graham crackers. Top half of the pudding with graham cracker crumbs.
Add the garnishes.
Top the cups with whipped cream (where the pudding meets the crumbs) to form waves.
Serve immediately.