This easy and delicious shrimp taquito appetizer recipe is the perfect way to start off a fiesta or any gathering. Heck you can even just serve these for dinner; they are that good!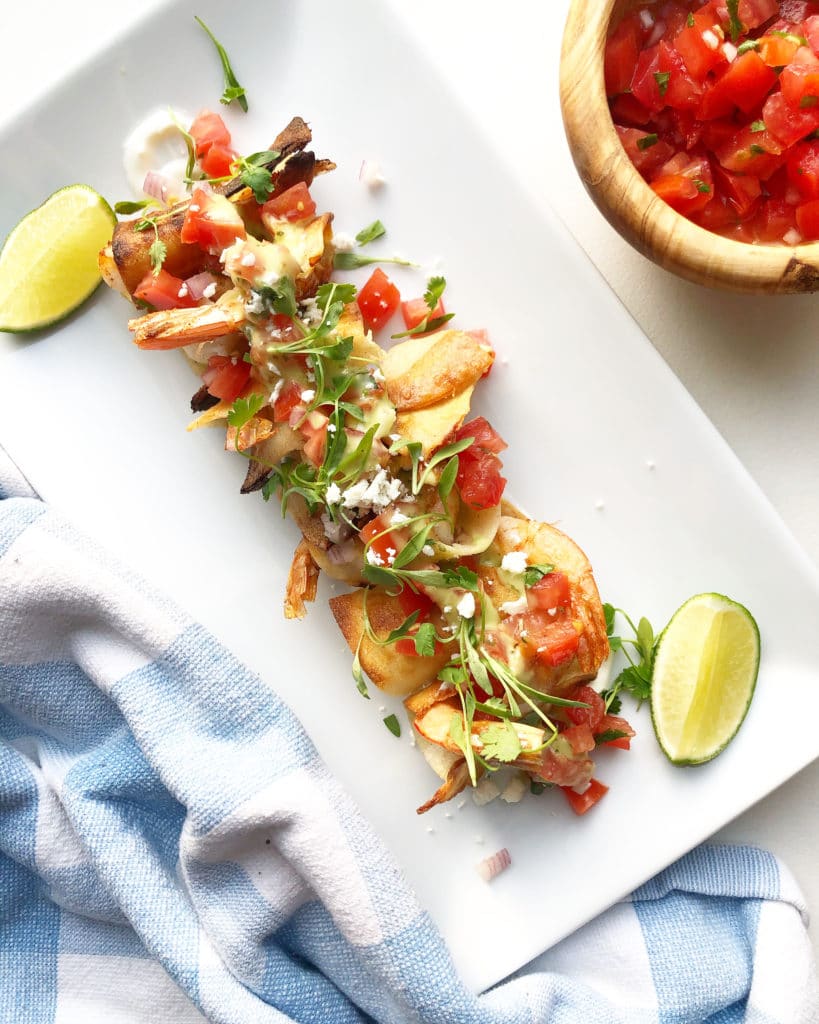 Shrimp taquitos are one of my very favorite shrimp appetizers. They are the perfect hand help appetizer and can be served as a first course at an elegant dinner party or as a quick and easy appetizer for a crowd.
With any cooked shrimp appetizer you will want to serve these warm and right away. I love serving these with homemade pico de gallo, an avocado salsa verde and some crema on top.
This recipe was born when I worked at the restaurant consulting company. One of my jobs was to eat at restaurants, order almost everything on the menu and then my boss would tell me to recreate certain dishes.
We were opening up a high end Mexican restaurant in South Dakota and one of the restaurants we pulled inspiration from is South Of Nicks. They have a delicious shrimp taquito as one of their appetizers and it was on my list to recreate.
So I went back to the test kitchen and this delicious shrimp appetizer was born. It's surprisingly not very difficult to make, but makes a huge statement on the plate and is so beautiful!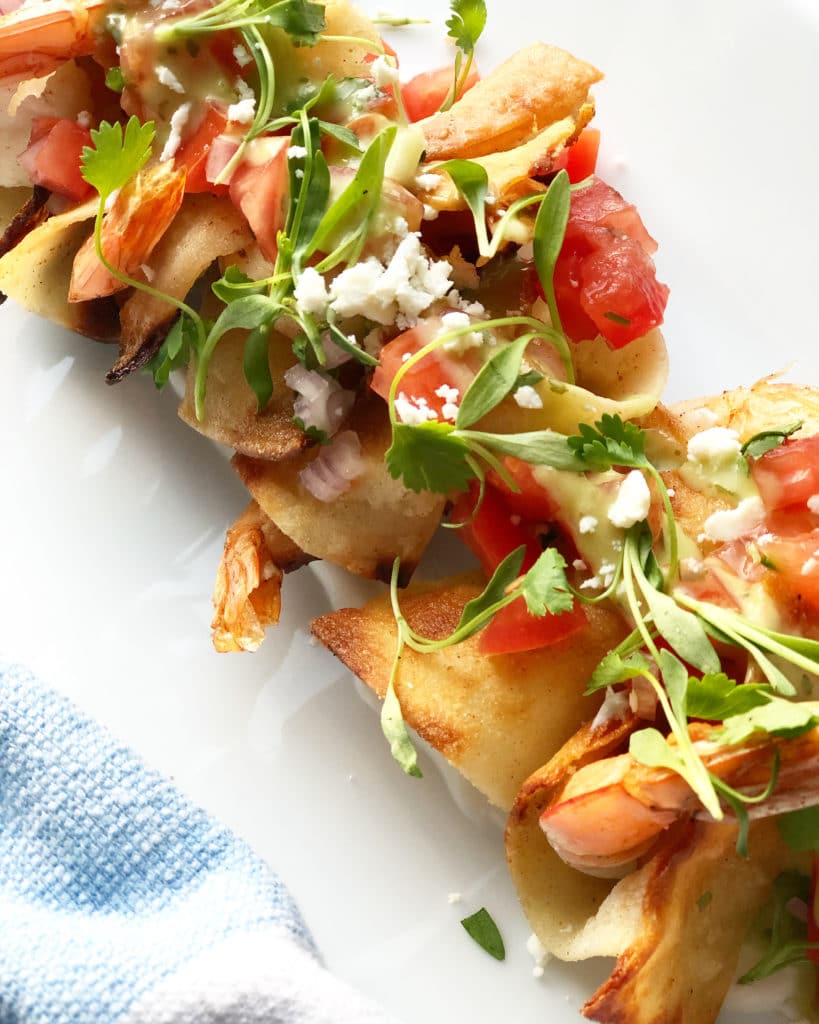 Ingredients You Will Need:
This recipe is great because the actual taquito itself is only made up of a couple ingredients. Then you can top them with some delicious salsas and creama if desired. Here is what you need to make the taquitos themselves.
Corn Tortillas: Corn tortillas are essential because they fry up nicely and create a crispy exterior. After the tortillas are cut in half they make for the perfect size vessel for your shrimp.
Peeled and Deveined Tail on Shrimp: I like to use frozen shrimp. You can find peeled and deveined shrimp with the tail on in most grocery stores. Make sure they are raw! If they are cooked they will be hard and rubbery after you fry them. The tail helps your guest to have something to hold onto while eating these taquitos.
Blackening Seasoning: Blackening seasoning is what gives these taquitos a little kick and so much delicious flavor. You can also use Old Bay seasoning if you can't find blackening seasoning. The blackening seasoning isn't too spicy so try it out!
How to Thaw Frozen Shrimp:
You will first want to start by thawing the frozen shrimp. It is very important to thaw the shrimp properly. When thawing seafood you will want to place the shrimp or seafood under cold running water until thawed. This should take only a couple of minutes as shrimp thaw very quickly.
Do not thaw with warm or hot water. This will make the shrimp mushy and interfere with it's texture and quality. It is also putting the shrimp in the danger zone to breed bacteria.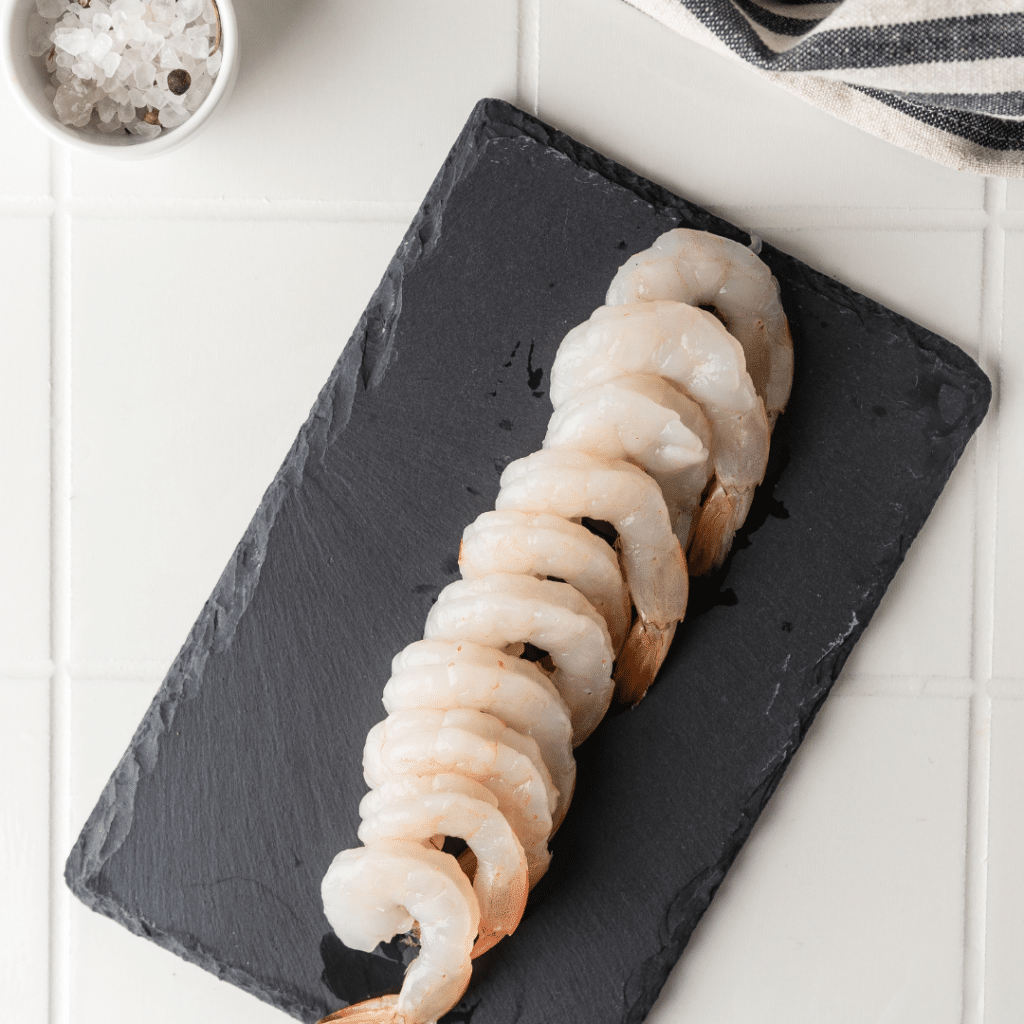 How To Make Shrimp Taquitos:
Once you have thawed your shrimp you are ready to make these taquitos.
Step 1:
Flash fry the tortillas. This will help to make sure the tortillas will not break or crack when you roll the taquitos. It only takes a few seconds to flash fry. You want to make sure you do not fry too long or the tortilla will harden and won't be able to be rolled.
Step 2:
Dry and season the shrimp. Don't be shy on the seasoning. I purposefully didnt put a measurement for the seasoning because most of it will fall off on anyways.
Step 3:
Cut the tortillas in half and roll the shrimp. Skewer the tortilla with a toothpick to hold in place.
Step 4:
Fry the taquitos for 1 minute or so on each side until the tortilla is golden brown. Drain and serve immediately with toppings of choice.
Can I Make Them Ahead Of Time?
You can definitely make these ahead of time for a party or an event. I wouldn't recommend making them more than 8 hours ahead of time.
You can refrigerate the wrapped shrimp until you are ready to fry. If you are making them ahead of time I would recommend making sure you do not skip the flash frying (of the tortillas) step. This will ensure the tortillas will not split or break in the fridge.
Serving Ideas:
If you are looking for some other delicious recipes to serve with these shrimp taquitos try out these other delicious recipes.
Mexican Salad With Honey Lime Vinaigrette
Easy Grilled Mexican Street Corn
Birria Tacos With Consommé Dipping Sauce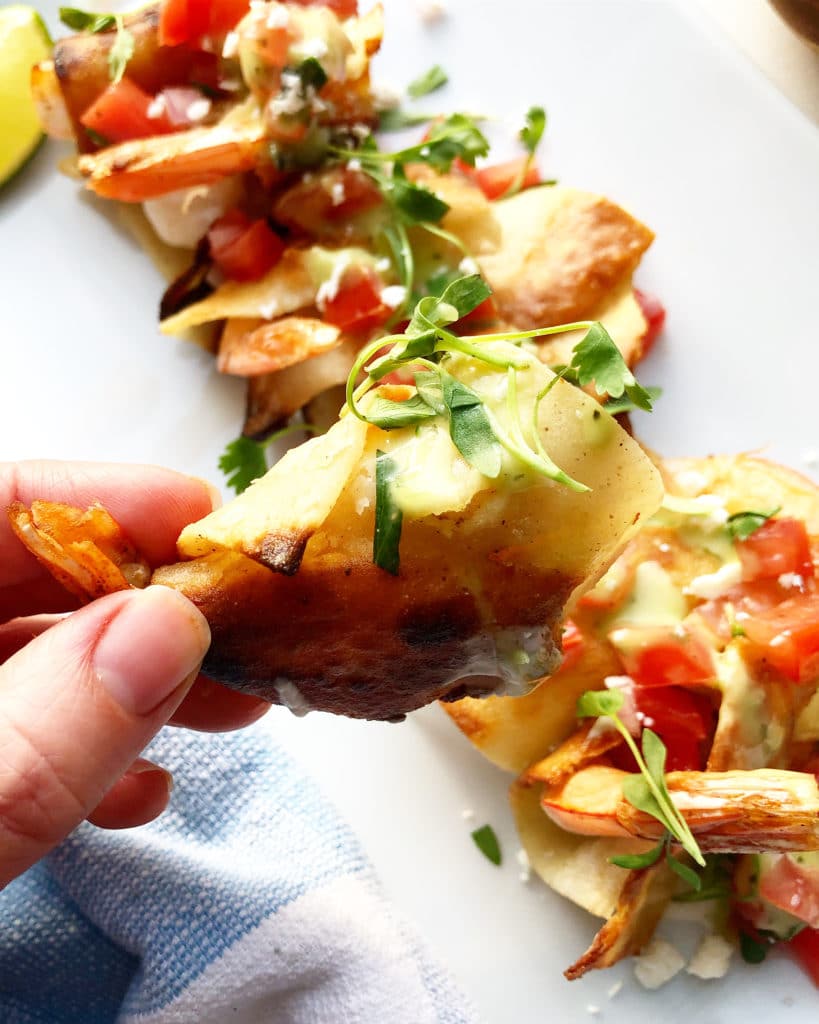 Shrimp Taquito Recipe: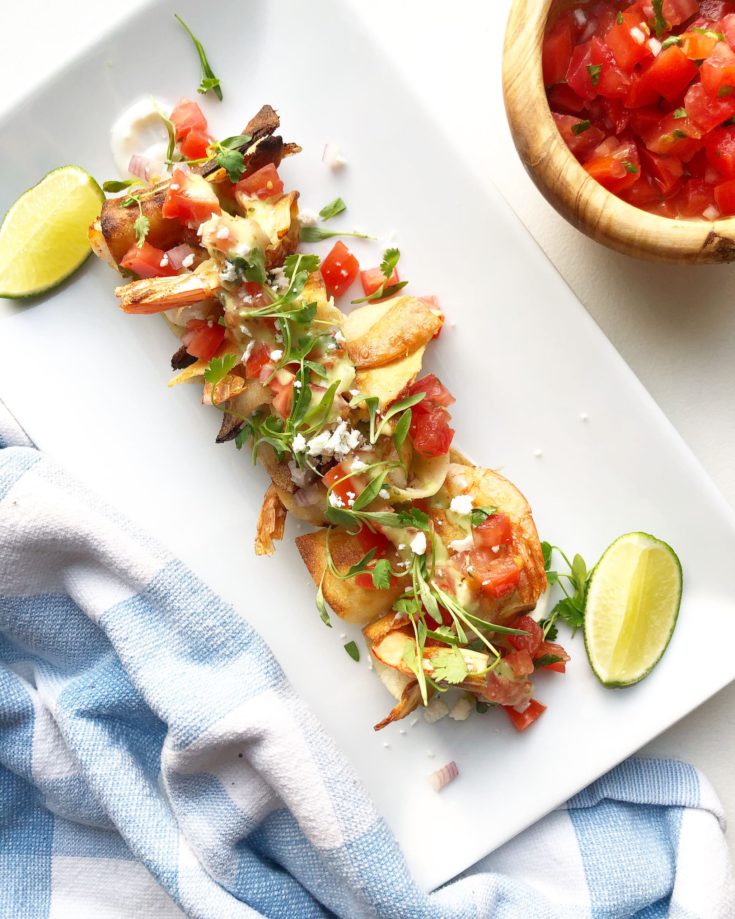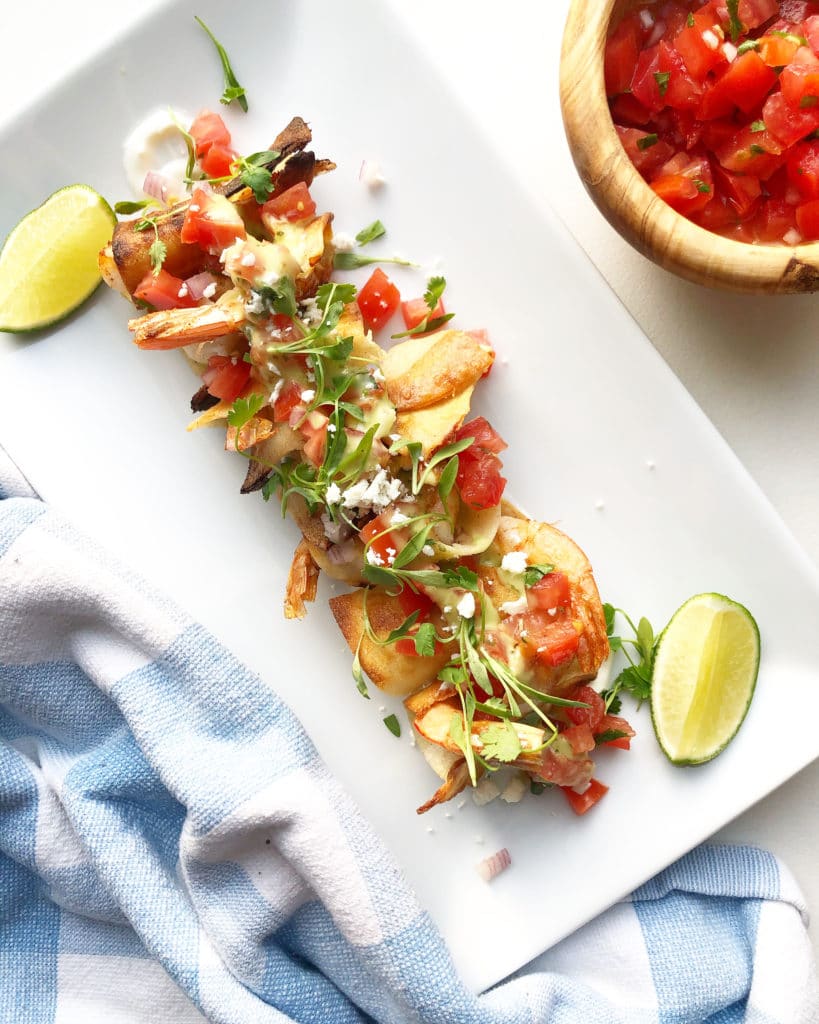 Yield:

Makes 20
Shrimp Taquito Appetizer
Delicious, bite size, crunchy shrimp taquitos will become one of your new favorite appetizers!
Ingredients
20 Frozen Raw, Peeled, Deveined Shrimp, Thawed
Blackening Seasoning (to your desired taste)
Kosher Salt (to your desired taste)
10 corn tortillas, (cut in half)
Avocado Oil For Frying (to fill a small saucepan 1/3 of the way)
Optional Toppings:
1/2 Cup Pre-made Pico De Gallo
1/4 Cup MildGuacamole Salsa (I like the Herdez brand)
1/4 Cotija Cheese, Crumbled
1-2 Tablespoons Mexican Creama
3 Limes, Cut into Wedges
2 Tablespoons Cilantro, Roughly Chopped
Instructions
Thaw the shrimp under cold running water. Dry the shrimp completely with paper towels. Sprinkle with blackening seasoning and salt.
Fill a small saucepan 1/3 way with oil. Preheat over medium heat for 2-3 minutes. Test the oil with a small piece of tortilla. If bubbles start to form right away on the edges your oil is ready.
Dip the tortillas into the pan on both sides just until bubbles form on the edges (about 10 seconds per side). Place the tortillas on a cutting board. Turn off the oil.
Stack the tortillas and cut in half.
Place one of the seasoned shrimp on one half of the tortillas (the tale of the shrimp facing the cut side of the tortilla and hanging over the edge of the tortilla to expose the tail). Tightly roll the tortillas over the shrimp. Secure with a toothpick.
Once you have finished all the taquitos preheat the oil again (use the same technique to see if the oil is hot enough before adding the shrimp).
Carefully place the taquitos (about 4 at a time) into the hot oil. Fry for 1 or so minutes per side or until golden brown. Remove the taquitos to a paper lined plate and season right away with some kosher salt.
Repeat with the remaining taquitos.
Place the taquitos on your serving plater and top with pico de gallo, guacamole salsa, cotija cheese, Mexican creama, cilantro and lime wedges. Serve immediately.
Recommended Products
As an Amazon Associate and member of other affiliate programs, I earn from qualifying purchases.