This cinnamon granola is my all time favorite. Full of healthy whole grains, nuts, and cinnamon, it is perfect for yogurt parfaits or to eat as a quick and delicious snack.
I love cinnamon granola and it's been on repeat over here for the past couple weeks. It's easy to make and you can store it in an air tight container for a couple of weeks!
Homemade granola is so much better than the store bought stuff. The best part is it's made with healthy fats and natural sweeteners so it's a much healthier version than most store bought granolas.
I am going to show you just how easy it is to make! Feel free to change up the recipe to fit your specific needs.
I will give you some ideas on how to change up the flavor and how to make it gluten free too. Now let's get started!
How To Make Homemade Granola:
Granola is one of those recipes that you literally throw everything together, bake it up and then you are done!
I love how easy it is to make and how long it lasts. It's a great meal prep item for quick and easy breakfasts or snacks.
For this granola toss all the ingredients onto a parchment lined baking sheet. I like to melt the coconut oil with the honey so it is easier to incorporate. Toss everything together and then throw it in the oven.
Remember to let your granola cool. This will make it nice and crisp and then you can break it up into small pieces once it completely cools down.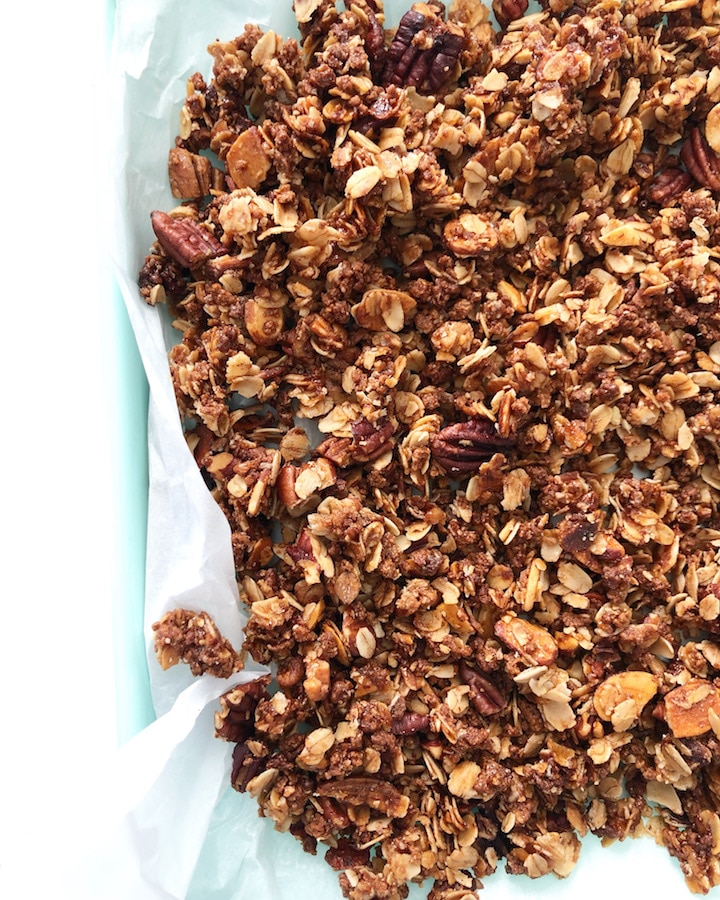 Storage:
Store the granola in an air tight container, mason jar or Tupperware container. You can keep it out at room temperature for a couple of weeks!
I love storing individual servings in mini mason jars. Just pull one of them out with your favorite yogurt and fresh berries and you can have an easy, healthy yogurt parfait for a lunch on the go or at work.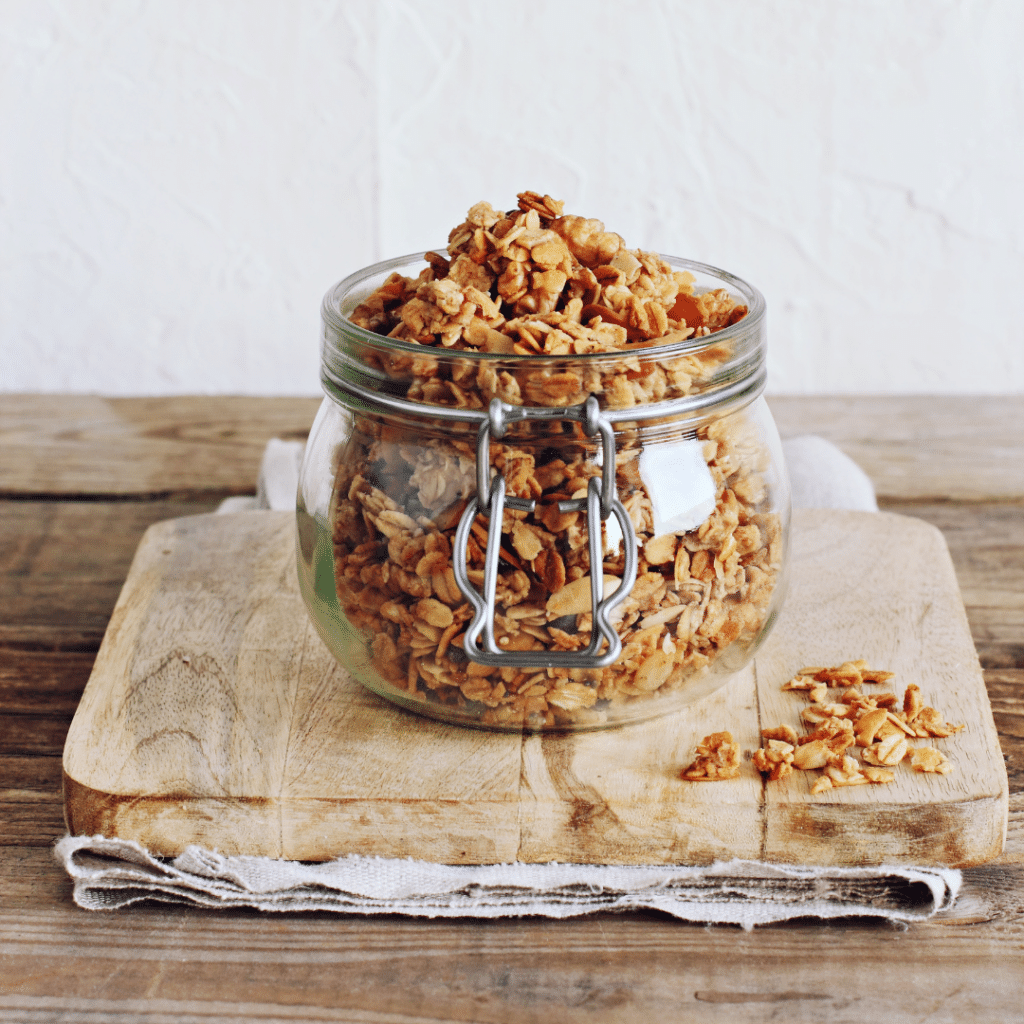 Gluten Free Option:
This cinnamon granola can easily be made gluten free. Just make sure your oats are gluten free and leave out the grape nuts.
You can substitute ground flaxseed for grape nuts to help the granola come together a little better if needed.
Flavor Ideas:
Chocolate Chip Granola: After the granola is cooled add mini chocolate chips and toss to combine.
Strawberry Coconut Granola: After cooled add freeze dried strawberries, and shredded coconut and toss to combine.
Chocolate Mint Granola: Add 1 teaspoon mint extract to the coconut oil and honey. Then when cooked and cooled add mini chocolate chops and toss to combine.
Ingredients:
You only need a few ingredients to make this delicious granola. Here are the ingredients that you will need.
Chopped pecans: You can also use any nuts of choice.
Sliced almonds (honey roasted or regular): I love the honey roasted sliced almonds from Trader Joe's but you can use regular if that is easier.
Oats: Use rolled oats NOT the quick cooking oats for this recipe.
Grape nuts: This adds tons of extra fiber. You can also use a bran cereal or leave this out entirely to make the granola gluten free. You can find grape nuts in the cereal isle.
Coconut oil: This is my preferred fat. Granola needs some sort of fat to create a crispy consistency. You can also use vegetable oil.
Honey: This will add sweetness while also creating the typical granola like texture.
Ground cinnamon: Use a good quality ground cinnamon.
Salt: Salt brings all the flavors out so don't forget this ingredient.
Other Delicious Healthy Breakfast Ideas:
If you need some other delicious and healthy breakfast ideas try these out!
Pitaya Bowl (Five Different Varieties)
How to Make Your Own Daily Harvest Smoothie
Cinnamon Granola Recipe: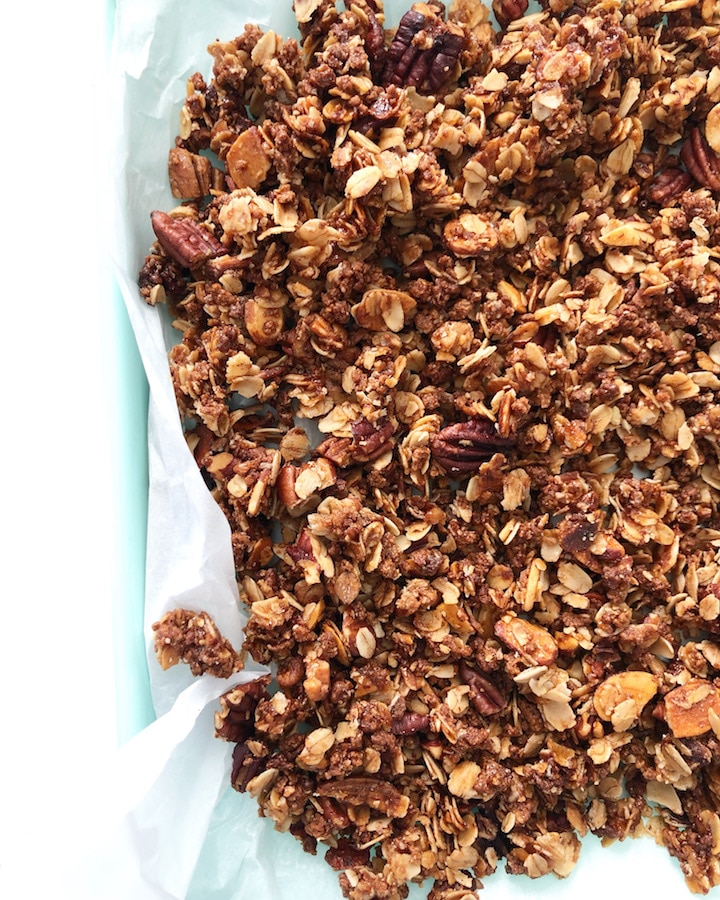 Yield:

16 Servings
The Best Cinnamon Granola
Additional Time:
20 minutes
Total Time:
1 hour
5 minutes
There is nothing better than homemade cinnamon granola. Serve it for breakfast with some yogurt or eat it straight up as a snack.
Ingredients
1 cup chopped pecans
1 cup sliced almonds (honey roasted or regular)
3 cups oats
1 ½ cups grapenuts
¾ cup coconut oil
¾ cup honey
2 teaspoons ground cinnamon
1 teaspoon salt
Instructions
Preheat the oven to 300 F. Add the pecans, almonds, oats and grapenuts to a parchment lined baking sheet.
Measure out the coconut oil and place in a microwave safe bowl. Then add the honey and microwave for 30 seconds or until melted.
Add the ground cinnamon and salt to the oat mixture.
Add the honey and coconut oil mixture to the oats and nuts and toss to combine.
Spread out evenly and cook for 40 minutes. Stir at the half way point.
Allow to cool completely and break up into small pieces.
Store in an air tight container at room temperature for 5 days or in the refrigerator for 1 month.
Nutrition Information:
Yield:
16
Serving Size:
1
Amount Per Serving:
Calories:

324
Total Fat:

20g
Saturated Fat:

9g
Trans Fat:

0g
Unsaturated Fat:

9g
Cholesterol:

0mg
Sodium:

184mg
Carbohydrates:

35g
Fiber:

5g
Sugar:

15g
Protein:

5g