Homemade poppyseed bundt cake is a delicious vintage recipe that is light, fluffy and full of flavor. It is perfect for a snack or for afternoon tea.
This post may contain affiliate links.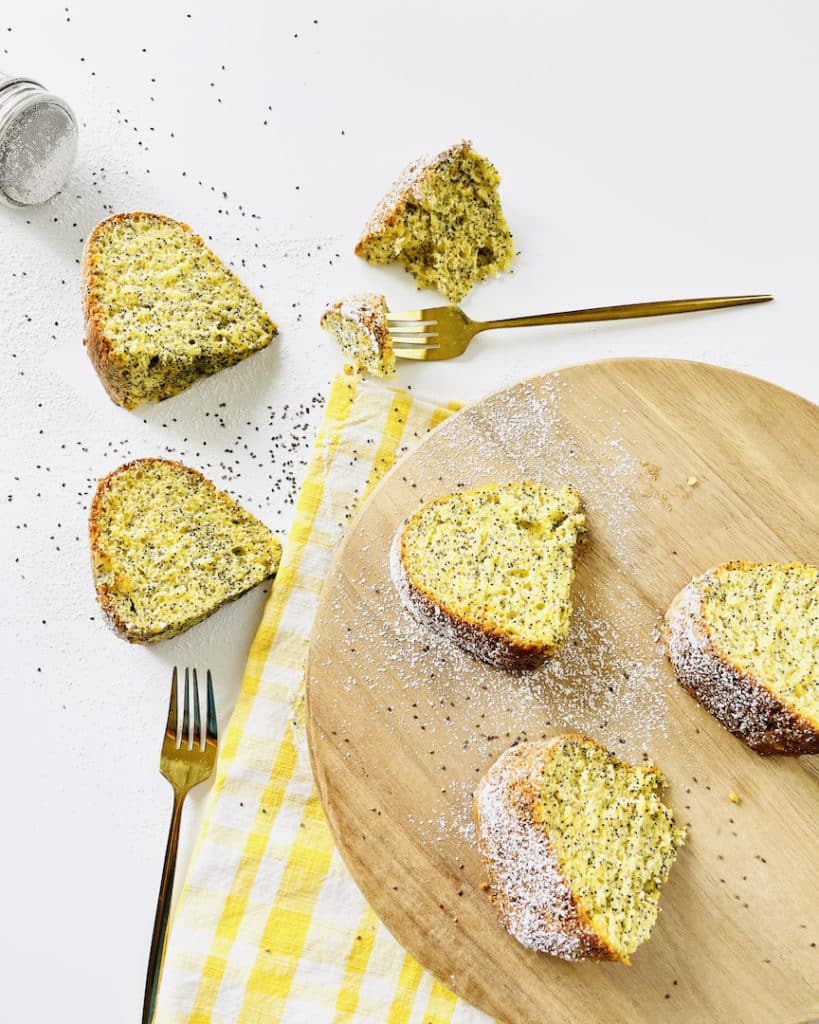 Poppyseed Bundt Cake
I loved this Poppyseed Bundt Cake as a kid, so it's a special dessert to me. I would always request it for my birthday.
The Bundt cake's unique shape and its moist, flavorful interior make it a timeless classic that is undeniably charming.
The Poppyseed Bundt Cake offers a delightful twist to this beloved dessert. It is bursting with delicate nutty flavors that are a true delight for the senses.
This cake is also easy to make and is perfect as a dessert or snack for afternoon tea.
It's also easy to make and is perfect for a dessert or snack for afternoon tea. You can use this pan to make bundt cakes, 8 inch cakes, or mini bundt cakes.
Come with me to learn about the secrets of this delicious dessert and why it should be on your table.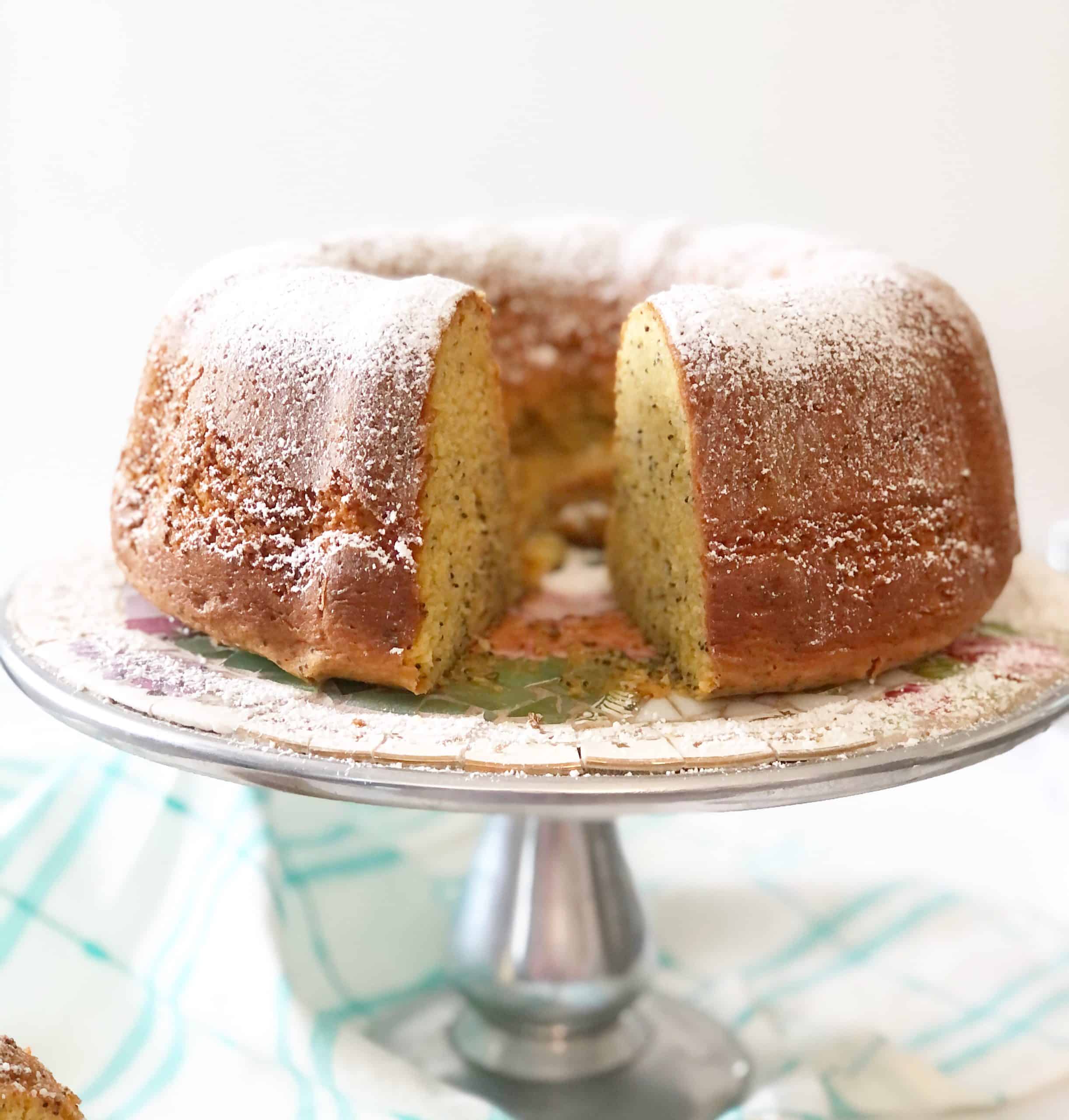 Poppyseed Bundt Cake Ingredients:
Here is what you will need to make this delicious bundt cake.
Yellow Cake Mix: Any brand will do
Instant Vanilla Pudding Mix: Use the large box.
Poppyseed: Make sure you have a fresh bottle you will need 1/2 cup.
Sour Cream: This add a delicious moist texture to the cake.
Eggs: There is no substitute for the eggs.
Cream of Sherry: This adds a delicious flavor to the cake. If you really do not want to use this ingredient you can leave it out but the flavor is amazing!
Oil: You can either use vegetable oil or refined coconut oil.
Powdered Sugar: This is optional for dusting on top.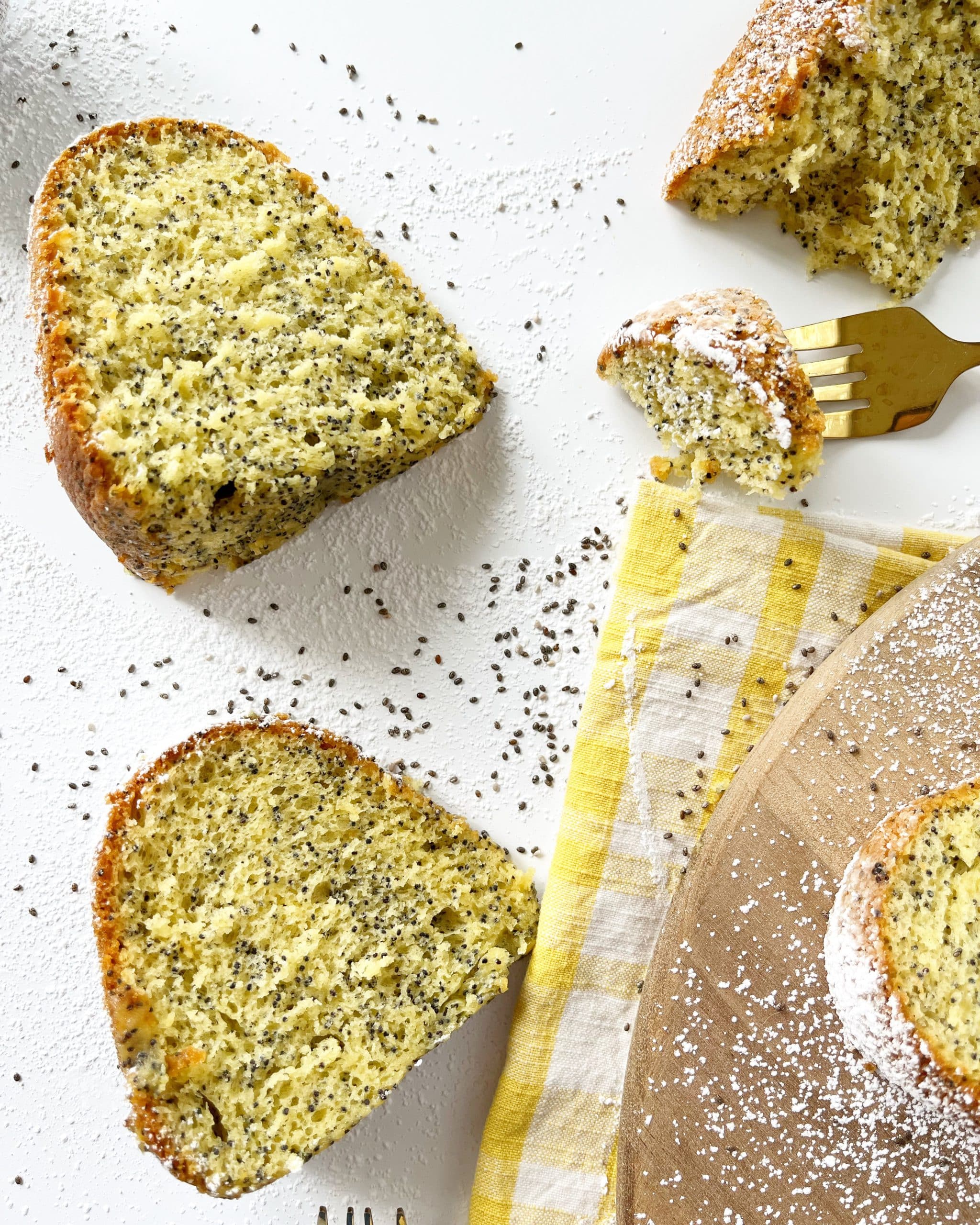 How To Make Poppyseed Bundt Cake:
This cake is so simple.
Mix the ingredients until well combined.
Place the batter in a greased bundt pan or mini bundt cake pan.
Bake at 325 F for 45 to 50 minutes.
After baking the cake, ensure it has cooled completely before taking it out of the pan.
To take out of the pan place a wire rack or serving platter upside down on the cake pan. Hold the pan and the rack or platter and flip the cake pan over to release the cake onto the rack.
Dust with confectioners sugar, slice and serve.
You can make this cake ahead of time and serve it the next day.
Other Variations:
Change up this vintage recipe by adding some different flavored extracts or citrus zest. Make it into a lemon poppy seed bundt cake by adding lemon zest or try orange or lime zest instead.
If you want some other fun variations try adding almond extract, strawberry extract, raspberry extract or even coffee extract.
The Perfect Accompaniment:
To elevate the flavors of this already delightful cake, consider drizzling it with a sweet and tangy glaze.
Simply whisk together 1 cup of powdered sugar, 2 tablespoons of fresh lemon or orange juice, and a teaspoon of zest. Pour the glaze over the cooled cake, allowing it to cascade down the sides, adding an enticing touch.
Presentation and Serving Suggestions:
The distinctive shape of a Bundt cake adds an instant aesthetic appeal to any dessert table.
To make the cake fancier, add powdered sugar or decorate with flowers, berries, or citrus zest.
Serve the Poppyseed Bundt Cake as a delicious centerpiece for a brunch, afternoon tea, or any special gathering. Its subtle nutty flavor combined with the citrusy notes will have your guests coming back for seconds.
The Poppyseed Bundt Cake is a new version of the classic cake, with a fancy and special taste.
This treat is moist, has poppyseed crunch, and a hint of sherry flavor. It's impressive for any occasion with family, friends, or guests.
Other Delicious Cake Recipes To Try:
If you love cake try these other delicious cake recipes.
Brigadeiro Cake With Dulce De Leche
Lemon Cake With Raspberry Cream Cheese Frosting
Copycat Mastros Butter Cake Recipe
Poppyseed Bundt Cake Recipe: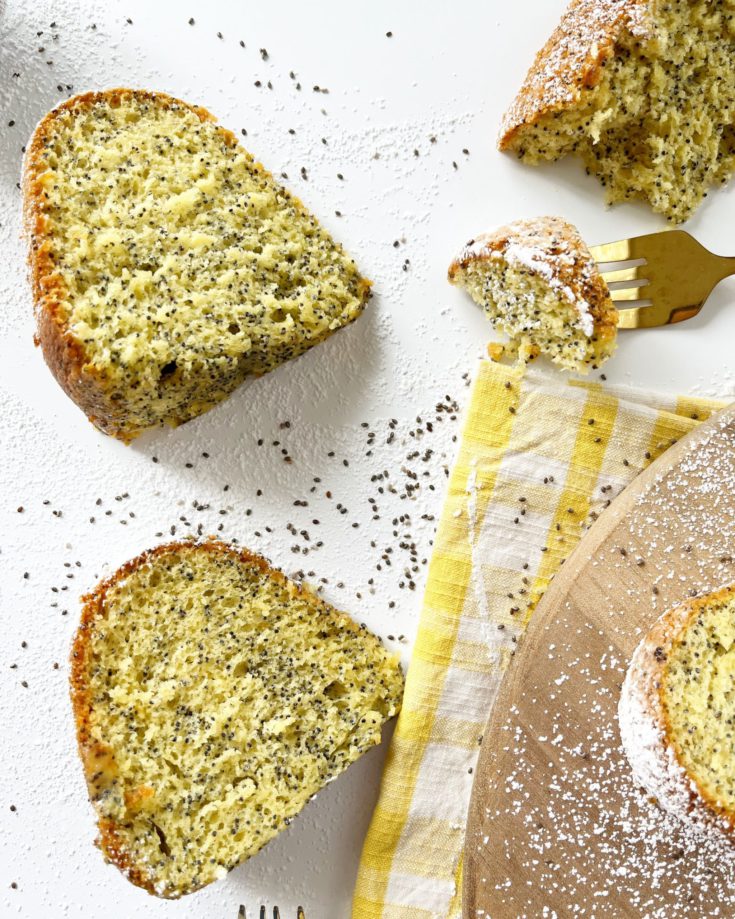 Yield:

14
Poppyseed Bundt Cake
Moist, fluffy poppyseed bundt cake is the perfect dessert or afternoon snack.
Ingredients
1 package yellow cake mix
1 large package instant vanilla pudding mix
1/2 cup poppyseeds
1 cup sour cream
4 eggs
1/2 cup cream of sherry
1/2 cup vegetable oil or coconut oil
Powdered sugar for dusting
Instructions
Mix all ingredients and beat for 5 minutes.
Pour into a greased 10 inch bundt pan.
Bake for 45-50 minutes.
Remove from the oven and let cool for 15 minutes.
Remove from the pan and dust with powdered sugar.
Slice and serve.
Recommended Products
As an Amazon Associate and member of other affiliate programs, I earn from qualifying purchases.
Nutrition Information:
Yield:
14
Serving Size:
1
Amount Per Serving:
Calories:

340
Total Fat:

16g
Saturated Fat:

6g
Trans Fat:

1g
Unsaturated Fat:

9g
Cholesterol:

19mg
Sodium:

395mg
Carbohydrates:

47g
Fiber:

0g
Sugar:

32g
Protein:

2g