Asian Slaw With Tangy Vinaigrette is the perfect side dish for any Asian inspired feast. It's bright, colorful, tangy and hits all your taste buds.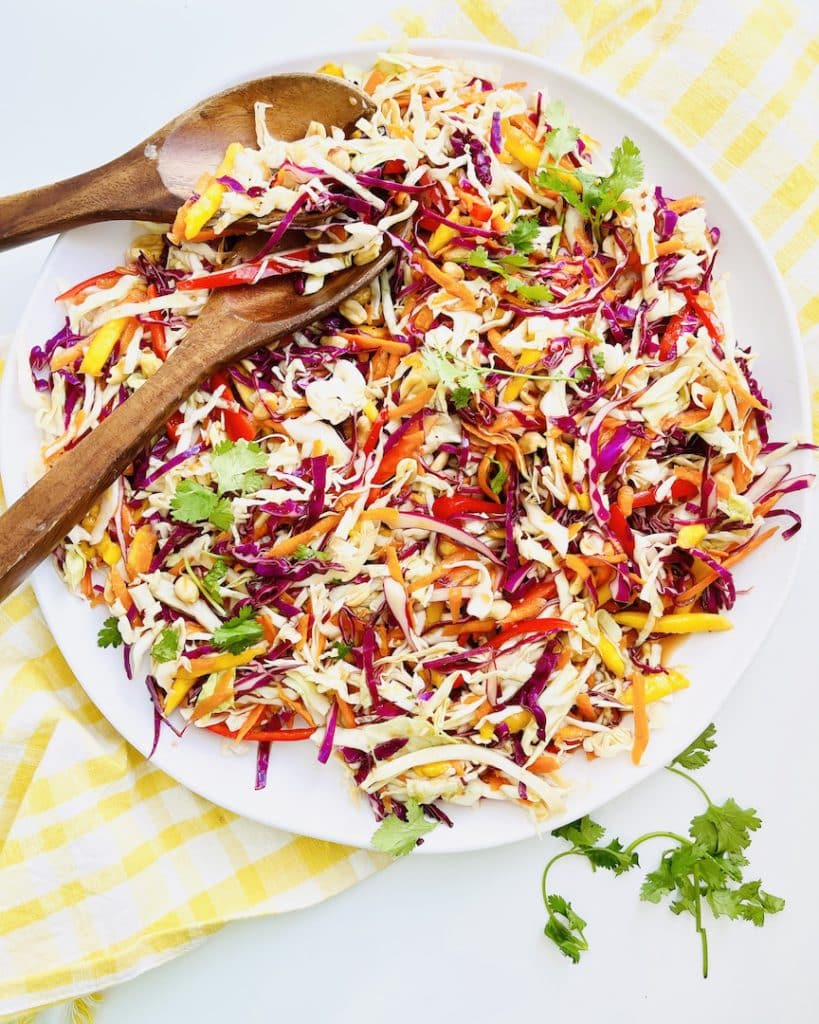 When it comes to salads, there's something undeniably refreshing about a well-balanced slaw. And if you're looking to add an exotic twist to your culinary repertoire, Asian slaw is the perfect choice.
Bursting with vibrant colors, delightful textures, and a harmonious blend of flavors, Asian slaw is a true culinary delight.
In this blog post, we'll explore an easy-to-follow Asian slaw recipe that will elevate your next meal to new heights.
Ingredients For Asian Slaw:
Here are the ingredients you will need to make this easy Asian slaw.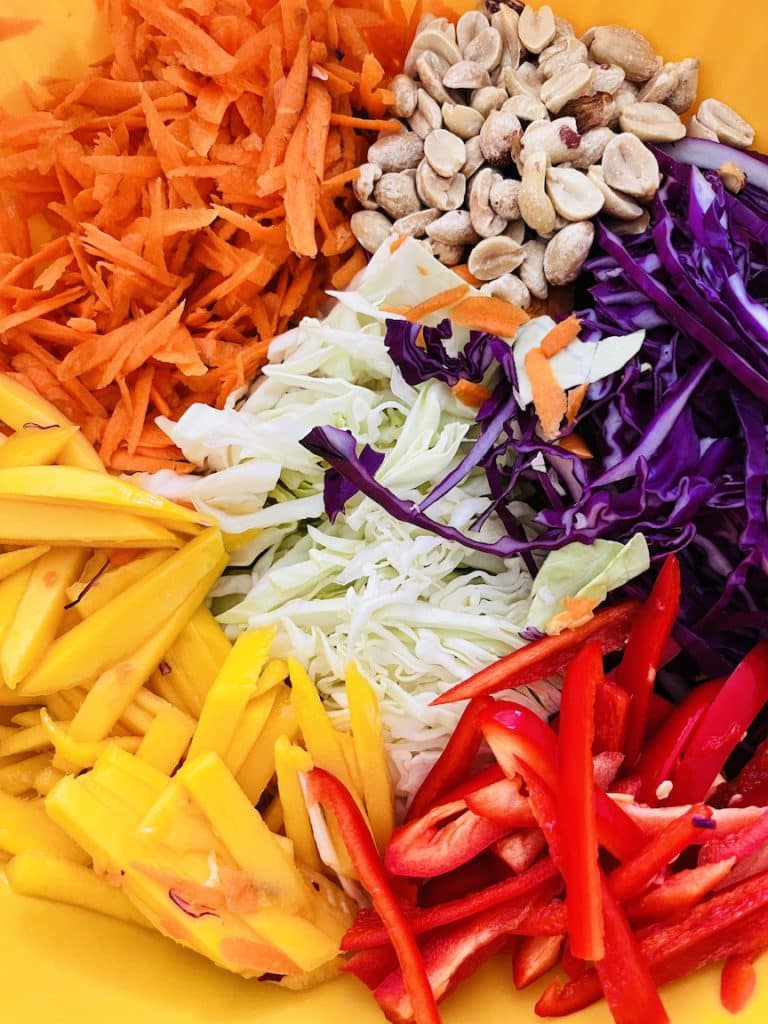 Ingredients For The Slaw:
green cabbage
red cabbage
carrots
red bell pepper
yellow bell pepper
mango
green onions
fresh cilantro leaves
toasted peanuts
Note: You can use any vegetables you like. Try adding snap peas or even bean sprouts to the slaw for another twist.
Ingredients For The Dressing:
rice vinegar
soy sauce
sesame oil
honey or maple syrup (for a vegan alternative)
fresh lime juice
garlic clove
grated fresh ginger
Salt and pepper to taste
How To Make Asian Slaw:
In a large mixing bowl, combine the slaw ingredients. Toss gently to mix all the ingredients evenly.

In a mason jar or small bowl combine the dressing ingredients. Ensure that all the ingredients are well combined and the honey (or maple syrup) is fully dissolved.

Pour the dressing over the slaw mixture and toss well to coat the vegetables thoroughly. Make sure every crunchy bite is infused with the delicious dressing.

If desired, sprinkle toasted peanuts on top for an extra nutty flavor and a delightful crunch.

Allow the slaw to marinate in the dressing for at least 10 minutes before serving. This will help the flavors meld together and allow the vegetables to soften slightly while retaining their crispness.

Once the slaw is ready, serve it as a refreshing side dish or use it as a filling for tacos, sandwiches, or wraps.

The versatility of Asian slaw makes it a great accompaniment to grilled meats, seafood, or even as a standalone salad.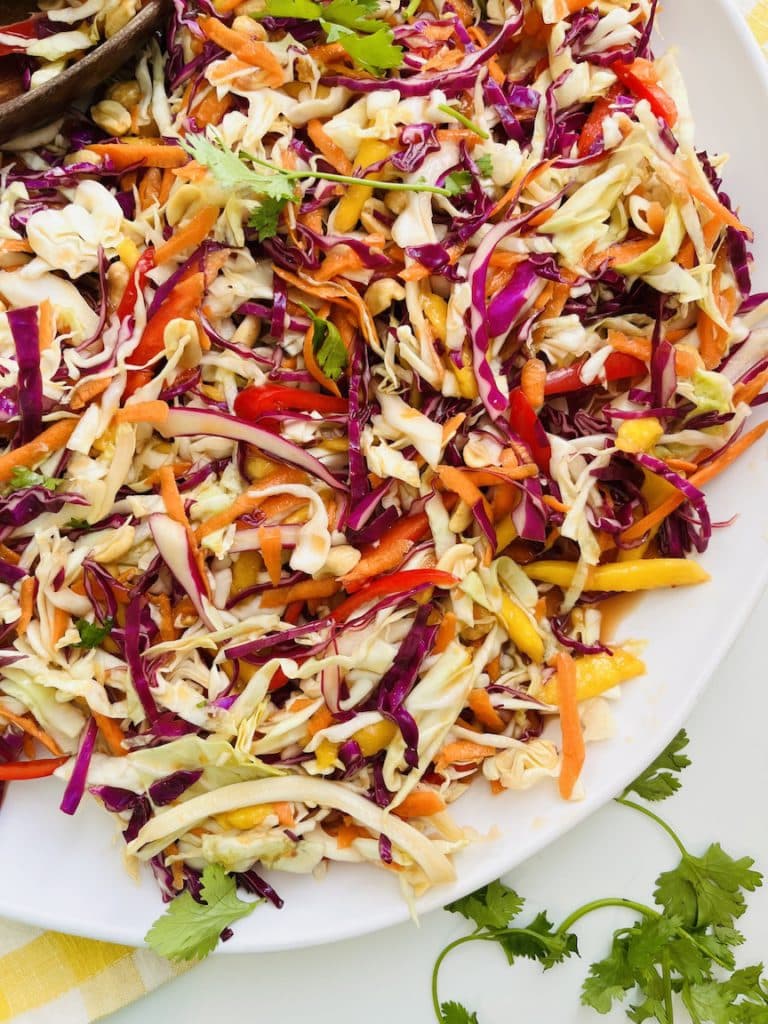 Other Delicious Recipes To Try:
Try these other delicious recipes that pair perfectly with this Asian slaw recipe.
Asian Pork Ribs In Instant Pot
With its vibrant medley of colors, enticing textures, and bold flavors, Asian slaw is a versatile and delectable dish that will impress both your family and guests.
This recipe offers a delightful balance of sweet, tangy, and savory elements, making it an ideal addition to any meal or a refreshing standalone salad.
Feel free to experiment with the recipe by adding other ingredients such as sliced almonds, mandarin oranges, or even a touch of chili for a spicy kick.
Let your creativity soar as you customize this Asian slaw to suit your taste preferences and enjoy a taste of the Orient on your plate.
Prepare this Asian slaw recipe today and savor the captivating fusion of flavors that will transport your taste buds to the bustling streets of Asia.
Your palate will thank you for this delightful and wholesome treat!
Asian Slaw Recipe: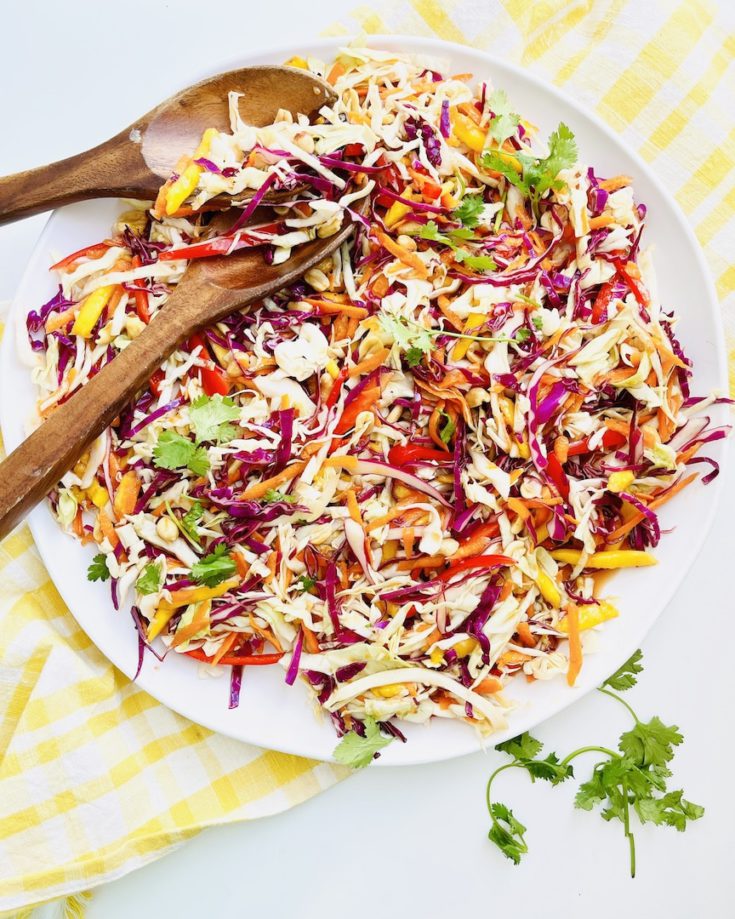 Yield:

Serves 8
Asian Slaw With Tangy Vinaigrette
Crisp, vibrant Asian slaw with tangy vinaigrette is the perfect side to any Asian dinner.
Ingredients
Ingredients For The Slaw:
1 small head of green cabbage, thinly shredded
1 small head of red cabbage, thinly shredded
2 large carrots, julienned
1 red bell pepper, thinly sliced
1 yellow bell pepper, thinly sliced
1 cup mango, thinly sliced
4 green onions, thinly sliced
1/2 cup fresh cilantro leaves, roughly chopped
1/2 cup toasted peanuts
Ingredients For The Dressing:
1/4 cup rice vinegar
2 tablespoons soy sauce
2 tablespoons sesame oil
2 tablespoons honey or maple syrup (for a vegan alternative)
1 tablespoon fresh lime juice
1 garlic clove, minced
1 teaspoon grated fresh ginger
Salt and pepper to taste
Instructions
Prep and slice all the ingredients for the slaw.
Place the slaw ingredients into a large salad bowl or platter.
Combine the dressing ingredients in a mason jar and shake until well incorporated.
Toss the dressing with the slaw ingredients until well combined.
Let sit for 10 minutes before serving.
Nutrition Information:
Yield:
8
Serving Size:
1
Amount Per Serving:
Calories:

162
Total Fat:

8g
Saturated Fat:

1g
Trans Fat:

0g
Unsaturated Fat:

6g
Cholesterol:

0mg
Sodium:

323mg
Carbohydrates:

21g
Fiber:

4g
Sugar:

13g
Protein:

5g