These delectable, once baked Chocolate Chip Almond Biscotti bake up dense, yet moist, and are studded with semi-sweet chocolate chips for the perfect dessert. Biscotti have graced my holiday cookie platter for many years now and are everything I adore in a soft biscuit.
Easter is just a couple weeks away! That means it's time to start thinking about your dessert menu.
I have been serving delicious biscotti for years now, and they have become a staple in our household. Friends ask for them, my husband's co-workers request them during the holidays, and they have been the perfect ending to many meals in my house.
Each time I bake biscotti, I find myself reminiscing about the year I lived in Italy for culinary school, and I'm totally okay with that! Being immersed in their rich culture every day was such an amazing experience, and I cannot wait to visit again!
Until I can get there, I'll continue to make this simple twist on a beloved Italian biscuit, biscotti.
What are biscotti?
Biscotti are Italian biscuit cookies often served as an after-dinner dessert, but also eaten other times throughout the day.
Where does biscotti come from?
Although it originated centuries ago, biscotti is thought to have debuted from the city of Prato, Italy around 1945. Over half a century later, biscotti, as we now know it, has grown to become a favorite biscuit around the world.
What's the difference between biscotti and uniscotti?
In Italian, the word "bis" means 'twice', and reflects the twice baked process of biscotti. "Un (uno)" means one or once in Italian, thus indicating the biscuit was baked just once.
Due to the twice baked process, biscotti are dry, crunchy Italian almond biscuits. Unscotti are much softer, but with the same oblong appearance and size.
Often biscotti are topped with chocolate, but my recipe of unscotti incorporates chocolate chips into the dough itself. Best decision ever!
How to bake biscotti/unscotti?
Soft, nut-studded dough is formed into oblong-shaped loaves, baked once as a log, then baked again sliced (when making biscotti), resulting in oblong-shaped biscuits that are oftentimes dipped in a drink. FYI—After the first baking, the loaves should be firm and very lightly browned, but not hard.
Unscotti is such a quick recipe to prepare because it requires no proofing or refrigeration. I also love it because I can freeze the shaped, uncooked dough for up to 2 months. Just tightly wrap in parchment paper and store in a freezer-safe container, then thaw and bring to room temperature before baking!
I love when you share your family's food traditions by tagging me on IG @moremomma.com. If you are in the mood for another cookie recipe try my famous chocolate chip cookie recipe. 
Chocolate Chip Almond Biscotti Recipe: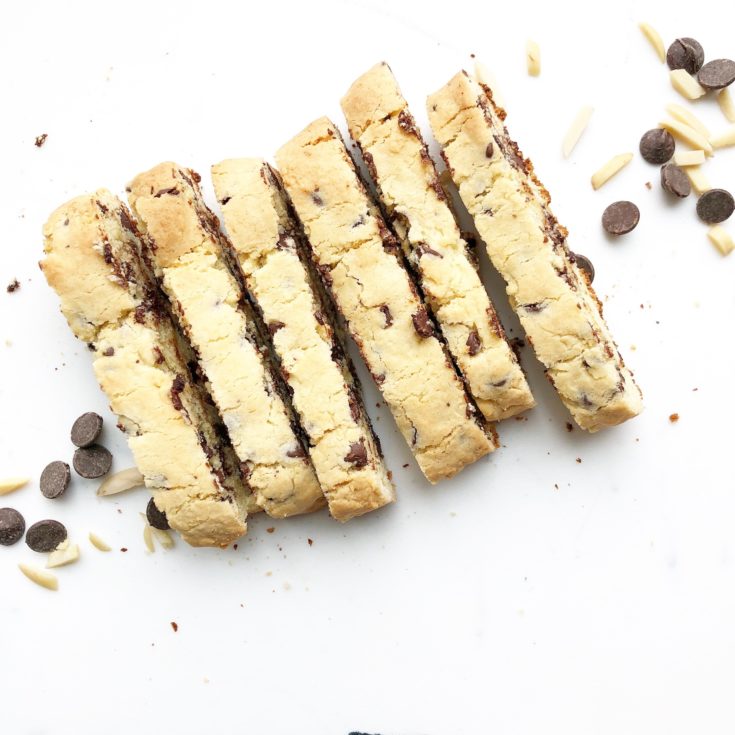 Yield:

18 Cookies
Chocolate Chip Almond Biscotti (Unscotti)
Unlike traditional biscotti that is baked twice, this recipe is baked once and is a game changer.
Ingredients
½ Cup Unsalted Butter, Room Temperature
¾ Cup Granulated Sugar
2 Eggs
1 Teaspoon Almond Emulsion or Extract
2 Cups All-Purpose Flour
1 ½ Teaspoons Baking Powder
1 Teaspoon Salt
1 Cup Semisweet Chocolate Chips
Optional:
½ Cup Sliced or Slivered Almonds
Instructions
Preheat the oven to 350°F.
In an electric mixer, cream the sugar and butter together until well-combined.
Add one egg at a time, mixing until each egg is well-incorporated.
Add the almond emulsion or extract.
Add flour, baking powder, and salt and mix on low speed until combined.
Sir in chocolate chips and almonds, if using.
Line two baking sheets with parchment paper.
Form the dough into (2) 8 inch x 3 inch logs, using parchment paper to form the logs.
Bake for 25 minutes. Let cool and slice into 1 inch slices using a long, serrated knife.
Notes
To Make Chocolate Chip Almond Biscotti: Follow above directions, then bake slices for an additional 10 minutes.