The best lavender cookie you will ever taste! I promise this cookie will blow your mind and have all your friends asking for the recipe.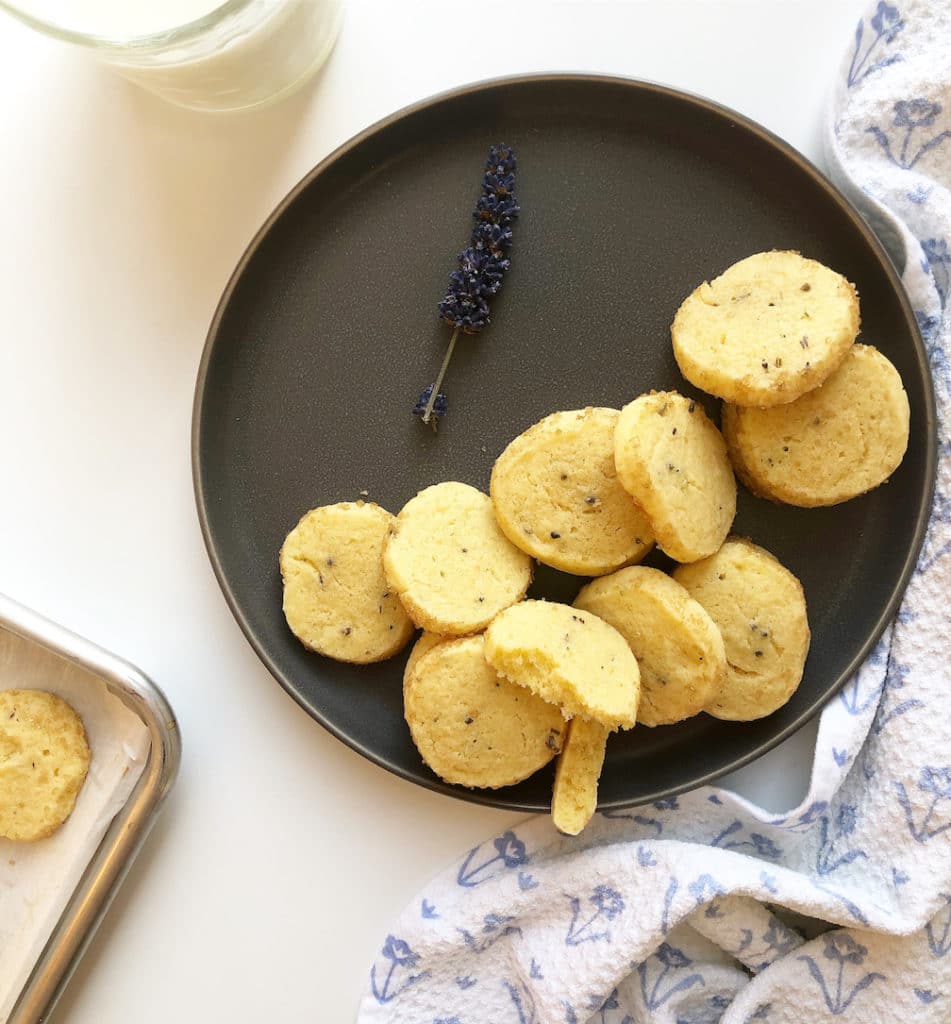 When I was in culinary school in Italy my chocolate teacher taught us how to make the most amazing shortbread style cookie.
His version was a chocolate salt and a cinnamon chocolate swirl. Both were absolutely incredible and he was gracious enough to share the recipe with his students.
Upon my return back to the States I dove into recipe testing and came up with multiple flavor options for this delicious cookie. I called them biscookie because it's the texture is a perfect cross between a biscotti and a shortbread cookie.
Some of the delicious biscookie flavors I created were lemon, coconut, strawberry shortcake, smore's, creamsicle and almond.
Recently I went back to the kitchen to create this new almond lavender flavor for a wedding I catered.
The lavender and almond work amazingly well together. These lavender shortbread cookies are delicate and packed with flavor. They are pretty enough to be packaged up for a gift or served at an event. I hope you enjoy them as much as I do.
If you don't have the energy to make these cookies yourself I do sell them and ship them to your doorstep! You can email me at meg@moremomma.com and order any flavor you would like. They come beautifully packaged and are perfect gifts.
The flavors that you can order are chocolate salt, chocolate cinnamon swirl, lemon, coconut and lavender almond.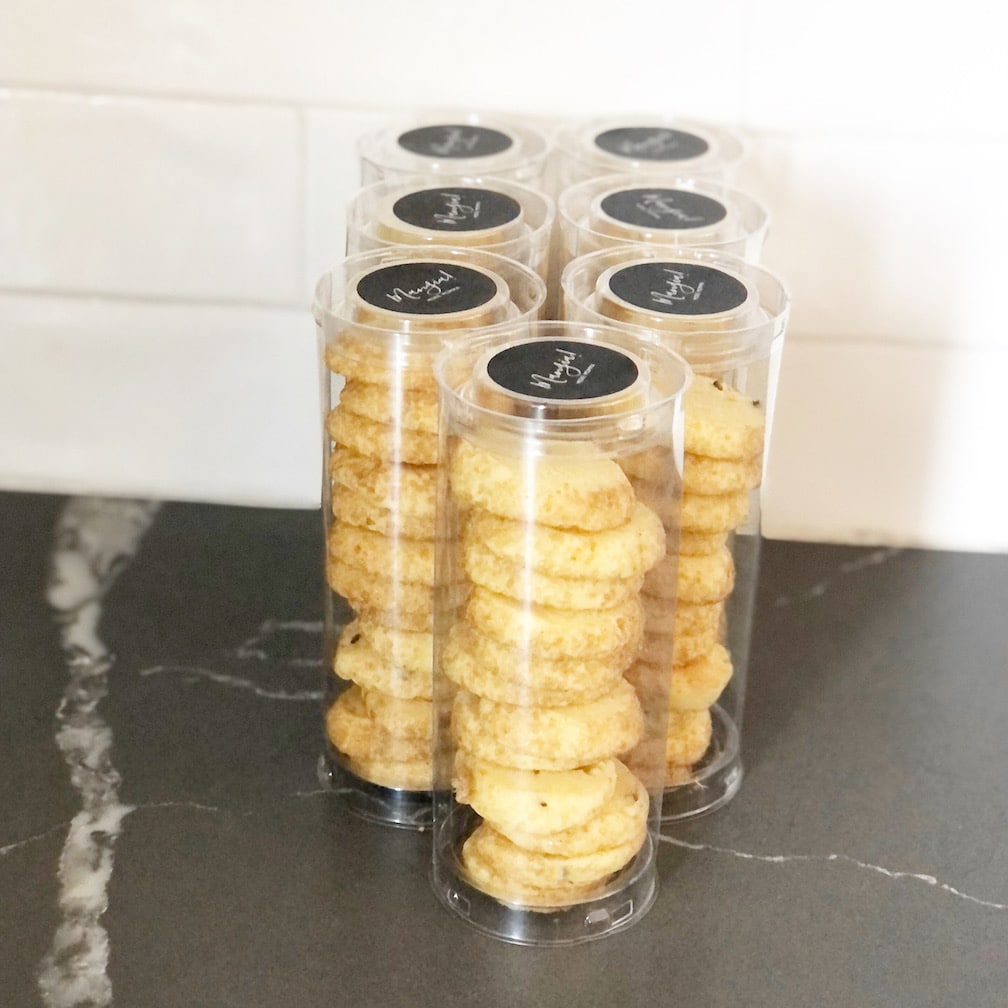 Lavender Cookie Ingredients:
Butter: It is essential with this recipe to use a high quality butter. I like the Kerry Gold brand. Use unsalted butter.
Sugar: Use granulated sugar.
Flour: All purpose flour is great for this recipe.
Eggs: I like to use cage-free eggs.
Edible Lavender: You want to make sure you use a food grade edible lavender. I get mine here.
Baking Powder: This will help the cookies rise slightly.
Almond Emulsion: You can find almond emulsion from any craft store or get it here. If you really do not want to use almond emulsion you can also use vanilla extract.
Turbinado Sugar: This adds a delicious texture to the outside of the cookie. You can find it at most all grocery stores. It is also called sugar in the raw.
What Type Of Lavender Can I Use For Cooking:
Lavender is a beautiful herb that you can use for cooking. You want to make sure you buy an edible food grade lavender. This will ensure that it has not been sprayed with any pesticides or herbicides. I use this one.
I would not recommend using lavender essential oil for this recipe as it can be overwhelmingly strong.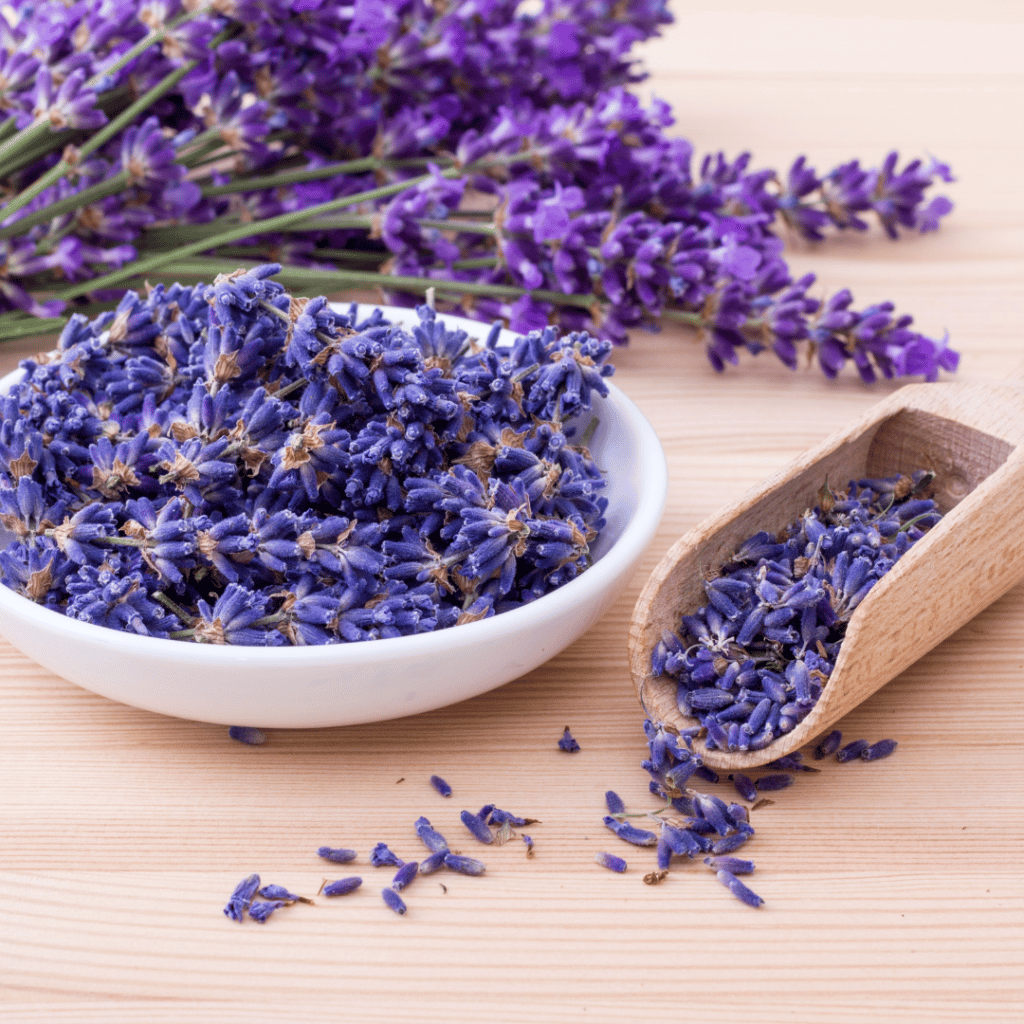 Lavender Cookie Tips:
The dough should be pretty dry. If your dough is sticky you will need to add a little more flour. Weather and climate can all play a role in how your dough turns out. Just make sure it is slightly crumbly and not sticky.
If the dough is too wet the cookies won't hold their shape and will spread too much. The cookies should hold their shape well and look like little coins when cooked.
Next tip is to try to roll the dough into an even log to ensure that all the cookies will cook evenly. If the diameter of your logs are drastically different the cooking times will not vary. I try to roll each log and then check the diameters to make sure they are similar. They don't have to be exactly the same, but try to get them as close as possible.
Make sure you don't skip chilling the logs before baking. This will make sure your butter is cold before going into the oven which will help prevent the cookies from spreading too much.
Don't skip the turbinado sugar. This adds a delicious crunch to the exterior of the cookie and it's just beautiful.
How To Make Lavender Cookies:
Follow these simple steps to make these delicious lavender cookies.
Step 1:
In a stand mixer fitted with a paddle attachment cream together the butter and the sugar until light and fluffy and creamed together. It takes about 1 minute.
Step 2:
Add the egg and mix to combine.
Step 3:
Next add the baking powder, salt, almond emulsion and lavender.
Step 4:
Mix in the flour just until combined. You do not want to over mix the dough.
Step 5:
Next separate the dough ball into 4 equal portions. Sprinkle a piece of parchment paper with the turbinado sugar and roll the dough into a log about 2 inches in diameter. And roll it in parchment paper. Place in the refrigerator for at least 30 minutes.
Step 6:
Preheat the oven to 350 F and line 2 baking sheets with parchment paper. Cut the logs into 1/2 inch slices and place on the cookie sheets about 1/2 inch apart from each other.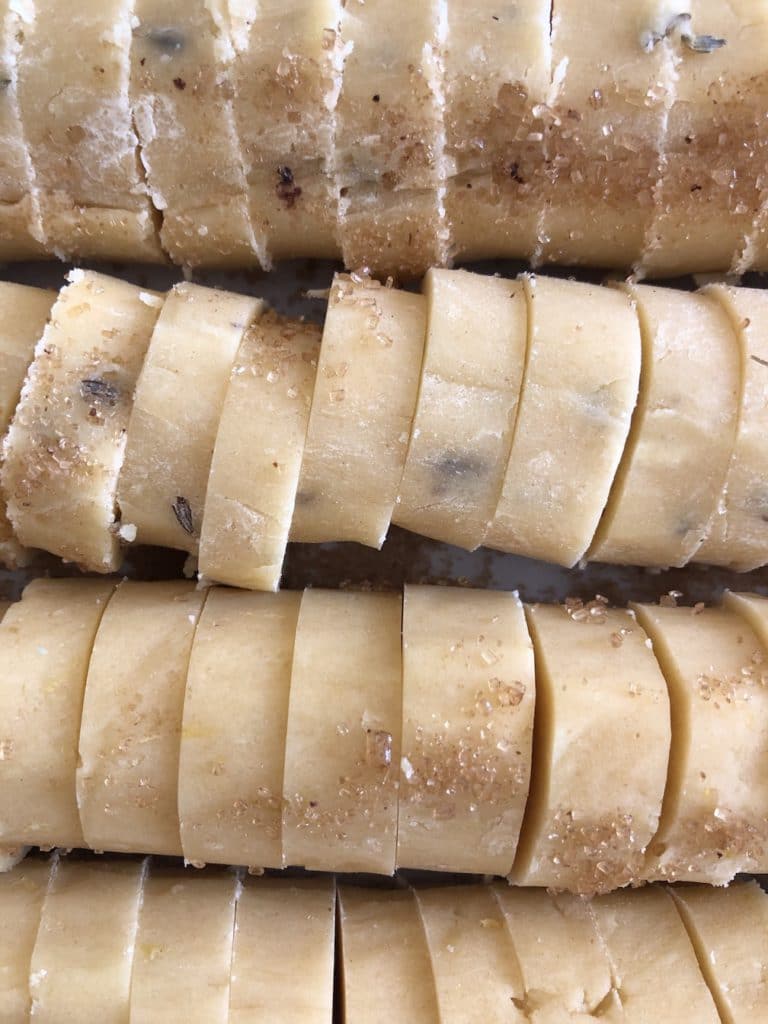 Step 7:
Cook for allotted baking time. The cookies will be lightly browned golden. Then let them cool on wire racks for at least 15 minutes. You can enjoy them warm as well if desired.
What To Serve With Lavender Cookies:
These cookies go great with just about anything!
Enjoy these cookies with a tall glass of ice cold milk or with your favorite hot tea. They are perfect for a tea party or wrap them up in a treat box or cellophane bag with ribbon and give them as beautiful gifts.
I love serving them alongside dessert or after a meal for a little treat that my guests can take home if they are too full.
Other Delicious Cookie Recipes:
If you love cookies like me try these other delicious cookie recipes. They are all fantastic!
Easy Classic Chewy Chocolate Chip Cookies
Gluten Free Chocolate Chip Cookies
Fortune Cookies For Every Occasion
Storage and Freezing:
These cookies are great because they have quite a long shelf life. They can be stored at room temperature for up to two weeks in a sealed container.
You can also freeze these cookies for up to 6 months. Just place them in a freezer safe plastic ziploc bag or in a freezer safe container and freeze until you are ready to enjoy them.
They are great frozen or slightly thawed. When you are ready to serve them just leave them out at room temperature for about an hour.
Another way you can freeze them is to freeze the logs of dough.
When you are ready to bake just slice them into 1/4 inch slices, place them on the parchment lined baking sheet and bake from frozen.
You may need to add 1-2 minutes more of cooking time, but they turn out perfectly.
The frozen dough logs will stay good for up to 3 months. You can store the logs in a freezer safe baggie to reduce any chances of freezer burn.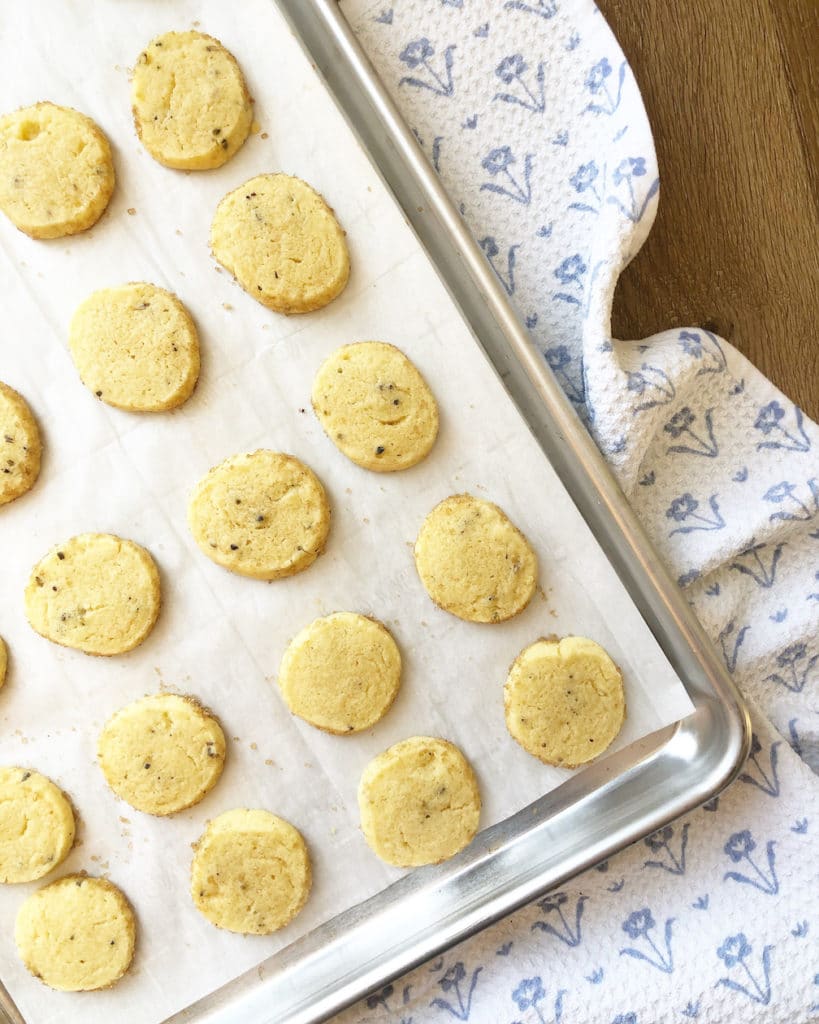 Now let's make these delicious almond lavender cookies! Please let me know if you enjoy them and make sure to rate the recipe in the recipe card section.
The Best Lavender Cookie Recipe: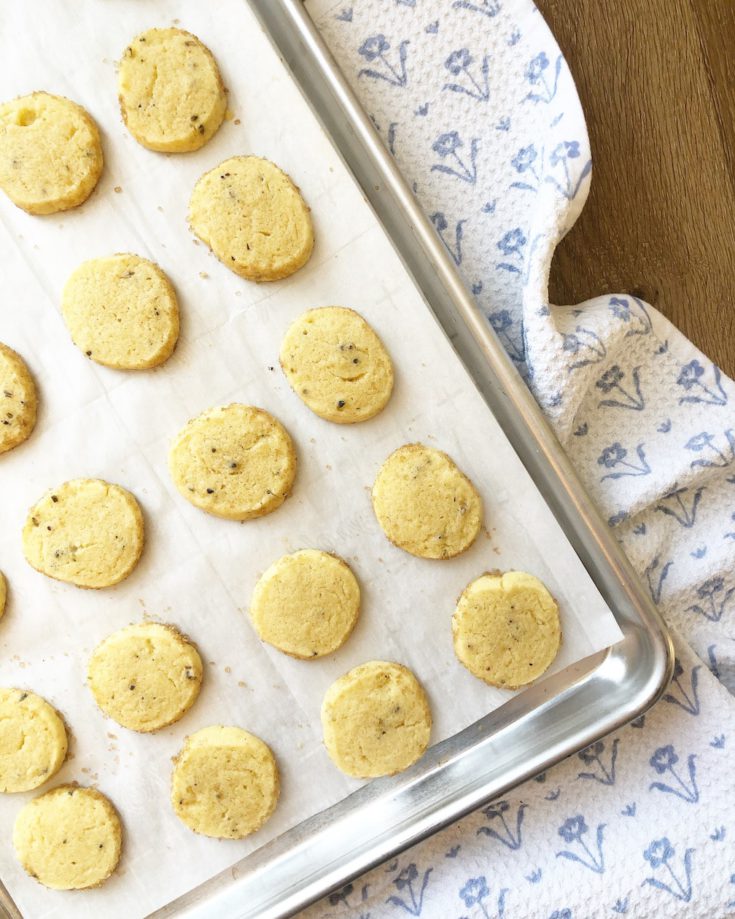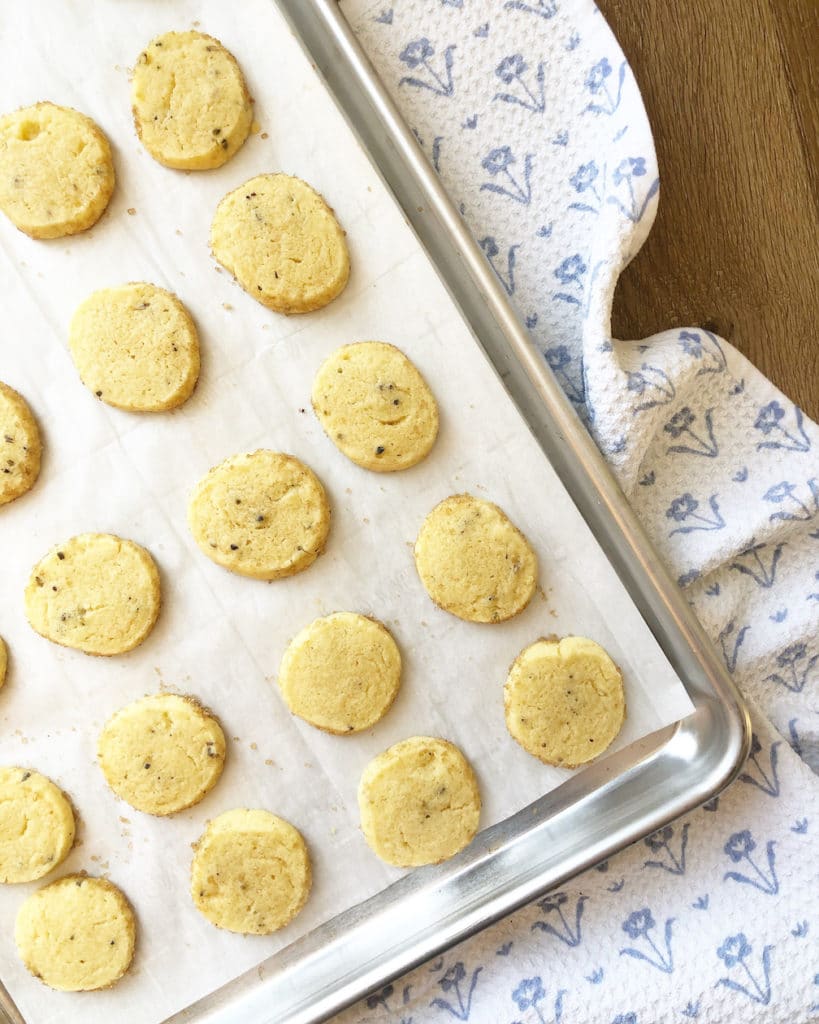 Yield:

48-60 cookies
The Best Lavender Cookie (Italian Biscookie)
The best lavender cookie you will ever taste! I promise this cookie will blow your mind and have all your friends asking for the recipe. 
Ingredients
2 1/2 sticks unsalted butter, cut into cubes
1 cup granulated sugar
2 eggs
2 1/2 cups all purpose flour
1 tablespoon + 1 teaspoon baking powder
1/2 teaspoon salt
1 teaspoon edible dried lavender
1/4 teaspoon almond emulsion
1 1/2 cups turbinado sugar
Instructions
In a stand mixer bowl fitted with a paddle attachment combine the butter and sugar until creamed slightly about 1 minute.
Add the eggs one at a time and mix to combine.
Add the rest of the ingredients and mix just to combined (you don't want to over mix the dough). If the dough is sticky add a little more flour (up to 3 tablespoons). The dough should be slightly dry.
Take a fourth of the dough a roll into a 1 1/2 inch diameter log. Roll the log in the turbinado sugar and roll in parchment paper.
Place the log into the freezer for at least 30 minutes. Repeat with remaining 1/3 of dough.
When the dough is chilled preheat the oven to 350 F.
Cut the log with a sharp knife into 1/2 inch coins. Place evenly on a parchment lined baking sheet and cook for 8-9 minutes.
Let cool if desired and serve with your favorite tea or a glass of milk.
Recommended Products
As an Amazon Associate and member of other affiliate programs, I earn from qualifying purchases.
Nutrition Information:
Yield:
60
Serving Size:
1
Amount Per Serving:
Calories:

88
Total Fat:

4g
Saturated Fat:

2g
Trans Fat:

0g
Unsaturated Fat:

1g
Cholesterol:

16mg
Sodium:

29mg
Carbohydrates:

12g
Fiber:

0g
Sugar:

8g
Protein:

1g