This Tri tip sandwich with pesto aioli and grilled onions is juicy, full of flavor and the perfect dinner. It's the ultimate steak sandwich.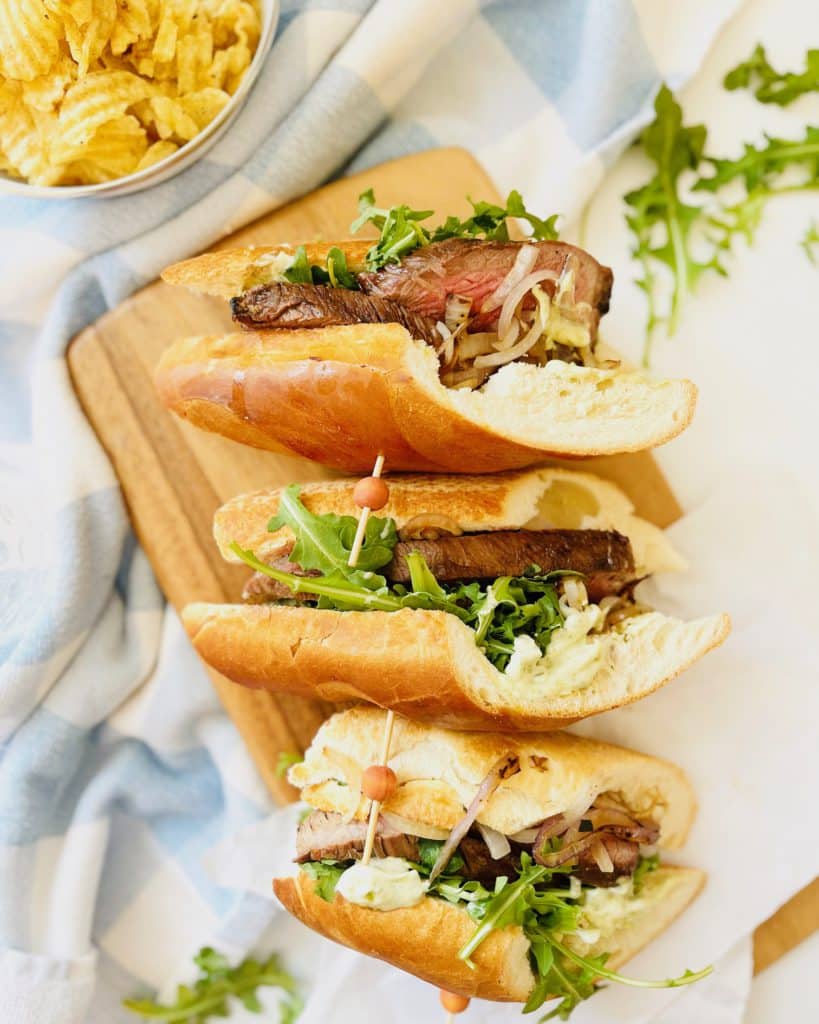 This Tri-tip sandwich is full of delicious thinly sliced tri tip, caramelized grilled red onions, a homemade pesto aioli, and topped with fresh arugula.
Served on a crunchy french baguette these sandwiches are great for a crowd or for an easy dinner at home.
We made them for Sunday dinner and everyone loved them!
Let's hop into some common questions and all the recipe details.
What Is So Great About Tri Tip?
Tri-tip is a flavorful and tender cut of beef that comes from the bottom sirloin area of the cow. It has become increasingly popular in recent years due to its unique taste and tender meat.
Here are a few reasons why tri-tip is considered great:
Flavor: Tri-tip has a rich, beefy flavor that is distinct from other cuts of beef. It is often described as a cross between sirloin and brisket, with a balance of fat and lean meat that creates a unique taste.
Tender texture: Tri-tip is a relatively tender cut of beef, especially when cooked properly. It is not as tender as filet mignon, but it is still easy to chew and has a satisfying texture.
Versatility: Tri-tip can be cooked in a variety of ways, including grilling, roasting, and smoking. It can be seasoned with a wide range of spices and marinades, making it a versatile ingredient in many dishes.
Affordable: Tri-tip is generally less expensive than other premium cuts of beef, making it an affordable option for those who want to enjoy a flavorful and satisfying meal without breaking the bank.
Overall, tri-tip is a great cut of beef that offers a balance of flavor, texture, versatility, and affordability.
If you want to learn more about different cuts of meat and their uses check out this cuts of beef and how to use them post.
How To Make Tri Tip:
Grilling is a popular way to cook tri-tip, as it creates a flavorful crust on the outside while keeping the inside tender and juicy.
We will be grilling our tri tip for this recipe, but if you don't have a grill you can also pan sear it and then finish it off in the oven.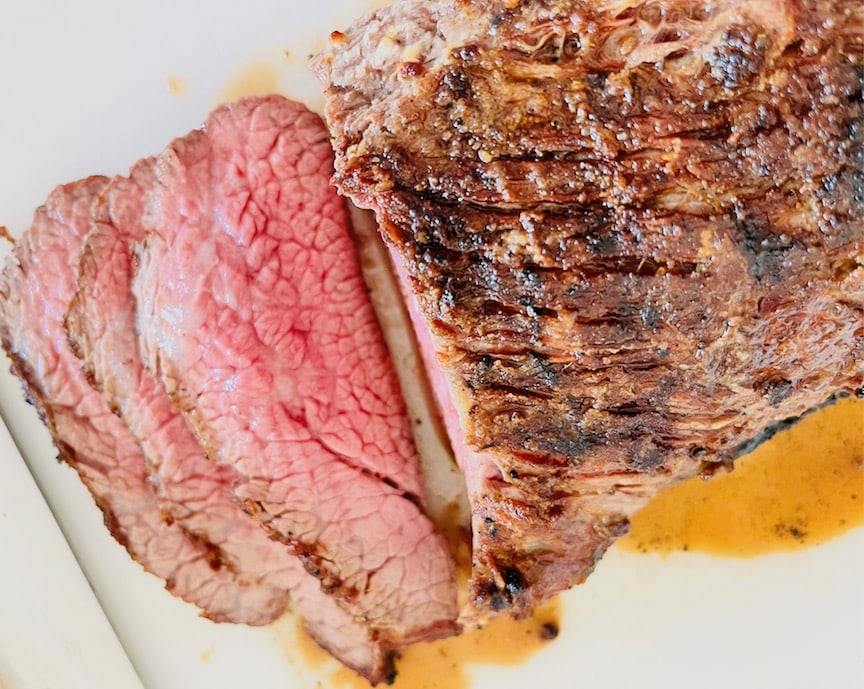 How To Grill Tri Tip:
Preheat your grill to medium-high heat, around 400-450°F.
Remove the tri-tip from the refrigerator and let it sit at room temperature for 30 minutes.
Season the tri-tip generously with seasoning of choice on both sides. Drizzle a little olive oil over the top and rub it into the meat.
Place the tri-tip on the grill with the fat cap facing up. Close the lid and cook for 8-10 minutes.
Flip the tri-tip over and cook for another 8-10 minutes or until the internal temperature of the meat reaches 135°F for medium-rare or 145°F for medium.
Once the tri-tip has reached the desired temperature, remove it from the grill, cover with foil, and let it rest for 10 minutes. This will allow the juices to redistribute and the meat to become more tender.
Slice the tri-tip against the grain into thin slices and serve immediately.
Note: Cooking times may vary depending on the thickness of the tri-tip and the heat of your grill, so it's always best to use a meat thermometer to ensure the meat is cooked to your desired level of doneness.
If you do not have a grill you can also cook the tri tip in a hot cast iron skillet and finish it off in the oven.
Ingredients For Tri Tip Sandwiches:
Baguette: I like to use a french baguette or french bread, but you can also use ciabatta rolls.
Arugula: This adds a delicious peppery flavor. You can substitute for any greens you like or leave it off.
Pesto: I like to just use premade pesto to make it easy. My favorite is the pesto from Costco.
Mayo: If you aren't a fan of mayo you can also use garlic butter.
Red Onion: I love red onion because it's a little sweeter and adds some color, but you could use any onion you have on hand.
Tri Tip: Buy your Tri tip from a trusted butcher or Costco.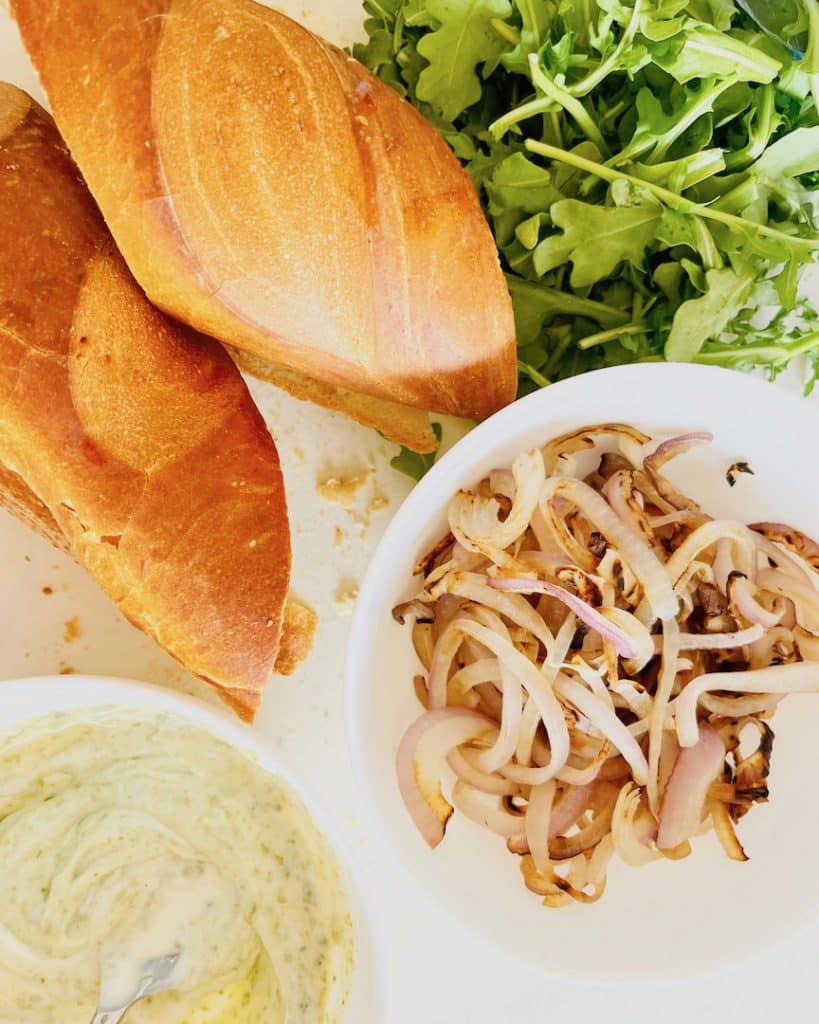 Tri Tip Sandwich Variations:
Tri-tip sandwiches can be customized with a variety of toppings to add flavor and texture. Here are some optional topping ideas for tri-tip sandwiches:
Caramelized onions: Sliced onions sautéed until golden brown and sweet, adding a savory flavor to the sandwich.
Roasted peppers: Roasted red or green peppers, sliced and added to the sandwich for a smoky, slightly sweet taste.
Horseradish sauce: A creamy sauce made with horseradish, sour cream, and mayo that adds a tangy and spicy kick to the sandwich.
Avocado: Sliced avocado adds a creamy texture and a mild, nutty flavor to the sandwich.
Cheese: Melted cheese, such as provolone or cheddar, adds richness and depth of flavor to the sandwich.
Arugula: Fresh arugula adds a slightly peppery and bitter taste to the sandwich, as well as a crispy texture.
Barbecue sauce: A sweet and tangy sauce that complements the smoky flavor of the tri-tip.
Tomato: Sliced or chopped tomatoes add freshness and acidity to the sandwich.
Mustard: A classic condiment that pairs well with the rich flavor of the tri-tip.
Aioli: A garlic-flavored mayonnaise that adds creaminess and a touch of tanginess to the sandwich.
How To Make A Tri Tip Sandwich: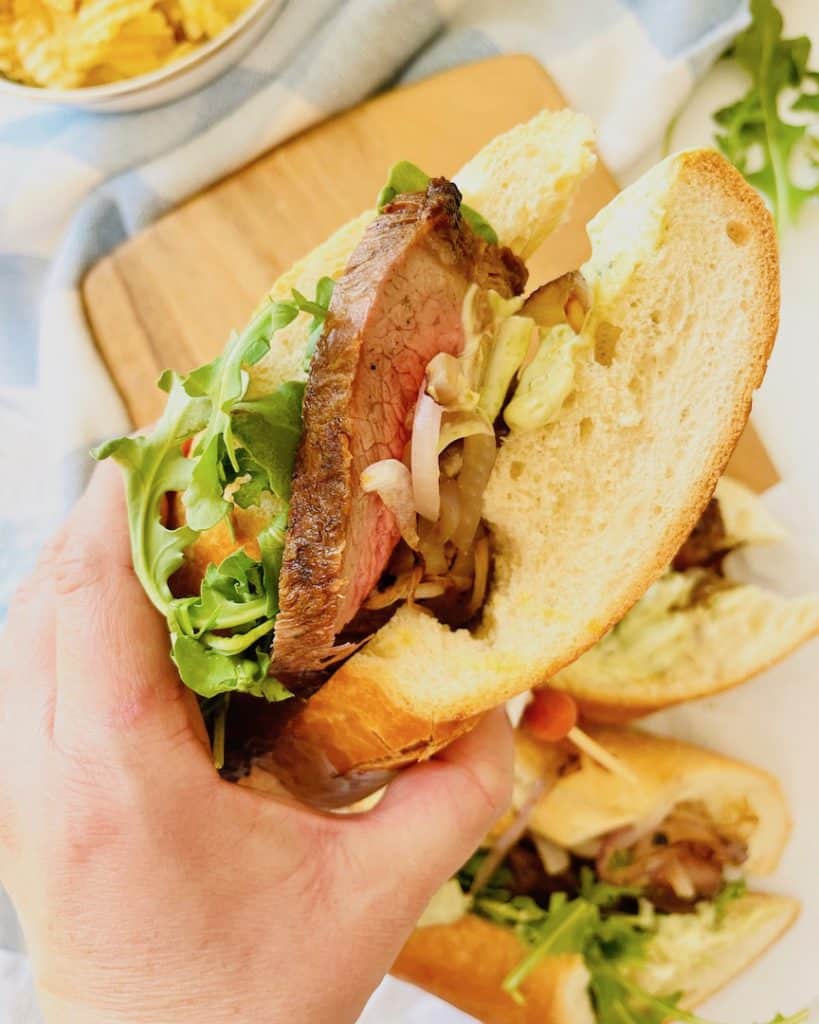 To make tri-tip sandwiches you will need to start by seasoning the tri-tip.
Then, grill or roast the meat until it is cooked to your desired level of doneness.
Let the tri-tip rest for a few minutes before slicing it thinly against the grain.
Next, prepare your sandwich roll or bread by toasting it or warming it in the oven.
Finally, assemble the sandwich by placing the sliced tri-tip on the bread and adding your toppings.
Serve the tri-tip sandwich hot and enjoy!
What To Serve With Tri Tip Sandwiches:
Here are some delicious side dishes to serve with these sandwiches to round out your meal.
Air Fryer Potato Wedges With Garlic Browned Butter
Orzo Pasta Salad With Roasted Vegetables
Blueberry Salad with Peaches and Strawberry Dressing
Tri Tip Sandwich Recipe: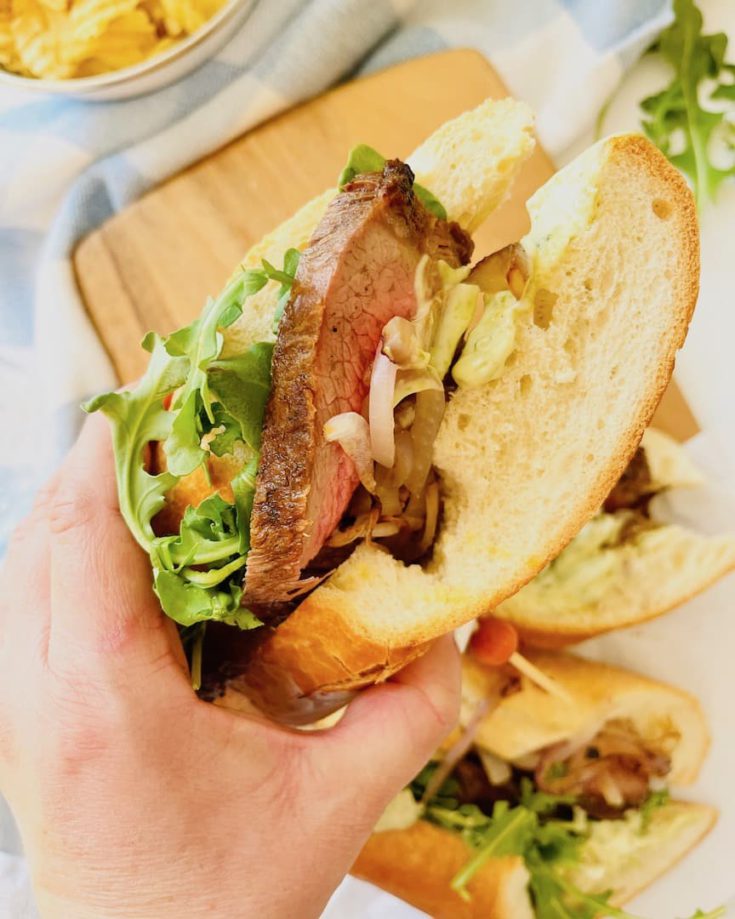 Yield:

Serves 6
Tri Tip Sandwich With Pesto Aioli and Grilled Onion
This Tri tip sandwich with pesto aioli and grilled onions are juicy, full of flavor and the perfect dinner. It's the ultimate steak sandwich.
Ingredients
1 -2 pounds tri tip
1 tablespoons Arisco seasoning
1 red onion, sliced thin
1 cup mayonnaise
1/4 cup prepared pesto
2 cups arugula
2 large French bread loafs, cut in half and in desired portion sizes for your sandwiches
Instructions
Preheat a grill over medium high heat. Pat the tri tip dry with paper towels. Rub 1 tablespoon of the seasoning all over the tri tip.
Grill the tri tip from the grill for 10 minutes per side or longer depending on thickness. Cook to desired doneness.
Remove the tri tip and cover with foil. Let the meat rest for at least 10 minutes.
Preheat a non-stick skillet over medium heat. Add 1 teaspoon oil and saute the red onion until caramelized (about 7 minutes).
Combine the mayo with the pesto in a small bowl and set aside.
Place the bread on a foil lined baking sheet (sliced side up). Toast under the broiler for 1-2 minutes.
When ready to serve slice the meat into thin slices. Spread the toasted bread with pesto mayo and top with sliced meat, arugula and onions. Sandwich the bread together to form a sandwich and serve.
Recommended Products
As an Amazon Associate and member of other affiliate programs, I earn from qualifying purchases.
Nutrition Information:
Yield:
6
Serving Size:
1
Amount Per Serving:
Calories:

716
Total Fat:

50g
Saturated Fat:

5g
Trans Fat:

0g
Unsaturated Fat:

27g
Cholesterol:

143mg
Sodium:

1305mg
Carbohydrates:

19g
Fiber:

1g
Sugar:

3g
Protein:

45g