Mini blueberry pies are the perfect bite size dessert to serve at your next gathering. These bite-sized treats are perfect for kids or to serve up a variety of pies in an efficient way.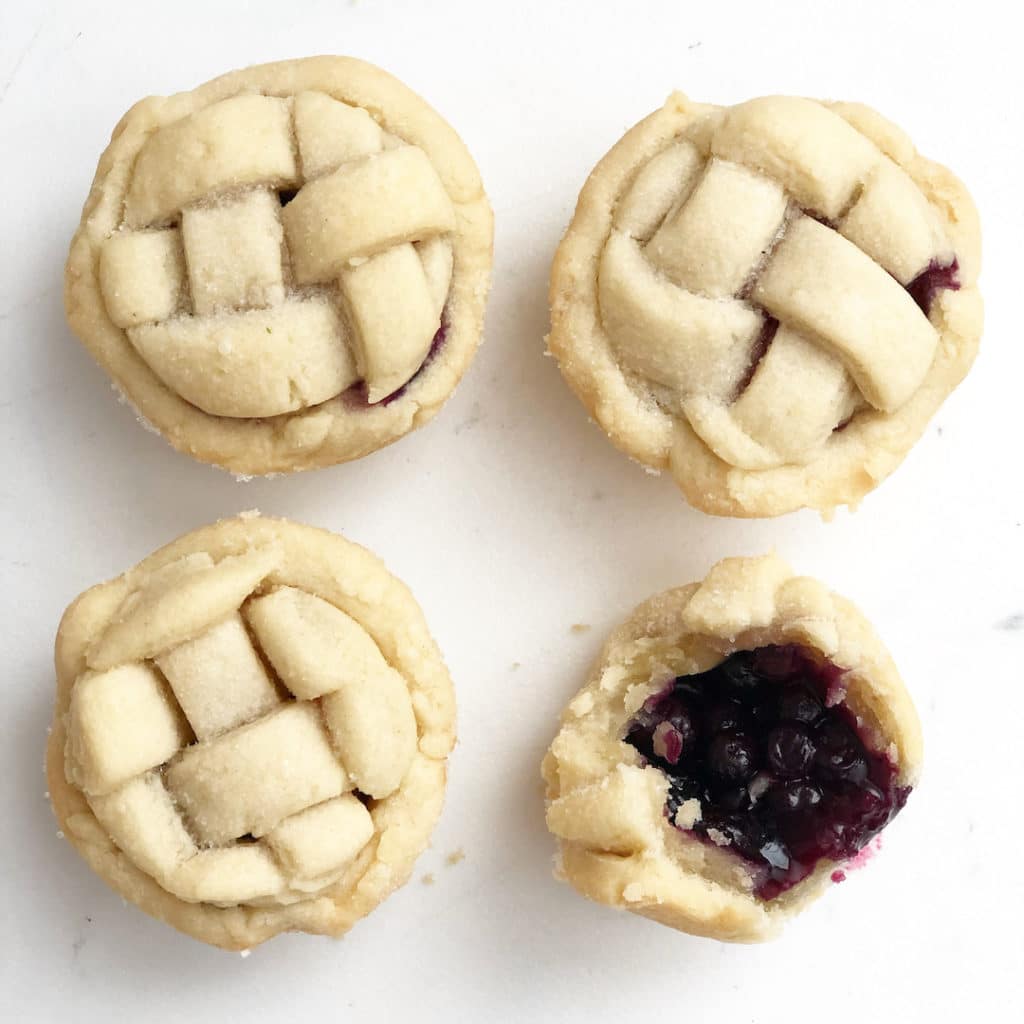 Mini blueberry pies are easy to make and the perfect Summer or Fall desert. They can be adapted with just about any filling and just about any topping. Ill share some of my favorites down below.
If you don't want to make this in mini form you can also use this recipe for a full size pie.
It's the perfect recipe to get your kids to be creative! Tools You Will Need:
Some tools you will need to make this recipe include:
mini cupcake pan: 24 mini cupcake pan or 48 cupcake pan
rolling pin
pizza cutter or sharp knife
food processor or pastry cutter
The Perfect Pie Crust:
These mini pies are made with the perfect pie crust. If you don't have time to make homemade pie crust you can also use store bought. But keep in mind you can make this pie crust up to a month in advance and store it in the freezer.
The trick with homemade pie crust is to use good quality ingredients and keep everything really cold. Make sure your butter is cold and make sure your water is ice cold. Chill the pie crust before using it.
Place the dry ingredients into the food processor with the ice cold butter cubes. Pulse a couple of times or until the butter is in pea size pieces. It is important to not over blend at this point!
Stream in ice water and pulse just until the dough starts to form.
Wrap in plastic wrap and refrigerate for at least 30 minutes.
Then follow the recipe on how to create the lattice toppings.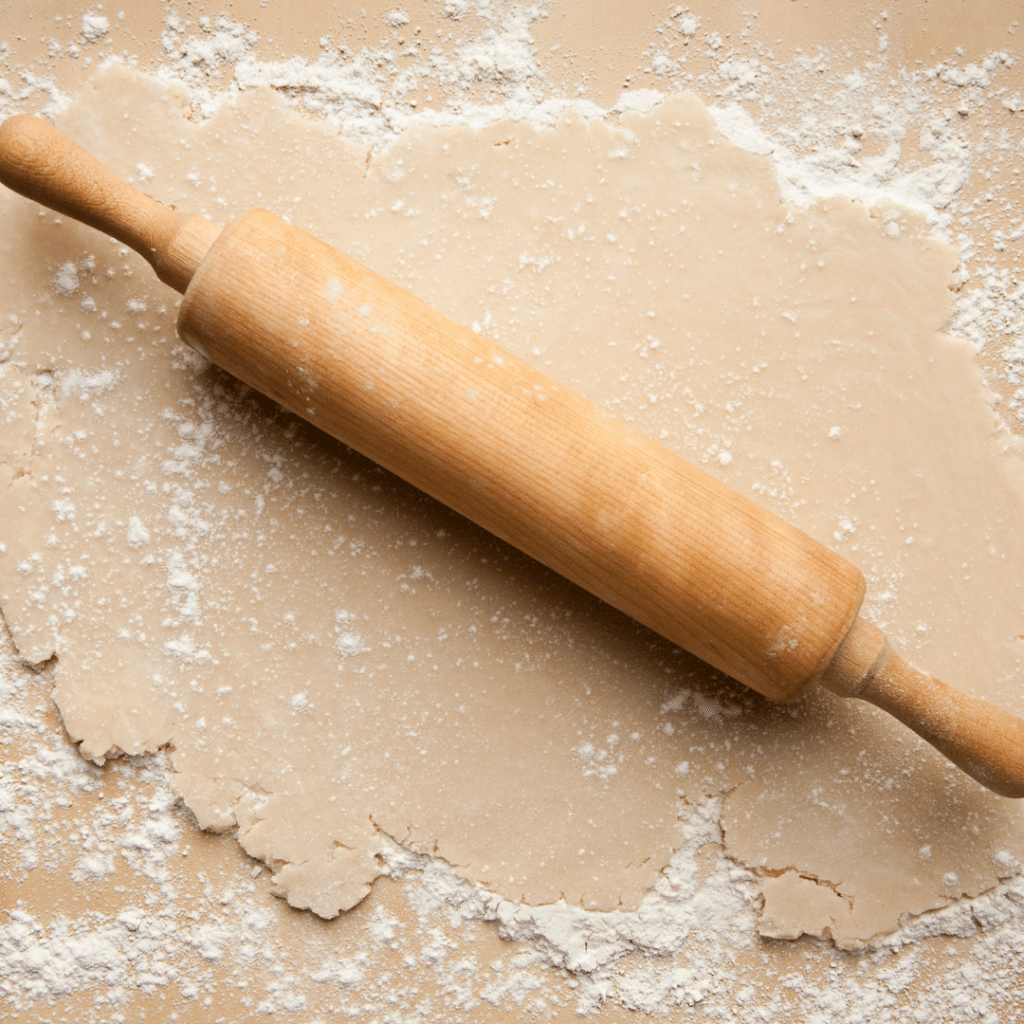 Blueberry Filling: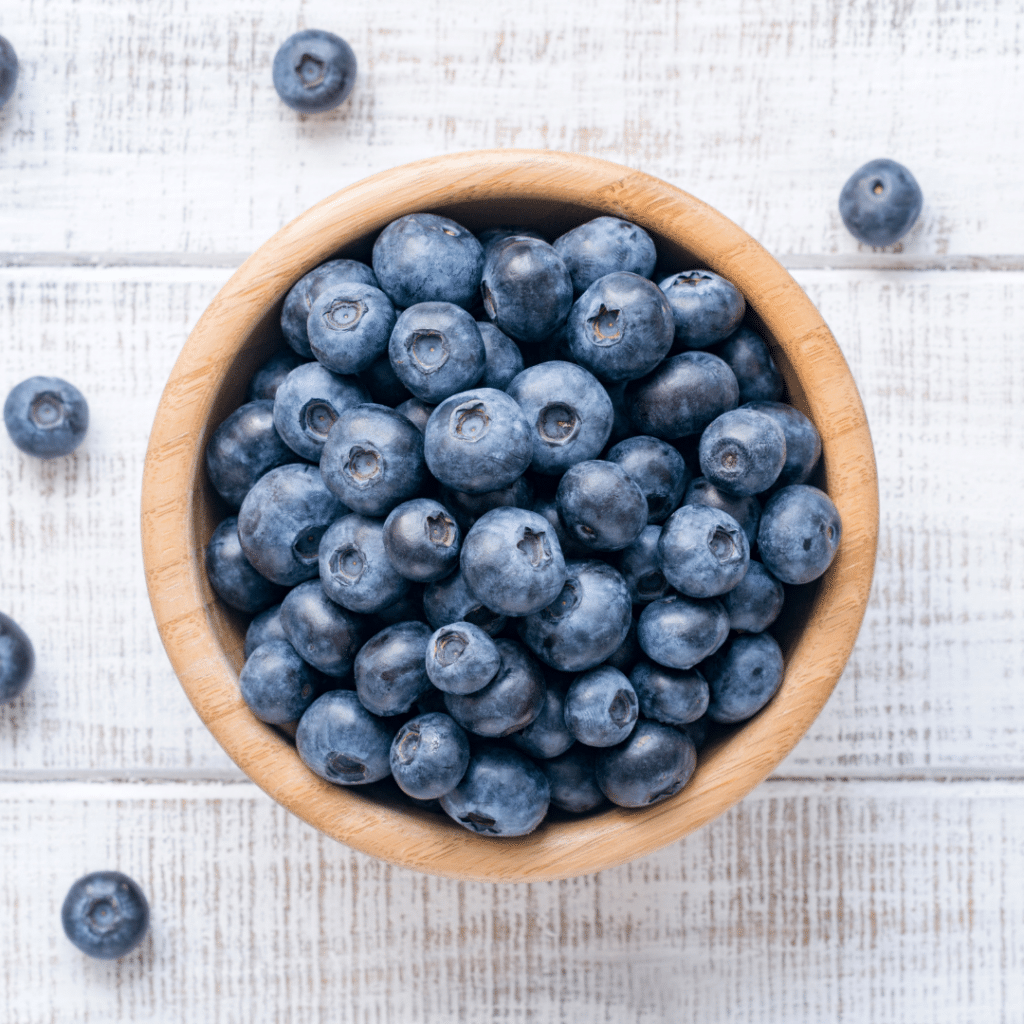 This blueberry filling is simple and delicious. You can jazz it up with some citrus zest like lemon zest or orange zest.
We use frozen wild blueberries for this recipe tossed with some sugar and orange juice. It's so easy and you can use any fruit you like!
How To Make A Lattice Top:
Lattice topping adds a beautiful decorative touch to your mini pies. This is optional but it really does make these pies extra special. Lattice topping is not too complicated either. Here is how to make a lattice topping.
Roll out the pie crust to 1/4 inch thickness.
Cut the pie with a pizza cutter or a large sharp knife into thin 1/4 inch wide strips. If you are making a large pie cut the strips into 1/2 inch wide strips.
Lay out half the strips vertically on a piece of parchment paper. Try not to leave too much room in between the strips especially for mini pies.
Fold back every other strip about 3/4 of the way on top of themselves.
Add a horizontal strip.
Fold the pulled back strips down over the horizontal strip and then fold back the opposite vertical strips.
Repeat this pattern until you have a weaving pattern.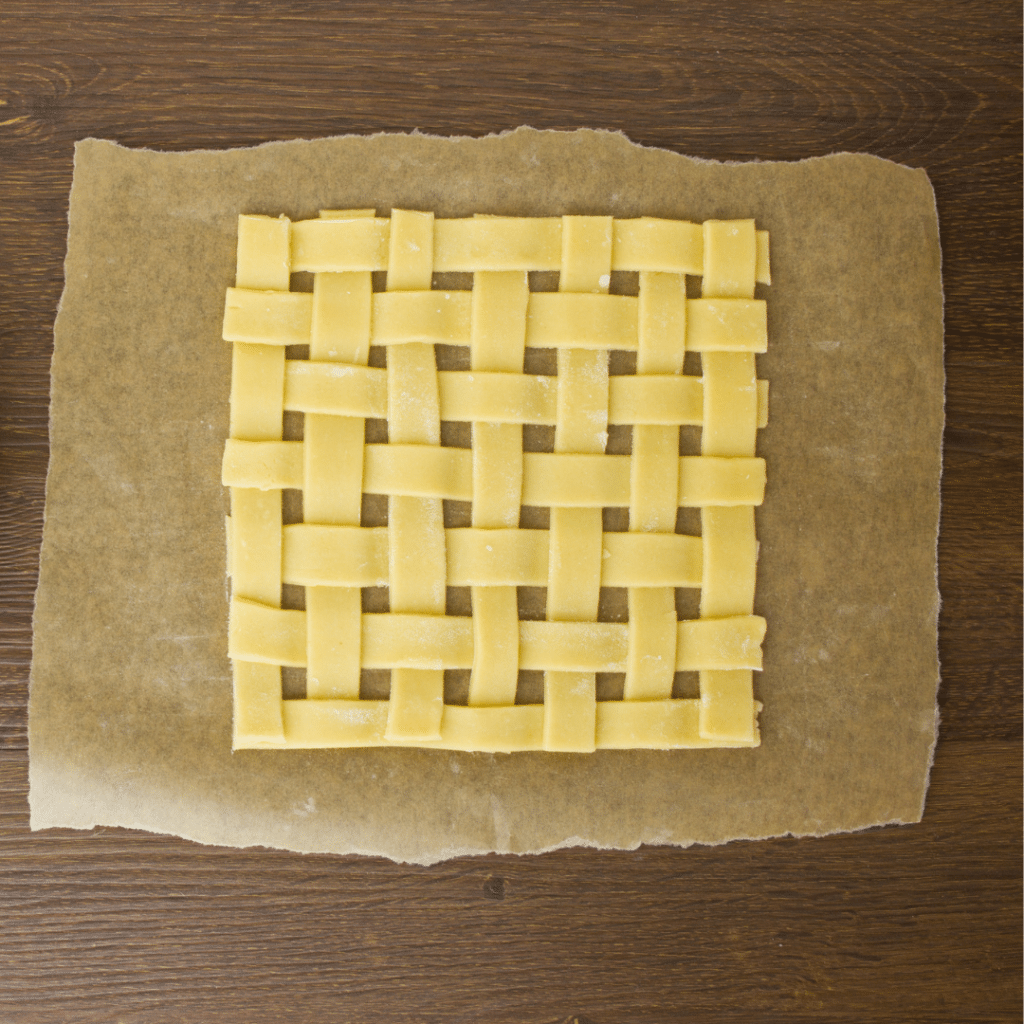 Variations:
The fun thing about this recipe is you can change it up with different fillings or toppings. I love making a variety to serve for a crowd. That way everyone can try different types of pies but they don't have to actually eat a whole slice of each flavor. It's the perfect bite size treat.
Here are some of my favorite variations:
Pumpkin: pumpkin pie filling, pie crust
Boysenberry: boysenberry pie filling, pie crust
Apple Streusel: apple pie filling, pie crust, streusel topping
Pecan: pecan pie filling, pie crust
Banana Cream: banana cream filling, pie crust, whipped cream topping
Lemon Meringue: lemon cream filling, pie crust, meringue topping
Strawberry: strawberry filling, pie crust
How to Make Mini Blueberry Pies:
Make the pie crust.
Make the filling.
Roll out the pie dough into a 1/4 inch thick circle. Cut circular (about an inch larger than the diameter of your muffin tin pan) rounds with the top of a glass cup or a biscuit cutter.
Place in the mini muffin pan and poke the surface area of the pie crust with a fork. Make sure to poke the sides of the dough as well.
Fill the pie crust with blueberry filling.
Reform the dough with the scraps and roll out to a 1/4 inch thick circle again.
Cut the dough into 1/4 inch strips. Refer to the lattice section on how to create the lattice top. Once the dough is in the lattice pattern use another glass cup or biscuit cutter (the diameter of your muffin tin this time) and cut rounds.
Place the lattice tops on the top of the mini pies and press down the edges to seal.
Brush with heavy cream or egg wash and sprinkle with turbinado sugar if desired.
Preheat the oven and bake until lightly golden brown.
Let cool completely to serve at room temperature or serve warm with vanilla ice cream.
Other Delicious Mini Desserts:
3-Ingredient Mini Lemon Meringue Pie
No Bake Cheesecake Tart With Berries use mini version
Copycat Mastro's Butter Cake Recipe use mini version
Mini Blueberry Pie Recipe: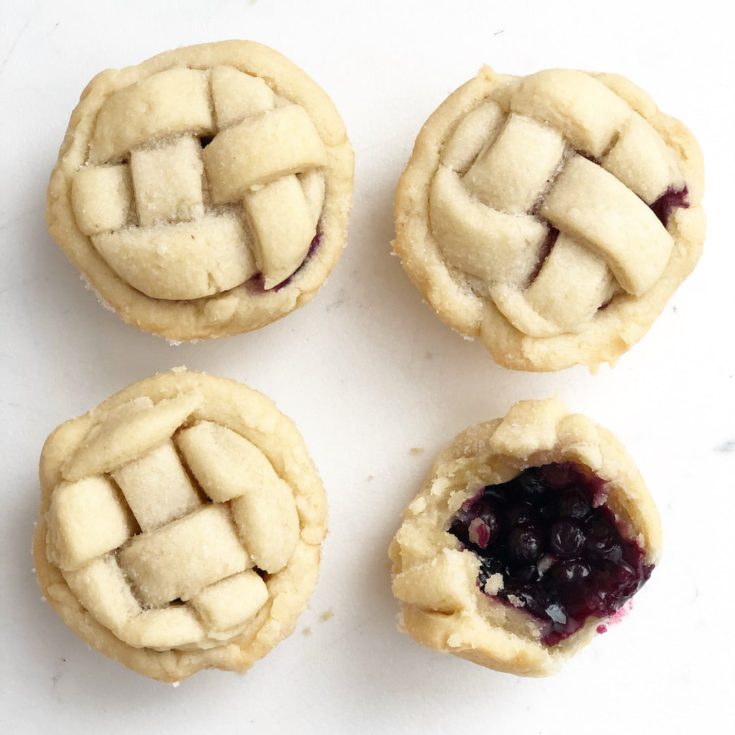 Yield:

12-18
Mini Blueberry Pies With Lattice Top
Additional Time:
30 minutes
The perfect bite size mini blueberry pies are perfect for a backyard BBQ or Thanksgiving!
Ingredients
Blueberry Filling
2 c frozen Blueberries
2 tsp Cornstarch
2 Tbsp Sugar, plus more to top
½ Orange, juiced
Pie Crust:
2½ c All-Purpose Flour
1 tsp Salt
6 Tbsp Butter, cold, diced
¾ c Butter flavored Crisco or Shortening
½ c Ice Cold Water
Finishing:
2 Tbsp Heavy Cream
3 Tbsp Turbinado Sugar
Instructions
Make the pie crust by add flour and salt in the bowl of a food processor.
Add diced butter and Crisco to the flour mixture. Pulse 10 times to create coarse crumbs.
While pulsing, stream in ice cold water until a dough forms.
Separate the dough into two disks and wrap in plastic wrap. Refrigerate for 1 hour or freeze.
Make the filling by combining all ingredients in a bowl. Stir to combine. Set aside.
Preheat the oven to 350 F.
When ready to make the pies let the dough sit out at room temperature for 10 minutes for easier rolling.
Roll the first disk of dough into ¼-inch thickness in between two pieces of plastic wrap or parchment paper.
Use a small glass cup or biscuit cutter to cut a circle to fit your mini cupcake pan (make sure the diameter is about 1 inch larger so it fills the whole muffin cup).
Place the disks into the muffin tins and poke holes around the whole surface area.
Fill with 1 tablespoon of filling in each mini pie (be careful not to overfill).
Roll out the other dough ball to 1/4 inch thickness.
Cut the dough in 1/4'' wide by 6'' long strips with a sharp knife or bench scraper.
Working with about 6 strips at a time create a lattice design.
To make the lattice design place 6 strips vertically next to each other. Pull up every other strip 3/4 of the way over itself. Place another strip horizontally across where the strips are folded up. Then place the strips over the horizontal strip and pull up the opposite vertical strips on top of themselves. Place another horizontal strip. Continue with this weaving pattern until you reach the end.
Then cut the lattice top with a biscuit cutter or a glass exactly the diameter of the muffin tin.
Repeat with the remaining dough to have enough lattice tops for all the mini muffin tins.
Place the lattice tops on top of the filling. Press the top slightly onto the mini pies and press down carefully to seal.
Brush with heavy cream or egg wash and sprinkle with turbinado sugar if desired
Bake for 13 minutes.
Let cool and carefully remove from the pan.
Notes
Pumpkin Pie Filling Option:
½ c Brown Sugar
½ Tbsp All-Purpose Flour
¼ tsp Salt
2 Eggs
1 c canned Pumpkin Purée
½ c + 2 Tbsp Evaporated Milk
1 tsp Maple Syrup
½ tsp Orange Zest
½ tsp Pumpkin Pie Spice
½ tsp Cinnamon
Recommended Products
As an Amazon Associate and member of other affiliate programs, I earn from qualifying purchases.
Nutrition Information:
Yield:
12
Serving Size:
1
Amount Per Serving:
Calories:

283
Total Fat:

19g
Saturated Fat:

11g
Trans Fat:

1g
Unsaturated Fat:

6g
Cholesterol:

46mg
Sodium:

333mg
Carbohydrates:

26g
Fiber:

2g
Sugar:

5g
Protein:

3g