Need a no bake Thanksgiving pie that you can make ahead? This easy pumpkin chocolate Ice cream cake hits the spot! 
Try out this pumpkin chocolate ice cream cake for your next fall get together or even make it for a quick and easy make ahead Thanksgiving dessert. 
This ice cream cake is festive and delicious. It's layers are filled with crushed up cookies, rich chocolate ice cream, caramel sauce and velvety pumpkin ice cream. All topped with more caramel and heath bar bits. 
Ice cream cake has been a family favorite since I was a little kid.  My grandma would make ice cream cake for my mom on her birthday and my mom has passed the tradition on to us kids. 
The original recipe consisted of chocolate and coffee ice cream, but we have morphed it into lots of different varieties over the years.
When making an ice cream cake you just need to follow a couple easy steps.
Which pan should I use for an ice cream cake?
Making ice cream cake is really quite easy, but one thing you will need is a springform pan.  A springform pan allow you to remove the pan around the ice cream cake easily and allows you to get beautiful slices of ice cream cake when you go to cut the cake.
Can I change up the flavors?
You can definitely change up the flavors to your favorite ice cream flavors. We do a form of this cake for almost every holiday.  Here are some of our flavor combinations that are tested and loved by all!
Thanksgiving Version: gingersnap crumbs, pumpkin ice cream, vanilla ice cream, heath bars to top
Valentine's Version: Oreo crumbs, strawberry ice cream, chocolate ice cream, chocolate covered strawberries to top
Easter Version: coconut cookie crumbs, rainbow sherbet, vanilla ice cream, toasted coconut and peeps to top
Christmas Version: Oreo crumbs, peppermint ice cream, mint n chip ice cream, Andes mints to top
Some tips when making ice cream cake:
Use a springform pan! 
And a good one at that!  Using a springform pan is a must for this recipe.  It allows you to cut the cake easily and holds everything together.  Make sure you have a good, high quality springform pan so the ice cream doesn't leak.  I like this pan that is relatively inexpensive and is leak proof. 
Leave your ice cream out for 5 minutes before making the cake.
Nothing is worse than trying to scoop rock hard ice cream! 
Just leave it out for 5 minutes to become a little soft. You can also throw it in the microwave for 20 seconds if needed. 
Keep a cup of hot water near.
To help smooth the ice cream dip a spoon in hot water. This will help it to quickly melt the ice scream slightly and become more spreadable. 
This will help create a single layer and helps to create a more cohesive cake.  
Just dab the spoon off on a paper towel to trap any excess moisture before you spread the ice cream.
Freeze for at least 2 hours to harden.
You can certainly eat it right away if you don't have time, but I would really recommend letting it harden in the freezer for at least 2 hours.  The beauty of this cake is that you can make it way in advance.  
You ready to make this amazing gluten free, no bake Thanksgiving dessert? 
Other Thanksgiving Desert Ideas:
Pumpkin Chocolate Ice Cream Cake Recipe: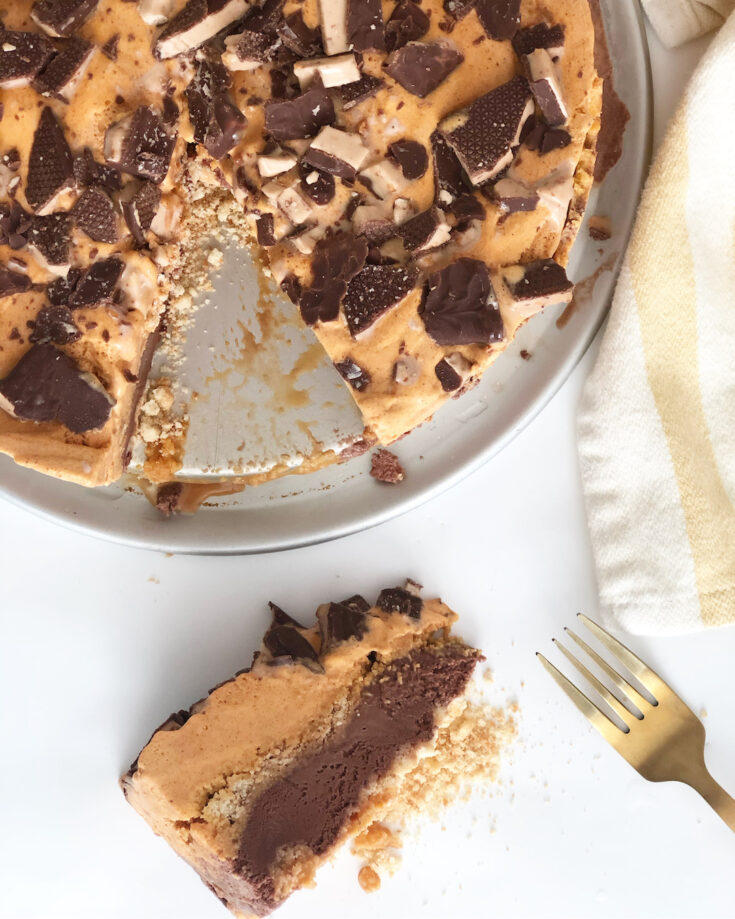 Yield:

12
Pumpkin Toffee Chocolate Ice Cream Cake
Total Time:
2 hours
10 minutes
The perfect no bake, make ahead, no pie Thanksgiving dessert!
Ingredients
16 Ounces Mother's Coconut Coladas Cookies or Gingersnap Cookies
1.5 Quarts Chocolate Ice Cream
1.5 Quarts Pumpkin Ice Cream
Caramel Sauce
4 Heath Bars, Roughly Chopped
Instructions
Place the cookies in a large Ziploc Bag and remove the air, then seal the baggie.
With a rolling pin or large skillet, smash the cookies to create small crumbs.
Place half of the crumbs in the bottom of a springform pan.
Evenly scoop the chocolate ice cream on top of the cookie crumbs. Run a spoon under hot water. Using the back of the spoon, spread the ice cream to create one even layer.
Top with the other half of the cookie crumbs.
Evenly scoop the pumpkin ice cream on top of the cookie crumbs. Run the spoon under hot water again and spread the ice cream to create one even layer.
Drizzle with caramel sauce and top with heath bar pieces.
Place in the freezer until you are ready to serve.
Notes
It is best for freeze this cake overnight.
It works best if you leave your ice cream out for 5 minutes to become a little soft.
Recommended Products
As an Amazon Associate and member of other affiliate programs, I earn from qualifying purchases.