No cook banana ice cream with two different flavor combinations! Try two of my favorite flavors Biscoff banana ice cream and banana sugar cookie ice cream .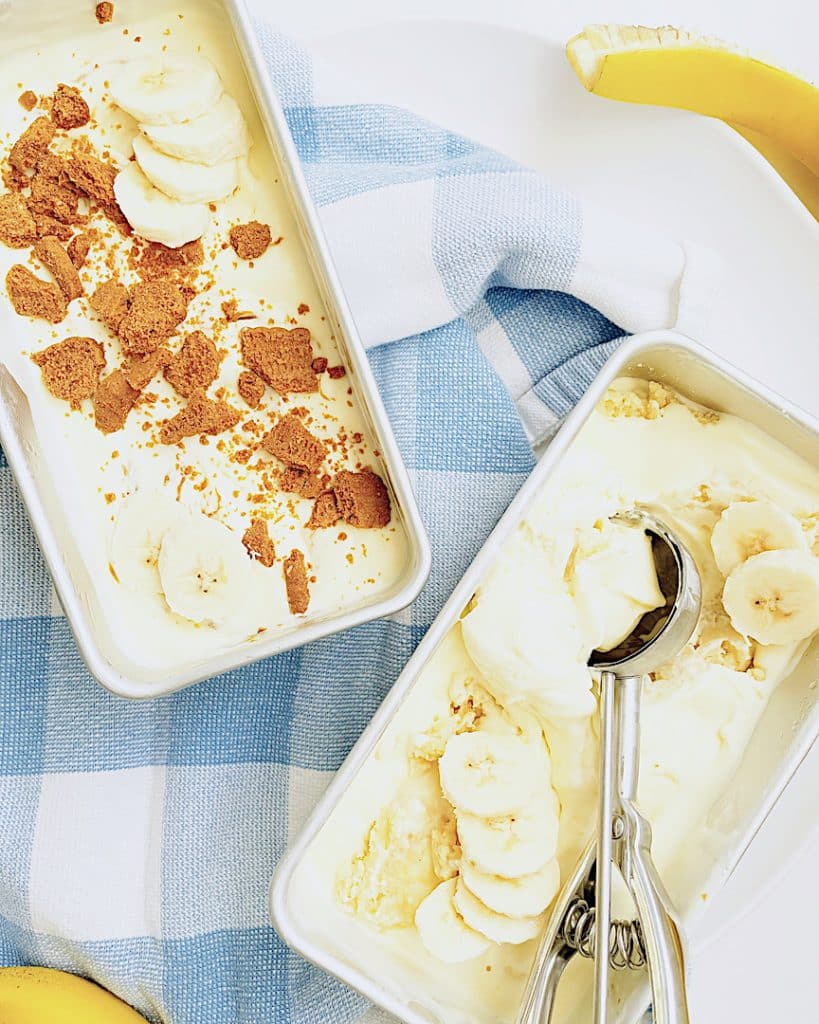 Discover a mind-blowing, no-cook banana ice cream recipe that will satisfy your sweet tooth without any hassle. Plus I am giving you two delicious flavor combinations that are super satisfying.
This easy-to-follow recipe utilizes just a few simple ingredients and an ice cream maker. Which makes it a perfect go-to dessert for any occasion.
No more boring process of making regular ice cream. Say hi to a fast, yummy treat that will make you want more!
Who doesn't love indulging in a creamy, delicious bowl of ice cream? But what if I told you there's a way to satisfy your sweet tooth without any hassle?
This homemade banana ice cream is even easier and tastier than a banana nice cream which used frozen bananas.
Frozen banana ice creams are healthier, but they lack the creamy texture of this creamy banana ice cream.
Get ready to discover a mind-blowing, no-cook banana ice cream recipe that will completely revolutionize your dessert game! Grab an ice cream scoop because you will not be able to stop eating this frozen dessert!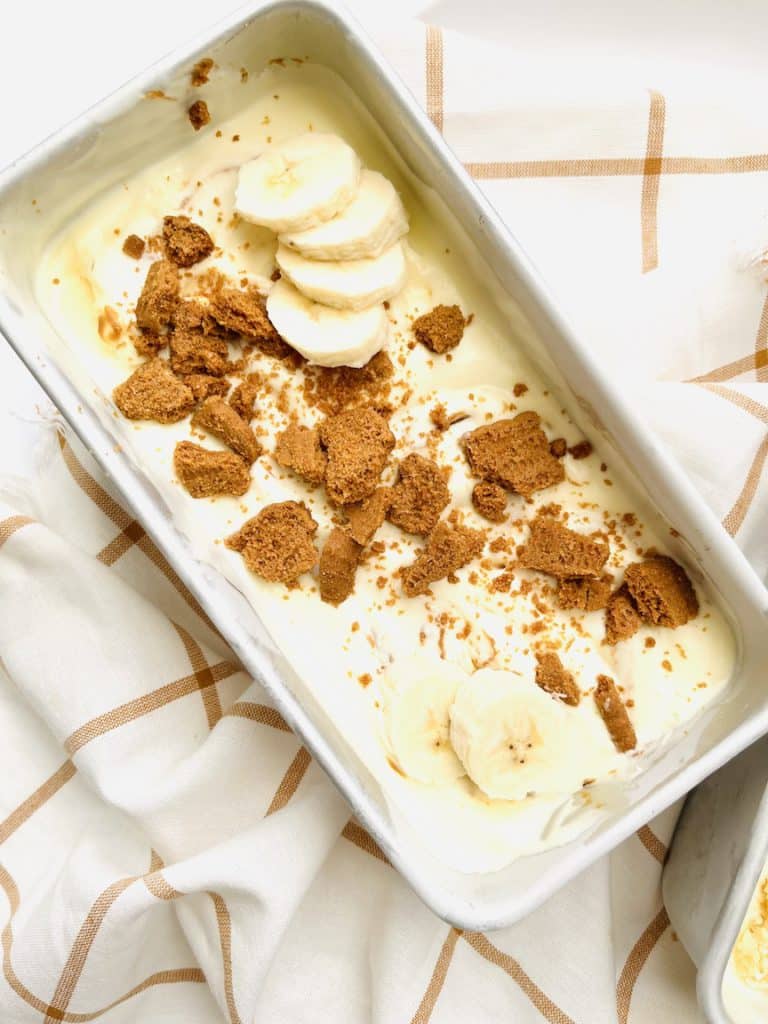 Simple Ingredients, Incredible Taste:
To make this irresistible banana flavored ice cream, gather the following ingredients:
Milk: I use 1 % or whole milk for this recipe. You can also use nonfat if desired.
Cream: Use heavy cream or whipping cream.
Banana pudding mix: Use the small box of instant banana pudding mix.
Sugar: Use granulated sugar.
Optional: Biscoff cookies, cookie dough, bananas, cookie butter.
Whip It Up In Minutes:
The beauty of a no cook ice cream is there is no time needed to refrigerate the batter before it goes into the ice cream machine.
All you have to do is combine the ingredients and churn it in the ice cream machine.
Stir in your desired additions and it's ready to go. Serve right away for a soft texture or freeze in pans for a few hours for a firmer texture.
Endless Flavor Combinations: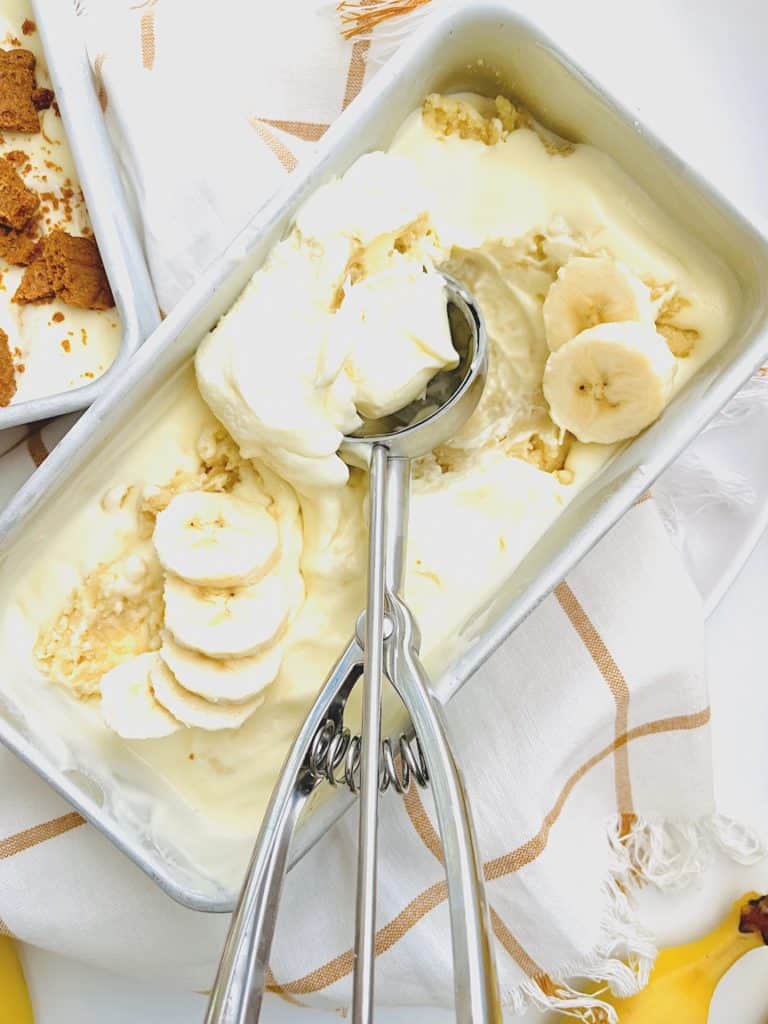 The beauty about this recipe is you can switch it up and make it your own.
Try adding chocolate chips for a delicious chocolate banana ice cream. Or swirl in some salted caramel for a caramel banana ice cream.
Stir in fruity jams or jellies or add chunks of cheesecake. The possibilities are endless!
Other Delicious Ice Cream Recipes:
These delicious ice cream recipes are definitely worth a try.
Peanut Butter Ice Cream With Graham Cracker and Salt
Chocolate Oreo Ice Cream In Ice Cream Machine
Easy Peppermint Ice Cream Recipe
Strawberry Cheesecake Ice Cream Recipe
Dairy Free Mint Chocolate Chip Oreo Cookie Ice Cream
No-cook banana ice cream with banana pudding is the ultimate summer treat. With its velvety texture, natural sweetness, and tropical flavors, it's a delightful way to enjoy the abundance of ripe bananas.
Whether you're hosting a gathering or simply treating yourself, this simple and scrumptious recipe is sure to impress.
So grab the milk, cream, pudding mix and create that delicious creamy ice cream. Swirl in your flavor additions and indulge in the creamy ice cream. Enjoy the taste of summer!
No Cook Banana Ice Cream Recipe: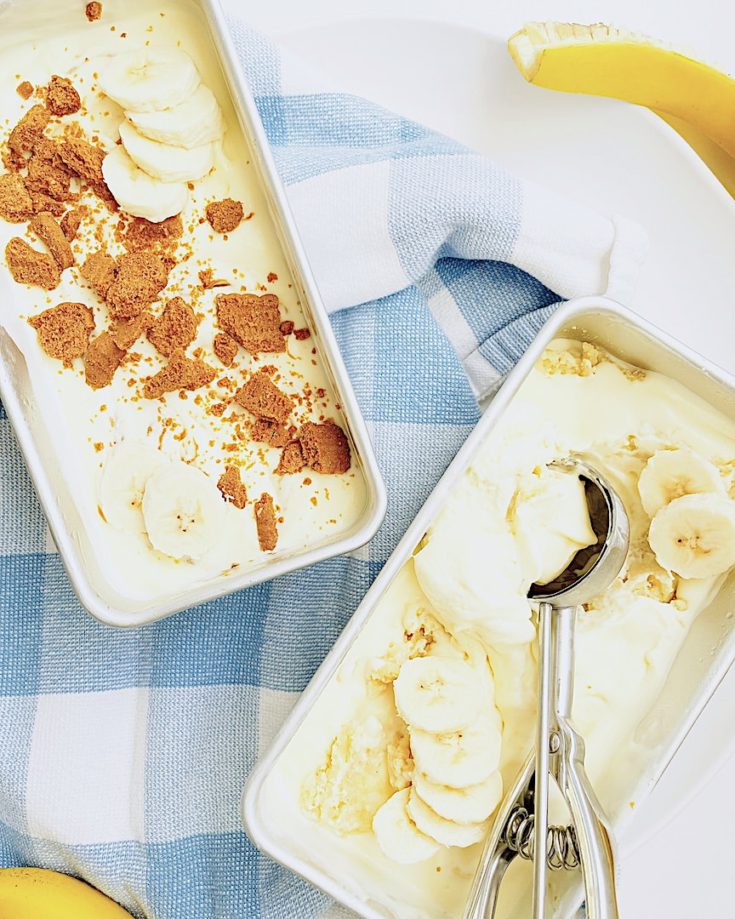 Yield:

12
No Cook Banana Ice Cream With Biscoff and Cookie Dough
No cook banana ice cream with two different flavor combinations! Try two of my favorite flavors banana Biscoff and banana sugar cookie.
Ingredients
2 cups milk
2 cups heavy cream
3/4 cup granulated sugar
1 small box instant banana pudding mix
Biscoff Version:
1/2 cup Biscoff cookies, crushed
2 tablespoons cookie butter
Cookie Dough Version:
1 cup pre-made sugar cookie dough
Instructions
Combine the ice cream ingredients in a mixing bowl and whisk until fully combined.
Place the mixture into a pre-frozen ice cream machine insert.
Churn until the ice cream is the texture of soft serve.
Place the ice cream into 2 loaf pans and add the option ingredients for the biscoff version and or the cookie dough version.
Cover with saran wrap and freeze for 1-2 hours or until hardened slightly.
Serve.
Notes
Make sure your ice cream machine insert has been frozen for at least 24 hours.
Recommended Products
As an Amazon Associate and member of other affiliate programs, I earn from qualifying purchases.
Nutrition Information:
Yield:
12
Serving Size:
1
Amount Per Serving:
Calories:

371
Total Fat:

23g
Saturated Fat:

12g
Trans Fat:

1g
Unsaturated Fat:

10g
Cholesterol:

51mg
Sodium:

161mg
Carbohydrates:

38g
Fiber:

0g
Sugar:

29g
Protein:

4g