Caprese Baked Pasta uses the simplest of ingredients but packs the most delicious flavor. It's a quick family friendly, vegetarian dinner that can be whipped up in no time or frozen for a meal to have on hand.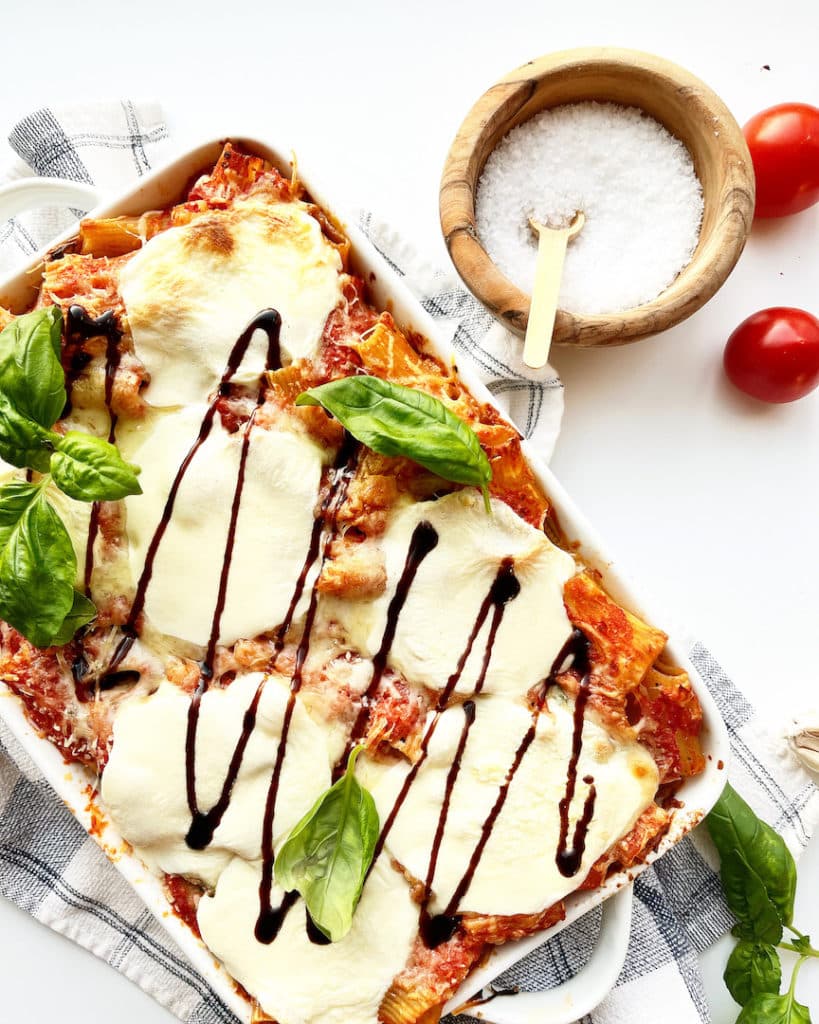 If you're looking for a quick and easy dinner recipe that's full of flavor, look no further than caprese baked pasta.
This dish combines all the deliciousness of a classic caprese salad (mozzarella, tomatoes, and basil) with the comfort of baked pasta, making it the perfect meal for any night of the week.
I whipped up this dish because I was craving a caprese sandwich but didn't have any bread!
I needed to use up a bunch of San Marzano tomato sauce I had made for a catering event and this dish was born.
The best part is this recipe is easy to make and family friendly.
Drizzled with balsamic glaze and topped with caramelized fresh mozzarella, this sizzling pasta dish is perfect any day of the week.
Ingredients For Caprese Baked Pasta:
To make caprese baked pasta, you'll need the following ingredients:
Pasta: you can use any pasta you like. I like penne, rigatoni, macaroni or medium shells.
Tomato Sauce: I made my own San Marzano tomato sauce for this recipe but you could also use a good quality jarred tomato sauce too.
Basil: use fresh basil.
Pearl Mozzarella: you can also substitute the pearl mozzarella with just extra fresh mozzarella and tear it up into small pieces.
Fresh Mozzarella: you can also just use the pearl mozzarella.
Italian Cheese Blend: I buy mine at Trader Joe's but any Italian cheese blend will be fine.
Balsamic Glaze: this adds a delicious sweet and tangy flavor to the pasta. It's the perfect garnish!
Maldon Salt: Maldon salt is a finishing salt. If you don't have this on hand you can use kosher salt.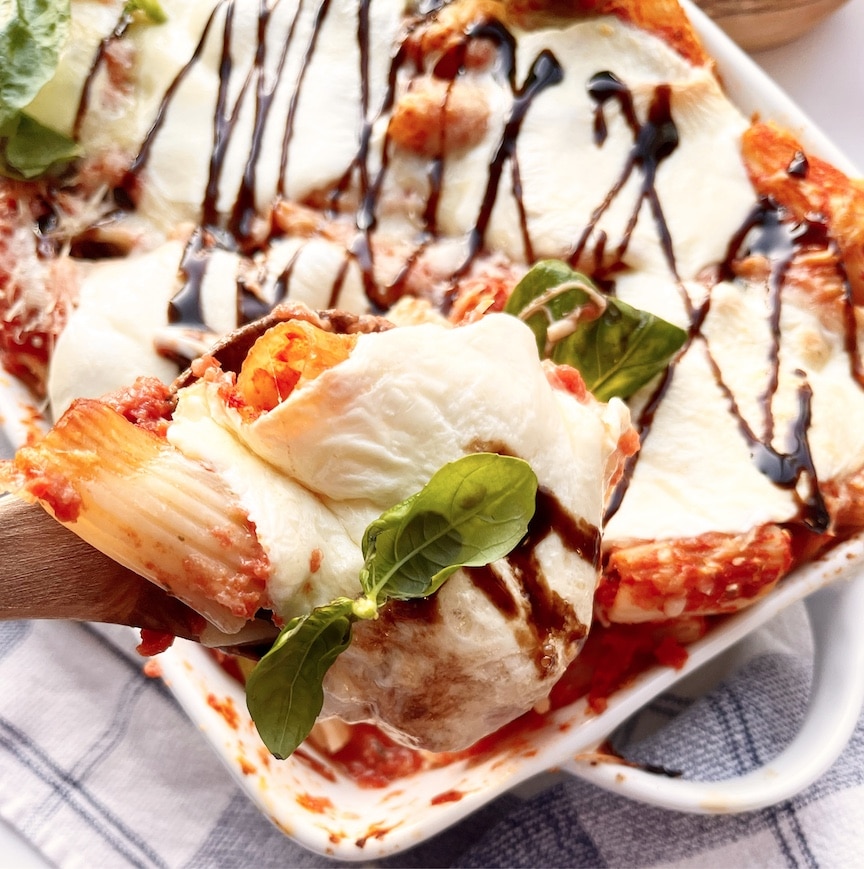 How to make caprese baked pasta:
To begin, preheat your oven to 350 degrees F and bring a large pot of salted water to a boil.
Cook the pasta according to the package instructions, then drain and set aside.
In a large mixing bowl, combine the cooked pasta, tomato sauce, pearl mozzarella, Italian cheese blend and half the basil.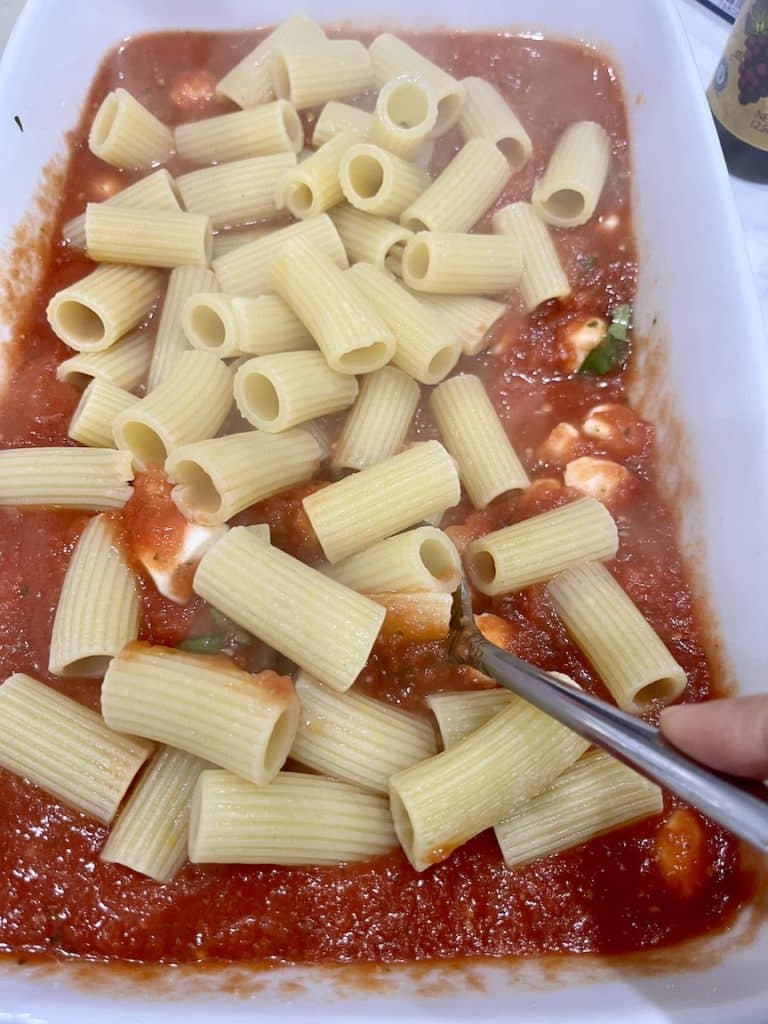 Season with salt and pepper to taste. Mix everything together until well combined.
Transfer the pasta mixture to a 9×13-inch baking dish and smooth it out into an even layer.
Top with extra sauce, Italian cheese and fresh slices of mozzarella.
Bake the pasta in the preheated oven for 25-30 minutes, or until the cheese is melted and bubbly.
Serve the caprese baked pasta hot, garnished with a drizzle of balsamic glaze, Maldon salt and additional torn basil leaves if desired.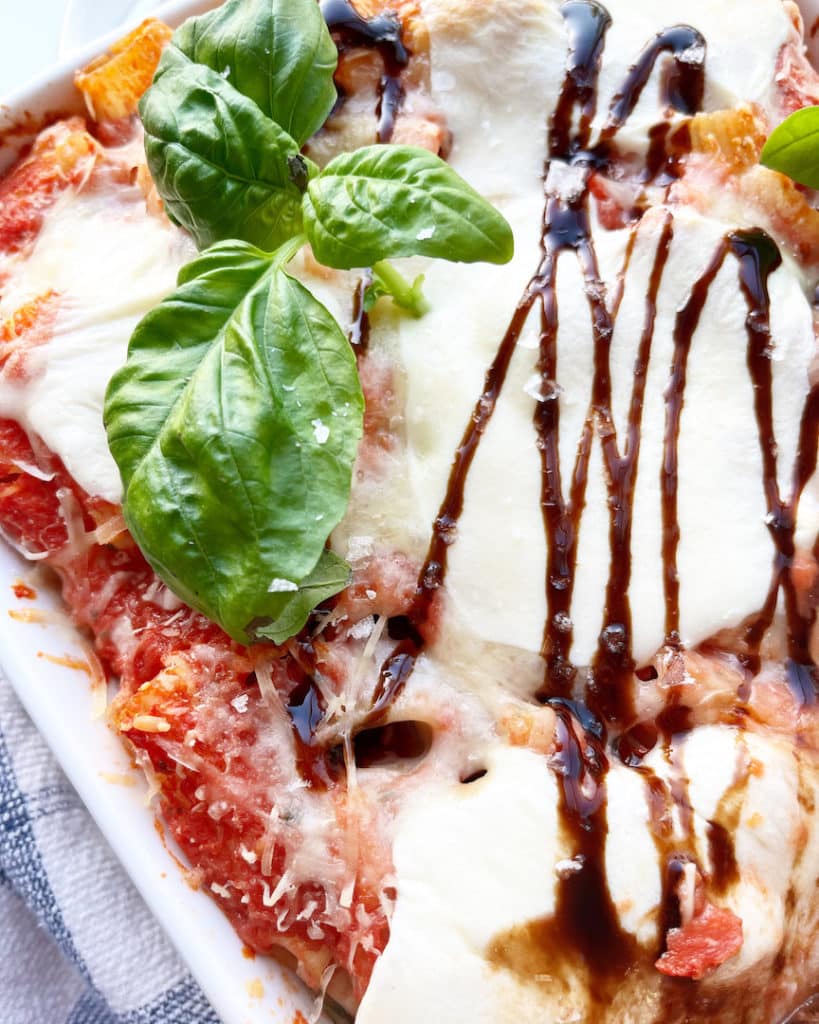 This recipe makes 6-8 servings, so it's perfect for feeding a crowd.
It's also a great option for meal prep, as it can be easily reheated and enjoyed throughout the week.
Change Up The Recipe:
Try experimenting with different types of pasta and cheeses to see what you like best.
This is the perfect vegetarian dinner recipe for a crowd, but you can also add meat if you prefer.
You can add in some cooked protein, such as grilled chicken or sausage, to make the dish more filling.
No matter how you customize it, caprese baked pasta is sure to become a family favorite.
Freezing and Storage:
One of my favorite meal prep tips is what I call a make one freeze one meal.
You basically make double of what you are making, eat half right away and then freeze the leftovers for a night when you just don't feel like cooking.
This dish freezes great! Just cover with a layer of saran wrap directly on top of the pasta and then cover with foil.
Freeze for up to 3 months.
When you are ready to enjoy I recommend thawing the pasta in the fridge the day before.
Then cook according to recipe directions.
Other

delicious

pasta

recipes

:

If you love pasta try out some of my other popular pasta recipes.

Pasta Carbonara Recipe From Culinary School

Gluten Free Beef Stroganoff Or Original

Rigatoni Bolognese With Herby Whipped Ricotta
Caprese Baked Pasta Recipe: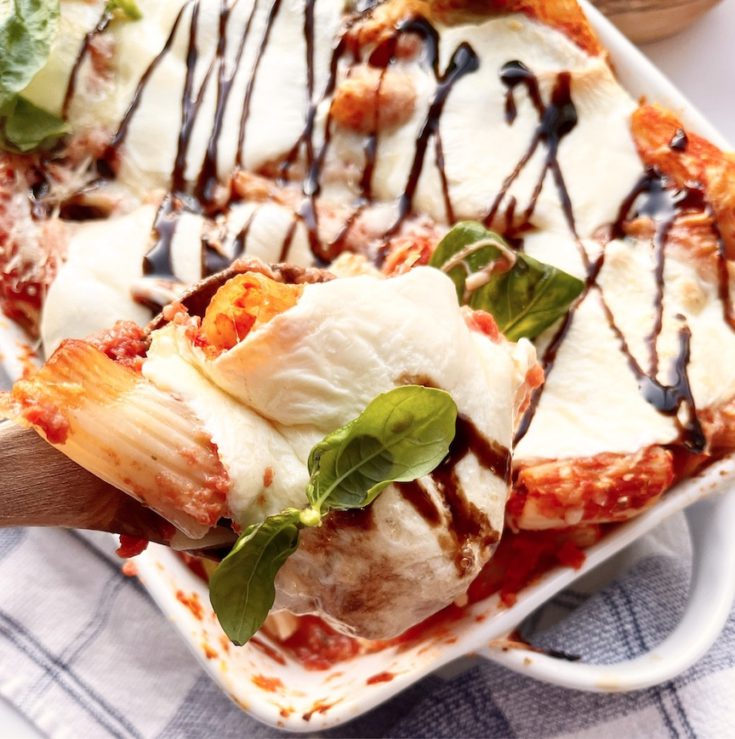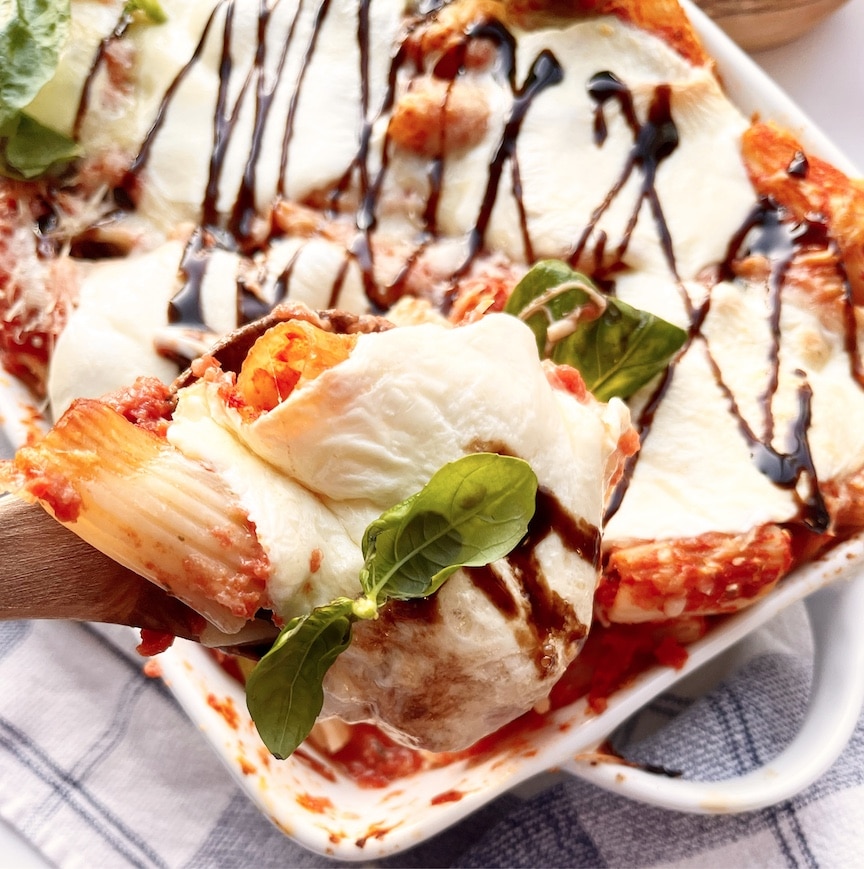 Yield:

serves 6
Caprese Baked Pasta With Balsamic Drizzle
Caprese baked pasta is the perfect weeknight dinner. It's quick to make and so delicious.
Ingredients
1 pound pasta (I used rigatoni)
4 cups good quality tomato sauce
4 cups Italian cheese blend
8 ounces mozzarella pearls
8 ounces fresh mozzarella, sliced
1/2 cup fresh basil, torn
To Garnish:
balsamic glaze
Maldon salt
extra fresh basil
Instructions
Preheat the oven to 400 F.
Cook the pasta according to package directions in salted boiling water.
Drain the pasta and combine with tomato sauce, Italian cheese, mozzarella pearls and basil. Stir to combine together.
Place in a 9 x 13 baking dish and top with fresh mozzarella slices.
Bake for 10-15 minutes or until the cheese is slightly browned on top.
Garnish with balsamic glaze, Maldon salt and fresh basil.
Nutrition Information:
Yield:
8
Serving Size:
1
Amount Per Serving:
Calories:

479
Total Fat:

28g
Saturated Fat:

16g
Trans Fat:

0g
Unsaturated Fat:

9g
Cholesterol:

94mg
Sodium:

1166mg
Carbohydrates:

27g
Fiber:

3g
Sugar:

7g
Protein:

29g