Mini baked brie appetizer with fig and prosciutto are the perfect bite sized appetizer to serve for any get together. The combination of the crisp crostini, salty prosciutto, sweet fig jam and creamy melty brie cheese is like no other!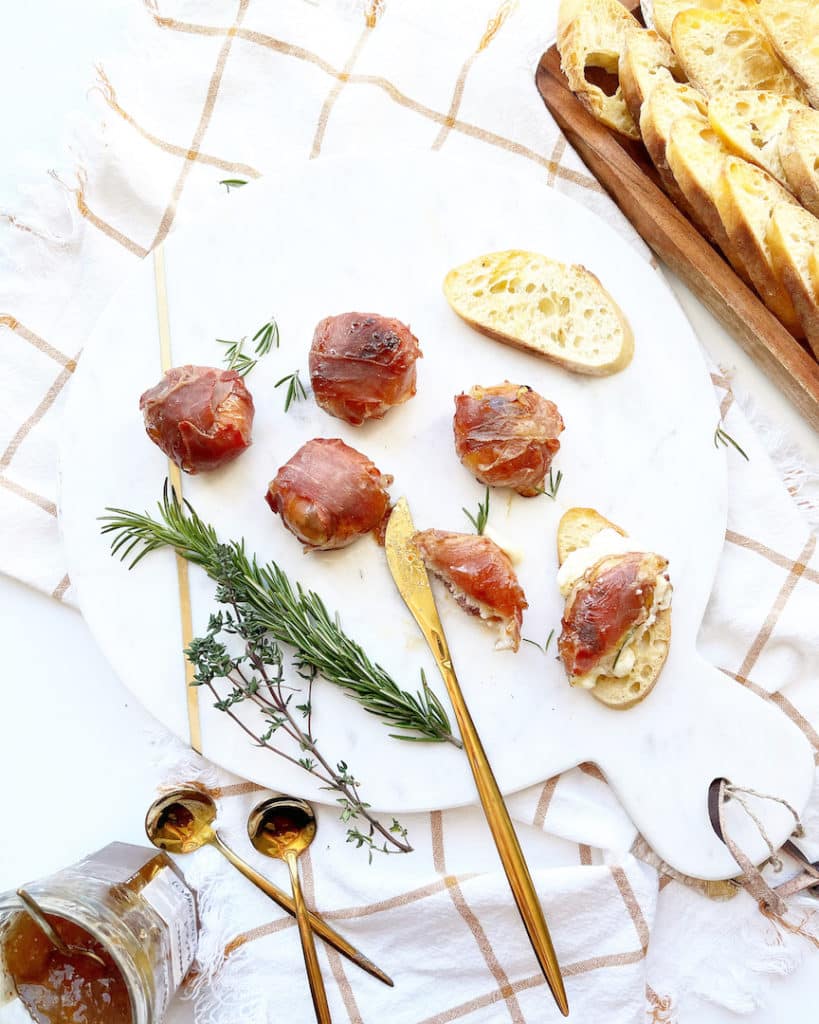 It you are looking for an easy and delicious appetizer to impress your guests, look no further than mini baked brie bites.
This creamy, savory and slightly sweet appetizer is perfect for any occasion, and it's so simple to make that you will wonder why you haven't been making it all along.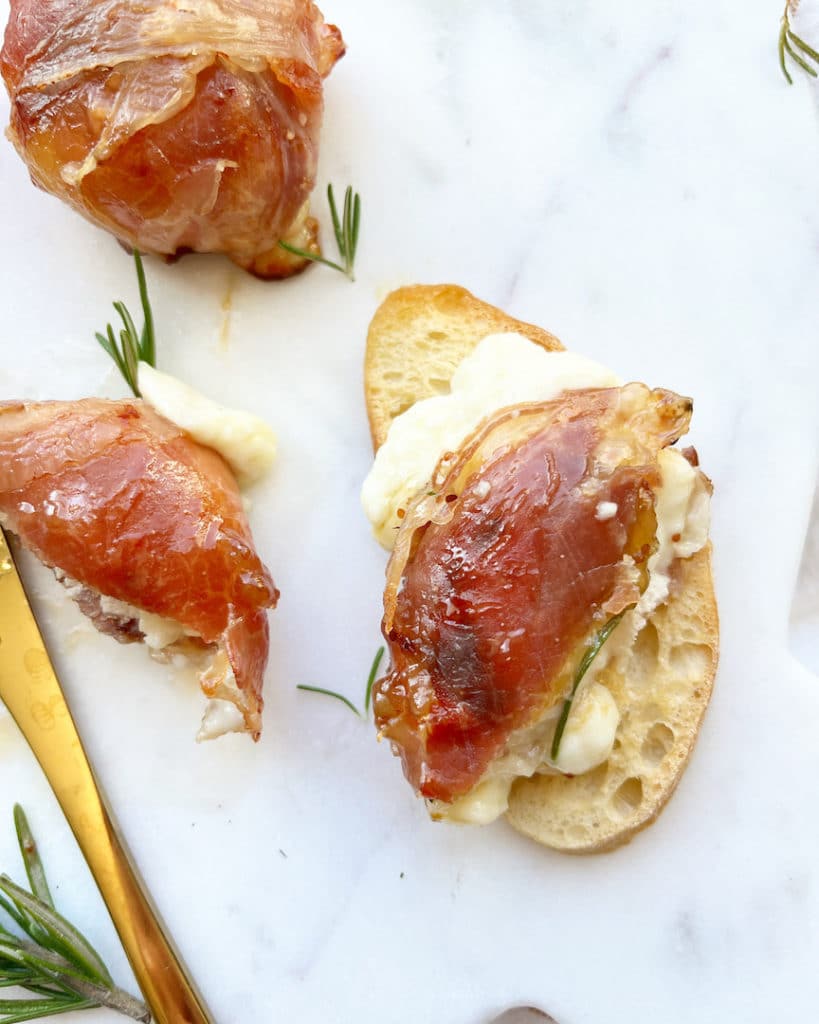 Chances are you have probably had a baked brie appetizer sometime in your life.
Most baked brie appetizers are made with a large wheel of brie, some jam or preserves and then wrapped in a sheet of puff pastry.
Although I love this version, I love mini appetizers even more.
Making them mini is just a little extra special.
I also love wrapping the Brie in prosciutto instead of a thick puff pastry. It makes for a lower carb appetizer than the traditional version.
You can also switch up the jam in this recipe and use blackberry, pepper jelly or apricot.
Switch up the cheese and use goat cheese or mini cubes of fontina.
Ingredients You Will Need:
Here is what you need to make this dish.
Mini Brie Bites: I like these Supreme Brie Bites. You can find them at Sprouts or other markets.
Fig Jam: Fig jam adds such a delicious sweetness. You can also use other jam flavors if you prefer.
Fresh Herbs: I like to use fresh Rosemary and thyme for this recipe. You can also use sage.
Prosciutto: Buy a thinly sliced prosciutto.
How To Make Mini Baked Brie:
First preheat the oven to 425 F
Line a cookie sheet with foil.
Unwrap the mini Brie bites and top with jam and herbs.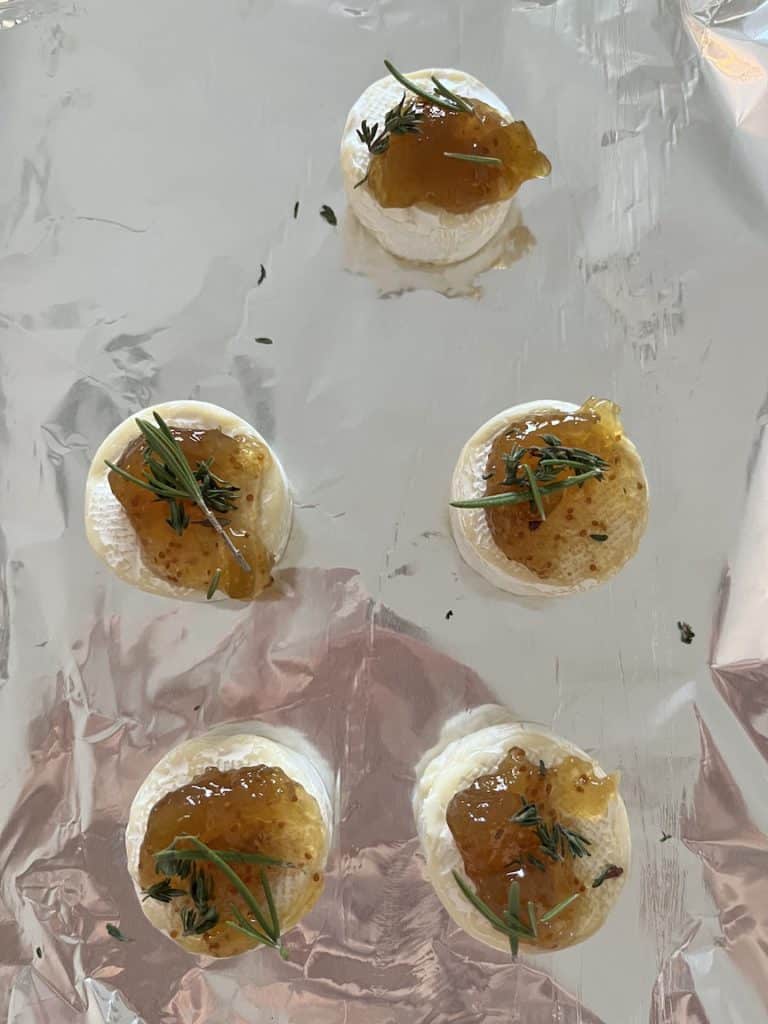 Next wrap each cheese wheel in prosciutto making sure to cover it completely. You may need to use 2 to 3 slices of prosciutto.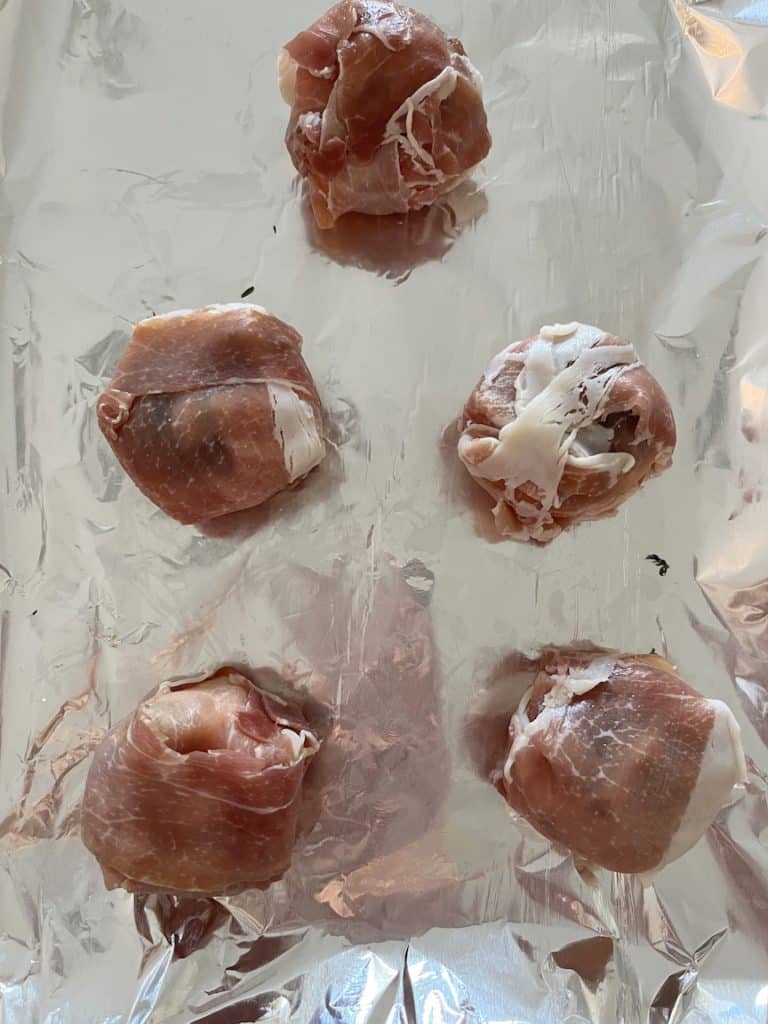 Bake for 20 minutes and serve with crostini or crackers.
These mini baked bries are the perfect party appetizer because they're easy to make, delicious, and sure to be a hit with your guests.
So next time you're looking for a simple and tasty appetizer, give these mini baked Bries a try.
Other Delicious Appetizers To Try:
Throw an appetizer party with these fun and delicious recipes.
The Best Heirloom Tomato Bruschetta
The Perfect Deviled Eggs with Black Forest Bacon
Mini Baked Brie Appetizer Recipe: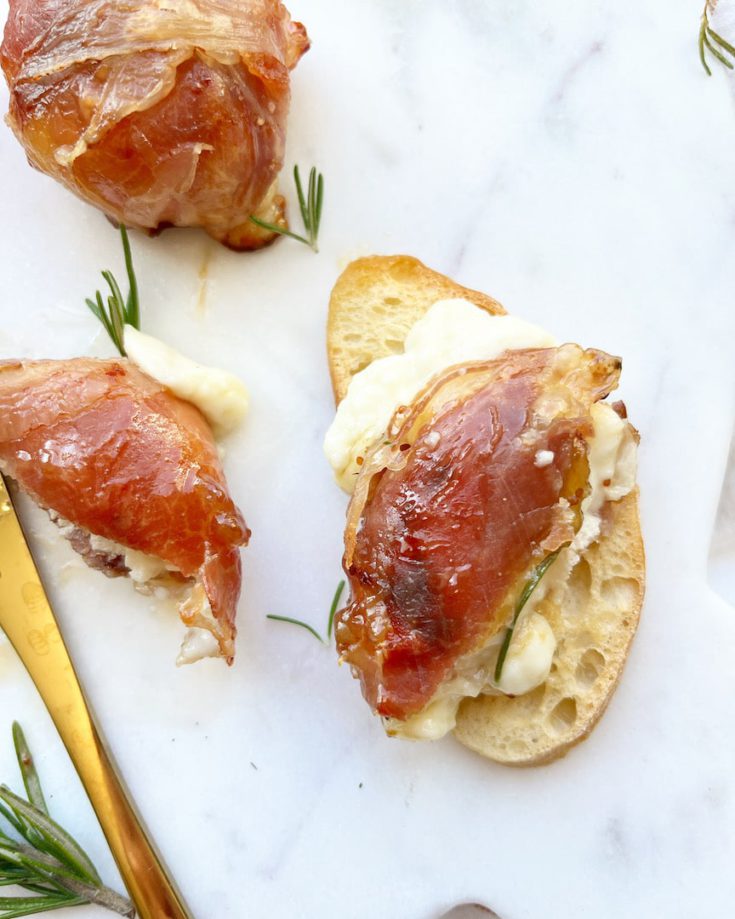 Yield:

Makes 10 bites
Mini Baked Brie Appetizer With Fig and Prosciutto
The perfect mini baked brie appetizer is sweet and salty and is perfect for any get together.
Ingredients
2 bags Supreme Brie Bites (10 mini wheels total)
1/2 cup fig jam
1 tablespoon rosemary, finely chopped
1 tablespoon thyme, finely chopped
1 package prosciutto
1 small baguette, sliced in 1/4 inch slices
Instructions
Preheat the oven to 425 F.
Line a cookie sheet with foil.
Unwrap the brie bites and place them on the cookie sheet.
Top each brie bite with a teaspoon of fig jam and a pinch of rosemary and pinch of thyme.
Wrap the brie in prosciutto. Make sure to cover it completely. You may need to use 2 slices. Place the seam side down.
Cook the cheese in the oven for 15-20 minutes.
Meanwhile place the bread slices on a cookie sheet and drizzle with olive oil. Cook in the same oven for 5 minutes or until toasted.
Serve the warm cheese on the crostini.
Nutrition Information:
Yield:
10
Serving Size:
1
Amount Per Serving:
Calories:

143
Total Fat:

3g
Saturated Fat:

1g
Trans Fat:

0g
Unsaturated Fat:

1g
Cholesterol:

8mg
Sodium:

311mg
Carbohydrates:

24g
Fiber:

1g
Sugar:

7g
Protein:

6g