This gourmet burger recipe is made with juicy ground beef, a homemade red wine bacon sauce, caramelized onions, a whole grain aioli and fresh watercress. It's the ultimate burger recipe to make at home.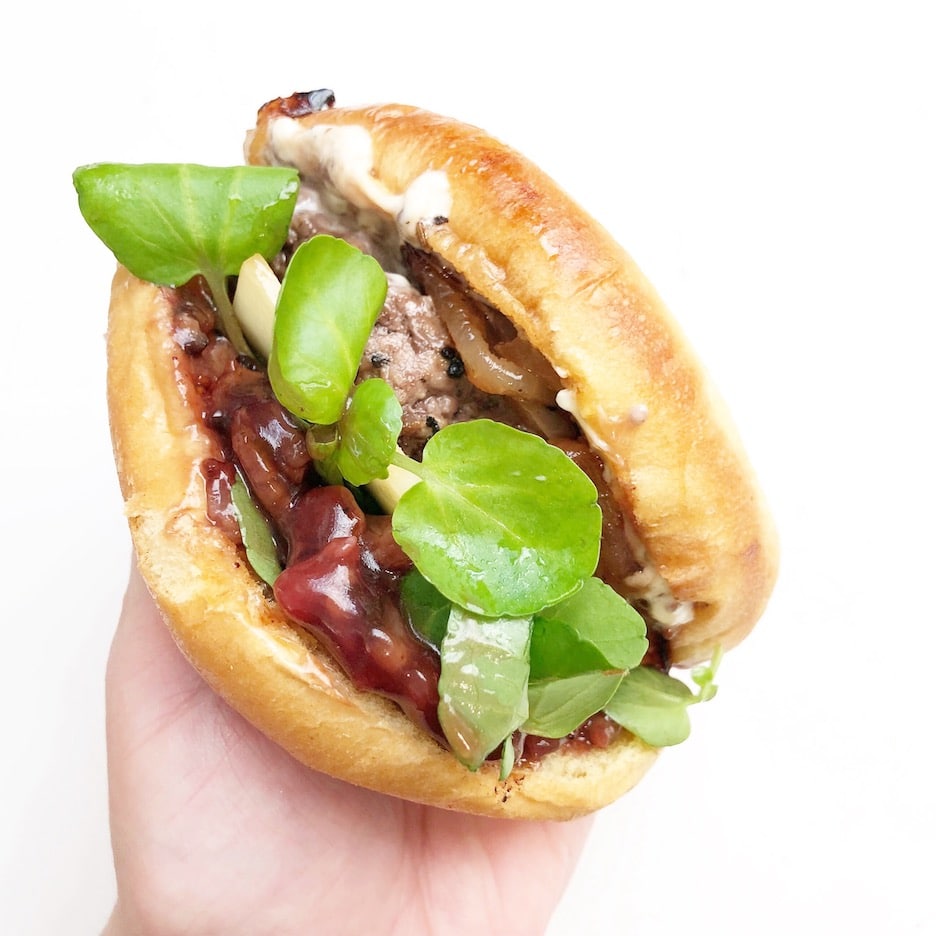 Juicy and packed with flavor this gourmet burger is a must try.
It's inspired by one of my favorite burger restaurants called Back Abby. They make a delicious beef burger with aged gouda, bacon, microgreens and aioli.
It's one of the best burgers I have ever had so of course I had to put my spin on it and make a version at home!
What Do You Put In A Gourmet Burger?
Burger toppings are endless but to make it extra special try adding some unique ingredients like smoked cheeses, crispy bacon, caramelized onions or a delicious sauce like red wine bacon sauce.
The key to making it gourmet is to use high quality ingredients that add to the overall flavor profile and texture.
What Meat Is In A Gourmet Burger?
Gourmet burgers don't require filet mignon! Use a good high quality, fresh ground beef with a higher fat content to create the perfect juicy burger.
I like using fresh 80/20 ground beef. No need to go crazy with expensive meat!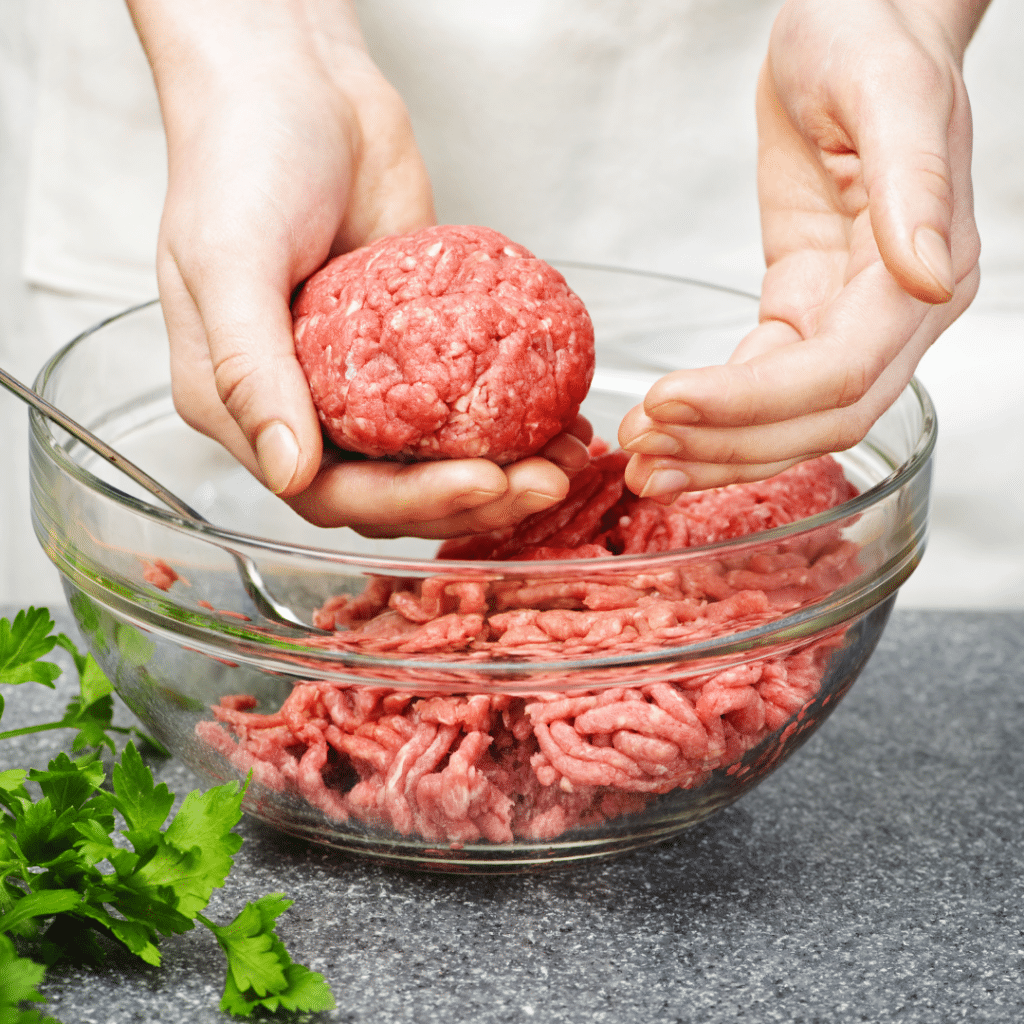 Ingredients For A Gourmet Burger:
You will want to make a few elements before you start the burger cooking process.
Red Wine Bacon Sauce:
Make the red wine bacon sauce before you start cooking the burgers.
To make the sauce cook and cut bacon into small pieces.
Bring the red wine and brown sugar to a simmer over high heat to medium heat and then add the slurry mixture (cornstarch and cold water).
Simmer until thickened slightly. Stir occasionally to prevent burning.
This sauce is amazing on just about anything. I love to serve it over pork tenderloin or filet mignon.
Whole Grain Mustard Aioli:
Simply combine the ingredients in a small bowl and set aside.
You can even make this a day in advance and store in the fridge.
Prep the Other Ingredients:
Prep the ingredients such as cutting the cheese, forming your patties and washing the watercress.
Now you are ready to cook these burgers!
Tips With Cooking Burgers At Home:
I love using a cast iron skillet for at home burger recipes. It's a great heat conductor and creates a delicious caramelized crust on the exterior of your burgers.
Just some things to keep in mind.
Make sure you preheat the pan. I like to preheat over medium high heat.
I prefer to sear the patties in a dry pan. If you are using 80/20 beef it will quickly release enough fat to create a nice sear on the exterior. If you are really worried you can add a teaspoon of oil.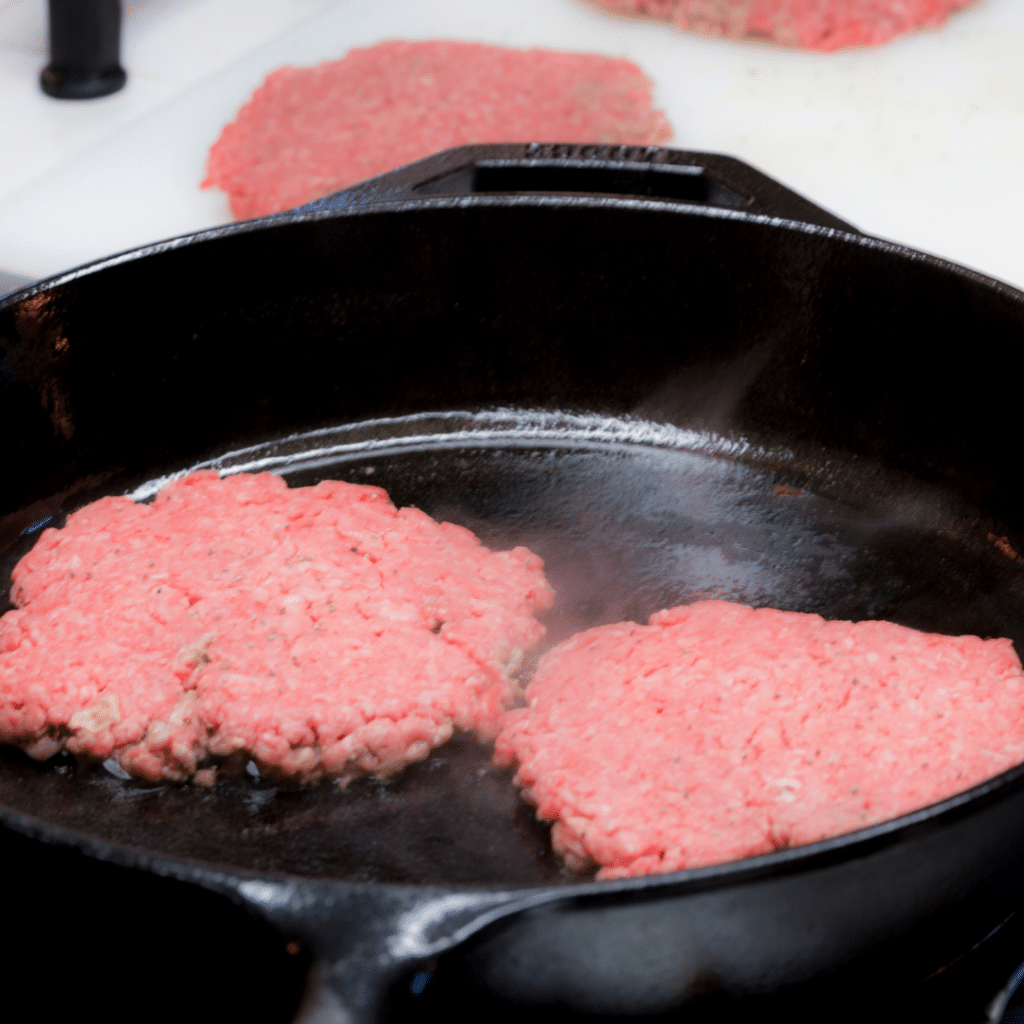 Let the patties cook! Try not to move the patties once in the pan until you are ready to flip. You can tell when the burgers are ready to flip when the patties have separated from the pan. If they are sticking let then cook a little longer. They will naturally release from the pan when ready.
What To Serve With These Burgers:
Try out some of these delicious recipes to serve with these burgers!
Air Fryer Potato Wedges With Garlic Browned Butter
Orzo Pasta Salad With Roasted Vegetables
Gourmet Burger Recipe: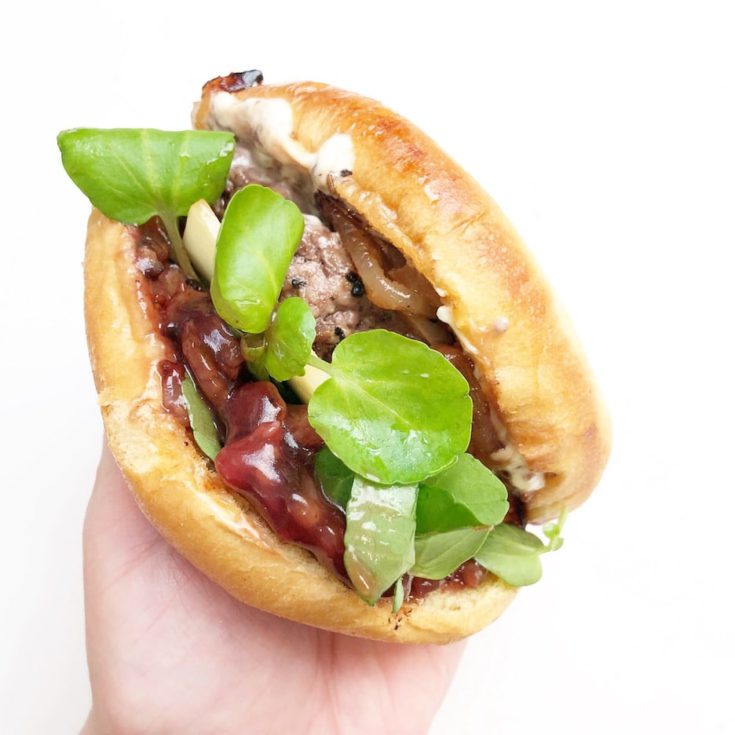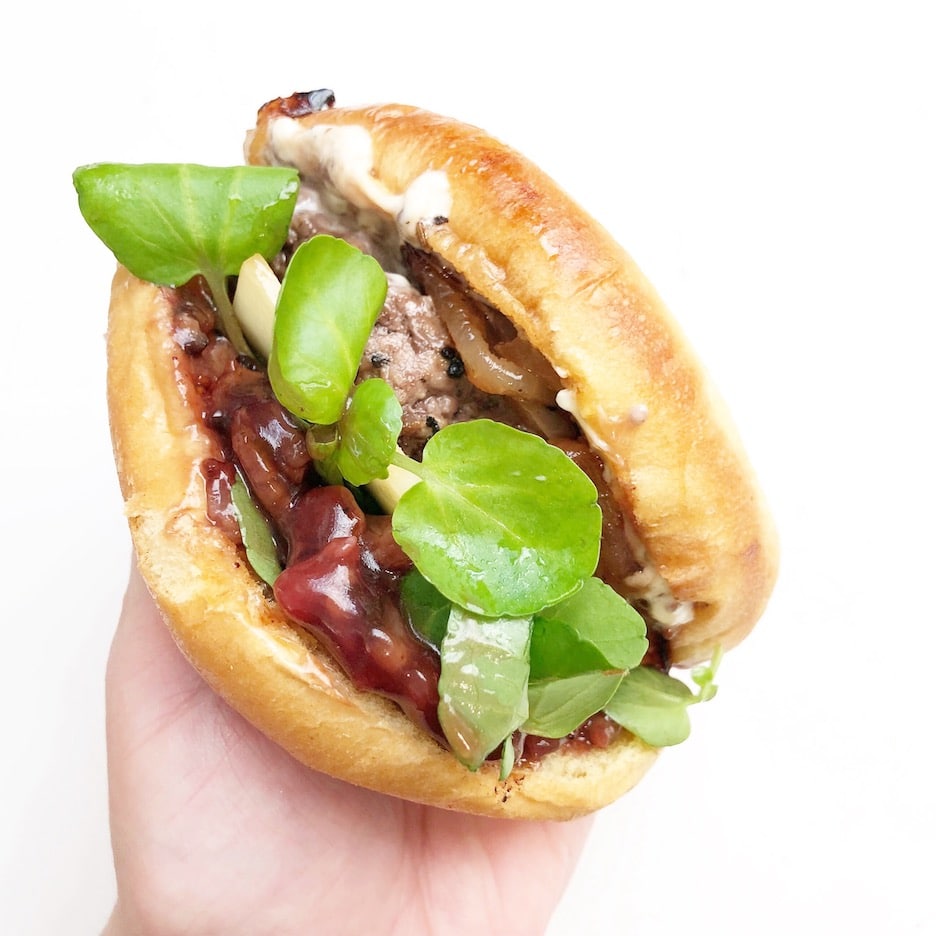 Yield:

4
Gourmet Burger With Bacon Red Wine Sauce
The best gourmet burgers that you can make at home!
Ingredients
1 1/4 pounds ground beef (80/20)
2 teaspoons Montreal steak seasoning
2 tablespoons butter
1/2 white onion, sliced thin
2 tablespoons mayonnaise
2 teaspoons whole grain mustard
4 slices applewood smoked cheddar cheese
1 bunch watercress or microgreens
4 brioche buns
Bacon Red Wine Sauce:
3/4 cup red cooking wine
1 tablespoon brown sugar
2 teaspoons cornstarch + 2 tablespoons cold water
2 slices black forest bacon, cooked until crispy and chopped very fine
Kosher Salt, to taste
Instructions
Combine the beef with the Montreal steak seasoning in a mixing bowl. Use your hands to carefully mix together the ingredients until just combined. Form 4 squally sized patties with the meat mixture. Set aside.
Preheat a medium-sized saute pan to low heat. Add the butter and onions to the pan. Saute for 10-15 minutes or until caramelized, stirring frequently to prevent burning. Set aside and reserve for burgers.
While following step 2, start the bacon red wine sauce (recipe below).
In a small mixing bowl combine the mayonnaise and whole grain mustard. Set aside.
Preheat a large cast iron skillet or grill pan to medium-high heat. Sear the burgers for 3-5 minutes per side or until the burgers are cooked to your liking. Place the cheese on top of the burgers and remove from the pan. Cover the patties with foil to melt the cheese. Let the burgers rest for 5 minutes.
Toast the buns and prepare the toppings. To assemble the burgers, spread the mayo sauce on one side of your bun. Top with caramelized onions, burger patty, watercress, and red wine sauce, and top with the other half of the bun.

Bacon Red Wine Sauce:
Preheat the oven to 400 F. Place the bacon on a foil-lined baking sheet and bake for 10-15 minutes or until crispy. Remove and let cool slightly. Chop the bacon into small pieces.
In a medium saucepan over medium-high heat, combine red wine and brown sugar. Cook for 5 minutes stirring occasionally.
In a small bowl combine cornstarch with 2 tablespoons water and stir together to make a slurry. Add the slurry mixture to the red wine and brown sugar mixture and let it come to a boil to thicken. Add the chopped bacon and stir to combine. Season with desired amount of salt.

Recommended Products
As an Amazon Associate and member of other affiliate programs, I earn from qualifying purchases.