Cauliflower ground turkey taco salad is healthy, full of protein and a delicious weeknight dinner. Make sure you make a double portion so you can meal prep for easy lunches on the go.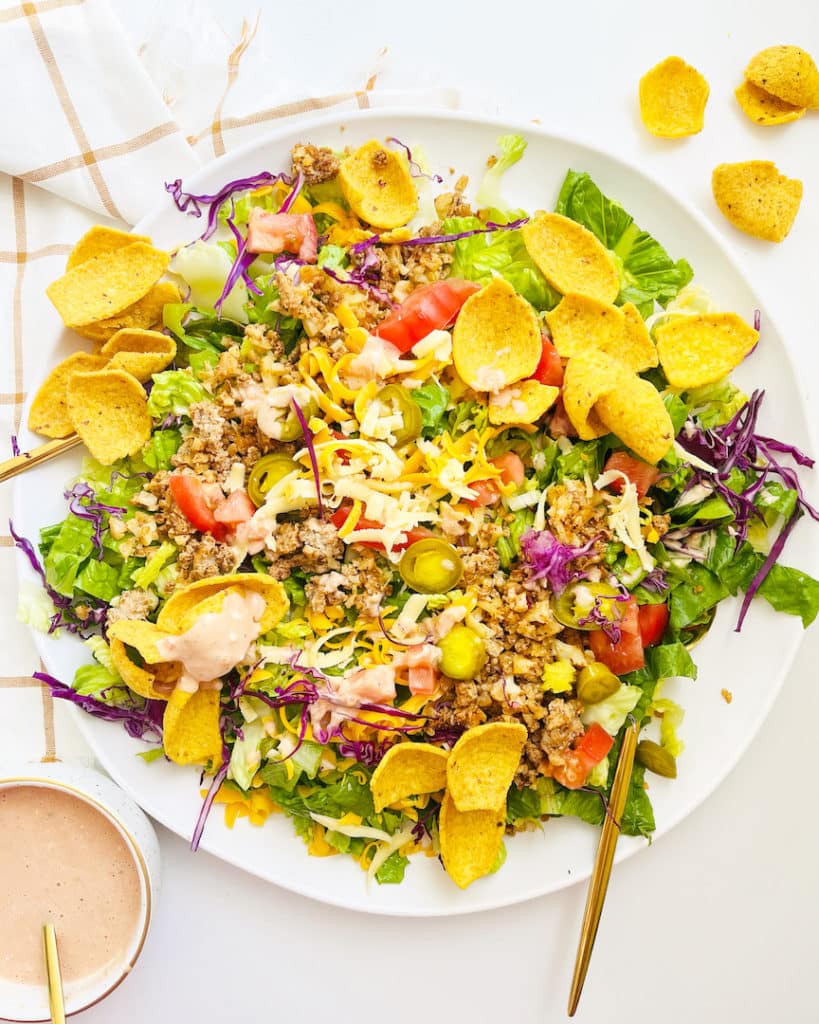 Cauliflower ground turkey taco salad is a wonderful healthy dinner option when you are in a pinch.
Not only is this cauliflower ground turkey taco salad incredibly nutritious, but it's also bursting with flavor.
Plus, it's so easy to make that you'll wonder why you haven't tried it before.
You can use this dish for various purposes, such as a quick weeknight meal or a healthy lunch for meal prepping.
Just combine healthy cauliflower, ground turkey, creamy cheese, and crunchy corn chips together with crisp lettuce. Then toss with and salsa ranch dressing to make a delicious dish that will make your taste buds happy.
Let's dive into everything you need to know to make this dish.
Ingredients You Will Need:
Here are the ingredients to make this easy taco salad. Feel free to change it up and add some of your favorite taco salad ingredients.
To create this tantalizing cauliflower ground turkey taco salad, you will need the following ingredients.
Lettuce: I love to use romaine or iceberg for a crisp lettuce option. You can also use spinach or mixed greens.
Ground Turkey: I love ground turkey because it is lower in fat than ground beef. You can always substitute the ground turkey for lean ground beef if you want a different option.
Homemade Taco Seasoning: I make homemade taco seasoning using chili powder, garlic salt, oregano, and cumin.
Cauliflower: I use a whole head and mince it fine. You can also buy riced cauliflower if needed.
Pepper Jack and Cheddar Cheese: I mix pepper jack and cheddar cheese, but you can use either or both if you want.
Pico De Gallo: You can use premade pico de Gallo or made your own by combining fresh chopped tomatoes, cilantro, red onion and lime juice.
Corn Chips or Tortilla Chips: I prefer corn chips (I love the ones from Trader Joes) but you can also use tortilla chips.
Why Add The Cauliflower?
Cauliflower is a versatile veggie that's gaining popularity as a healthy substitute for high-carb ingredients in tasty meals.
From cauliflower rice to cauliflower crust pizza, this cruciferous vegetable has become a favorite among health-conscious individuals.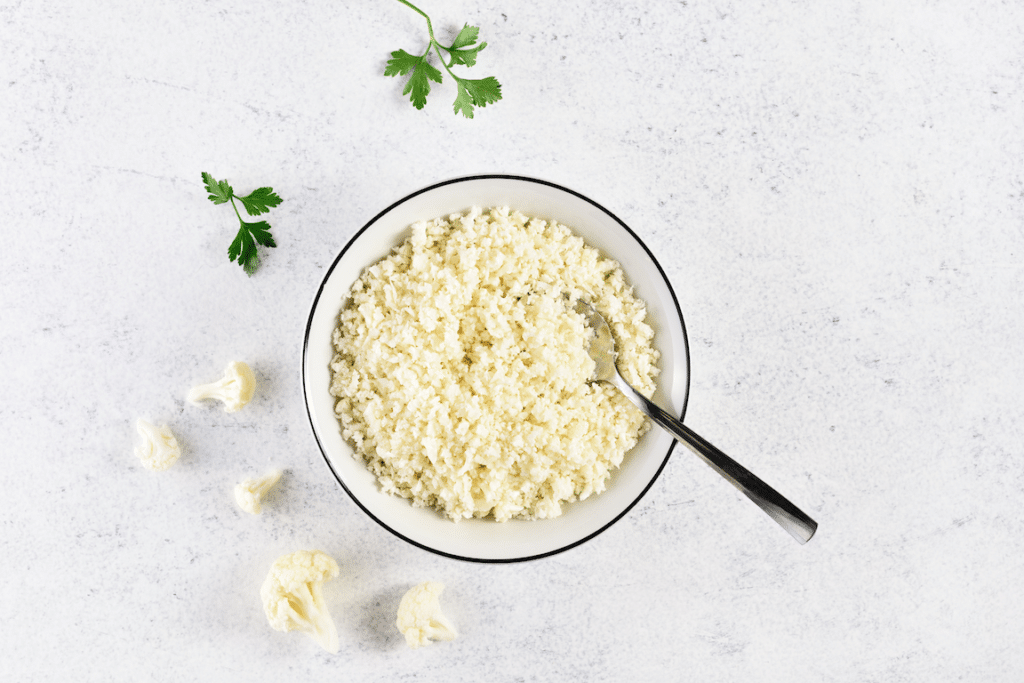 By using cauliflower as a filler, this cauliflower ground turkey taco salad offers a nutritious and satisfying twist to a classic Mexican dish.
It is also a great way that I can incorporate healthy vegetables into meals for my kids without them knowing.
The cauliflower becomes the same texture as the ground turkey and your kids can't tell the difference.
Try this recipe for a tasty taco salad and enjoy the delicious flavors and textures while staying healthy!
What Is Taco Salad Dressing Made of?
Taco salad dressing can be creamy or vinegar based.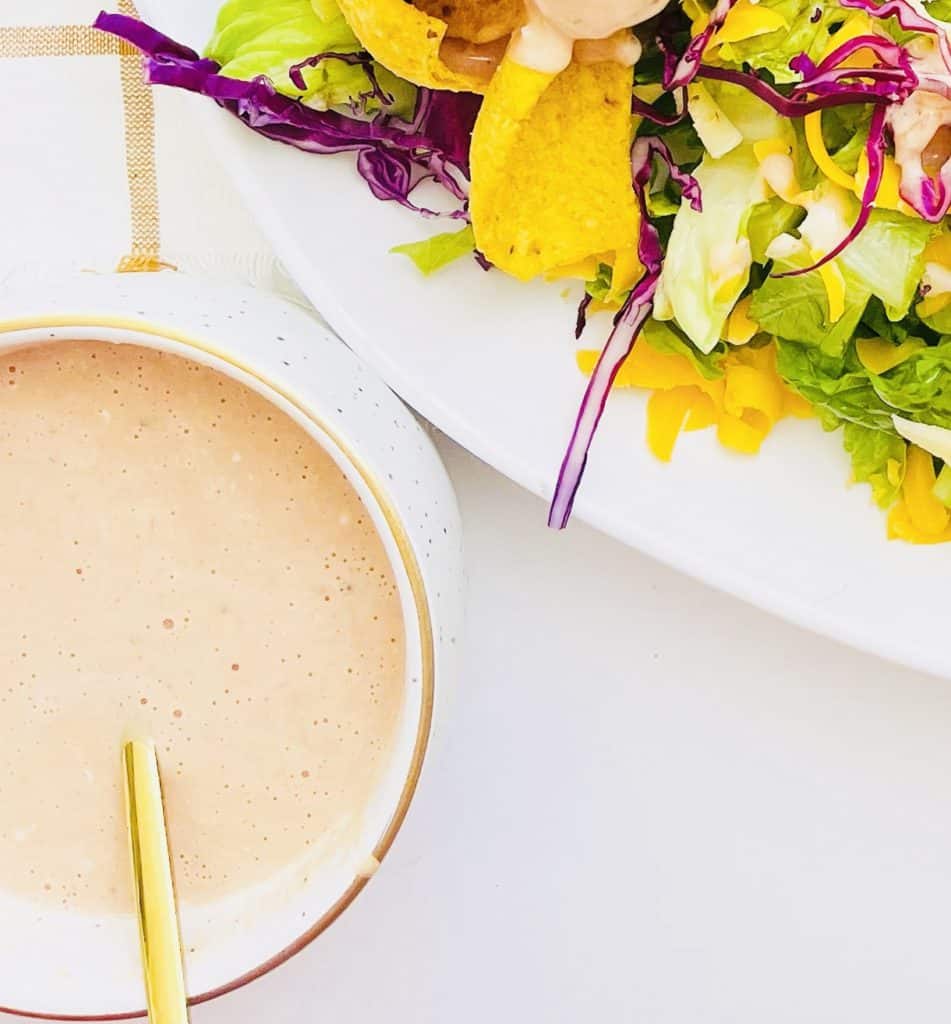 I love a tangy creamy dressing for this taco salad. It's delicious and the best part is how easily it is to make.
Just two simple ingredients make this taco salad dressing.
Grab your favorite ranch dressing and red salsa and mix equal portions to create this delicious creamy taco salad dressing.
You can make the dressing spicier by adding hot salsa or more hot sauce to the dressing. Kick it up with blending in some cilantro or jalapeños.
Although I love this easy creamy salsa ranch dressing you can use a vinegar based dressing if you prefer.
If you prefer a vinegar based dressing I love this tangy chili lime dressing.
It's robust and full of delicious lime juice, lime zest, chili powder and spices. This dressing goes perfectly with this taco salad recipe as well.
Either one goes perfectly with this cauliflower ground turkey salad recipe.
Ground Turkey Taco Salad Instructions:
Get ready to savor the flavors of a traditional Mexican favorite with a healthy twist!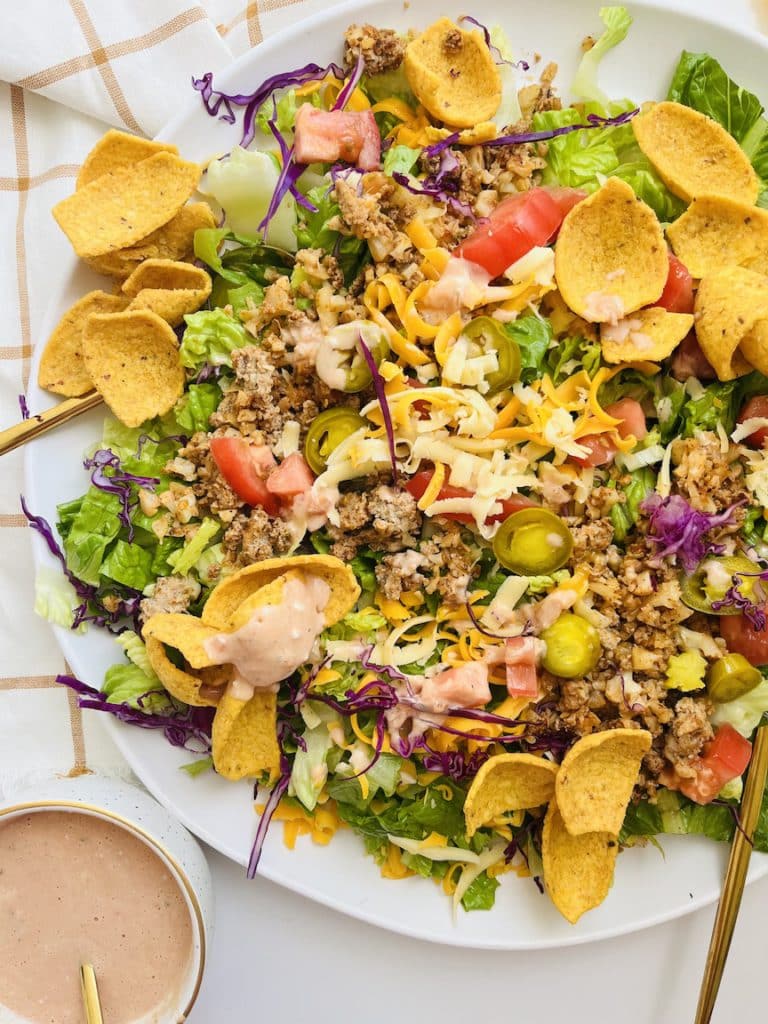 To make this delicious dish, you should cook the ground turkey in a skillet until it browns and cooks fully.
While the turkey is sizzling away, finely mince the cauliflower. Add the cauliflower and add the homemade taco seasoning.
Once the cauliflower and turkey are ready, it's time to assemble your taco salad masterpiece.
Grab a generous handful of fresh greens, such as crisp lettuce or baby spinach, and place them in a large bowl.
Next, add a heaping scoop of the cooked cauliflower and turkey on top. This will give your salad a satisfyingly hearty base.
Now comes the fun part and add the toppings.
Spoon on some zesty salsa ranch dressing to give your salad a tangy kick. You can also sprinkle on some shredded cheese, diced tomatoes or pico de Gallo, pickled jalapeños, and corn chips for added texture.
If you like things spicy, a sprinkle of jalapeños or a drizzle of hot sauce will do the trick.
Once all the toppings are in place, grab a fork and dig in. The combination of flavors and textures will have you hooked from the first bite.
The tender cauliflower and juicy ground turkey provide a satisfying protein boost, while the fresh veggies and zesty dressing add a burst of vibrant flavor.
Use It For Meal Prepping:
Not only is this cauliflower ground turkey taco salad a delicious dinner option, but it's also perfect for meal prepping.
Make a double portion and divide it into individual containers for easy grab-and-go lunches throughout the week. It's a convenient and healthy way to stay fueled and satisfied on busy days.
Next time you need a fast and healthy dinner, try this cauliflower ground turkey taco salad.
It's a simple yet flavorful dish that will leave you feeling satisfied and nourished. Your taste buds and your body will thank you for it.
What Goes Well With Taco Salad:
Taco salad is great on its own for a tasty lunch or dinner. But if you are looking for something to serve alongside it there are many options you can choose.
Serve with mini quesadillas, oven fried taquitos, or with homemade guacamole and chips.
You can always wash it down with my delicious watermelon aqua Fresca or homemade horchata.
Or serve it with Cinco de Mayo Churro Bar for a fun Mexican fiesta.
It really is perfect on it's own or served with some delicious sides.
Other Delicious Healthy Dinner Ideas:
You know how much of a fan I am of easy healthy dinner options. If you are in need of some other healthy dinner ideas try these out!
Healthy Turkey Burger Recipe- Hawaiian Style
Ground Turkey Taco Salad Recipe: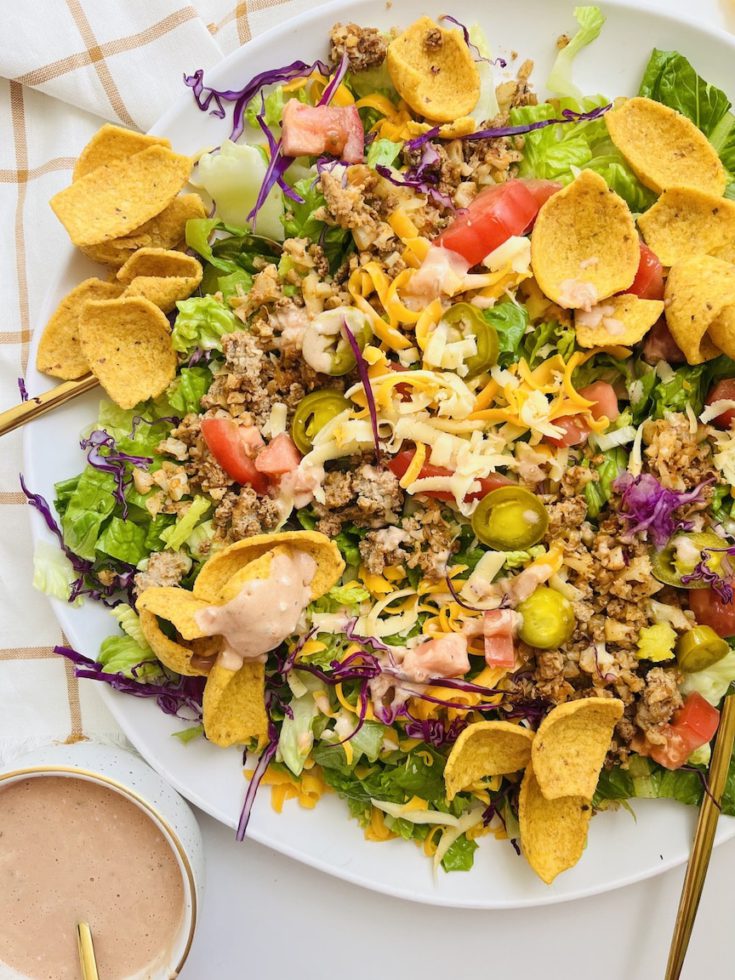 Yield:

Serves 6
Ground Turkey Taco Salad With Salsa Ranch
This delicious healthy cauliflower ground turkey taco salad is full of flavor and is the perfect weeknight dinner or meal prep meal.
Ingredients
1 pound ground turkey
1 head cauliflower, minced finely
1 teaspoon chili powder
2 teaspoons oregano
1/2 teaspoon cumin
1 teaspoon garlic salt
1 teaspoon salt
1 cup red salsa
Salad:
2 heads romaine, washed and shredded:
1 cup premade pico de gallo
1 cup pepper jack cheese, shredded
1 cup cheddar cheese, shredded
1/2 cup pickled jalapeños (tamed), drained
2 cups corn chips (I like the ones from Trader Joes)
Dressing:
1/4 cup ranch dressing
1/4 cup red salsa
2 heads romaine lettuce
Instructions
Preheat a large non-stick or cast iron pan over medium high heat.
Add the ground turkey and break up with a spatula. Then add the cauliflower and cook until the meat is fully cooked.
Add the chili powder, oregano, cumin, garlic salt and salt and mix to combine.
Add the red salsa and stir. Remove the meat from the stove and set aside while you prep the rest of your ingredients.
Place the romaine in your serving bowl. Top with meat mixture.
Then top with pico, cheeses, pickled jalapenos, and corn chips.
Combine the dressing ingredients and pour on top of salad.
Toss everything to combine and serve immediately.