Italian sausage meatballs and spaghetti is a traditional Italian dish that is perfect for a Sunday dinner or dinner for a crowd. This tasty dish combines juicy meatballs, Italian sausage, cooked spaghetti, and tomato sauce for a comforting and flavorful meal.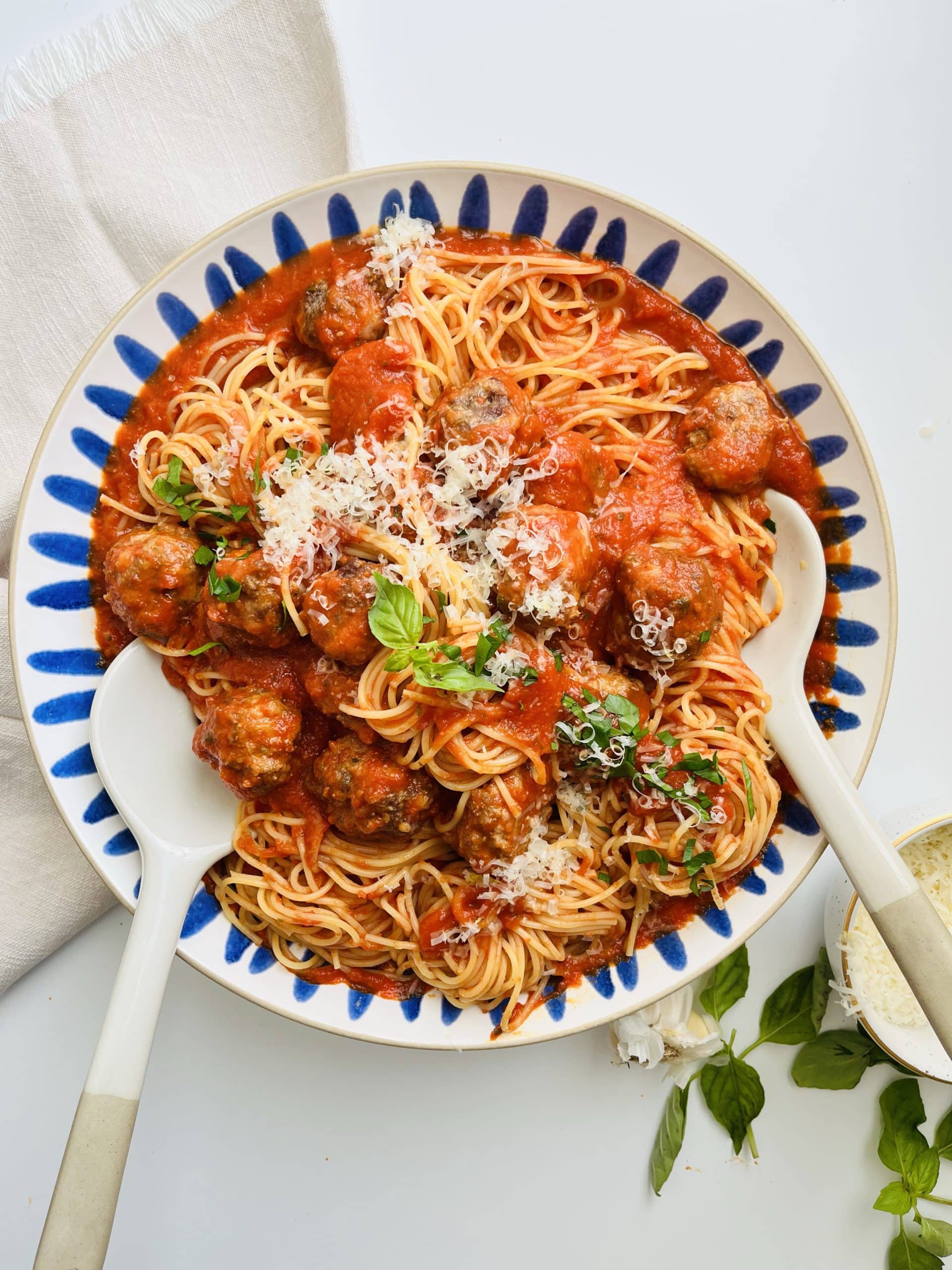 Indulging in a mouthwatering plate of Italian cuisine is an experience that delights the senses. One classic dish that has captured the hearts of food lovers worldwide is Italian sausage meatballs and spaghetti.
Italian sausage meatball recipe is easy and so full of flavor.
Join us on a culinary journey as we explore the essence of this beloved Italian dish.
Italian Sausage Meatballs:
The key to creating Italian sausage meatballs that burst with flavor lies in the quality and selection of ingredients.
These tasty homemade meatballs use Italian sausages made from pork, herbs, and spices. You can use hot Italian sausages or mild Italian sausages.
The unique flavor of fennel seeds, garlic, oregano, and red pepper flakes enhance the meatballs, giving them a true Italian taste.
To craft the perfect meatball mixture, combine the sausage meat with Italian breadcrumbs, grated Parmesan cheese, eggs, fresh garlic, herbs and a pinch of salt and pepper.
Gently mix the ingredients until well-combined, taking care not to overwork the meat.
This keeps the meatballs tender and moist, making them melt-in-your-mouth and enjoyable to eat.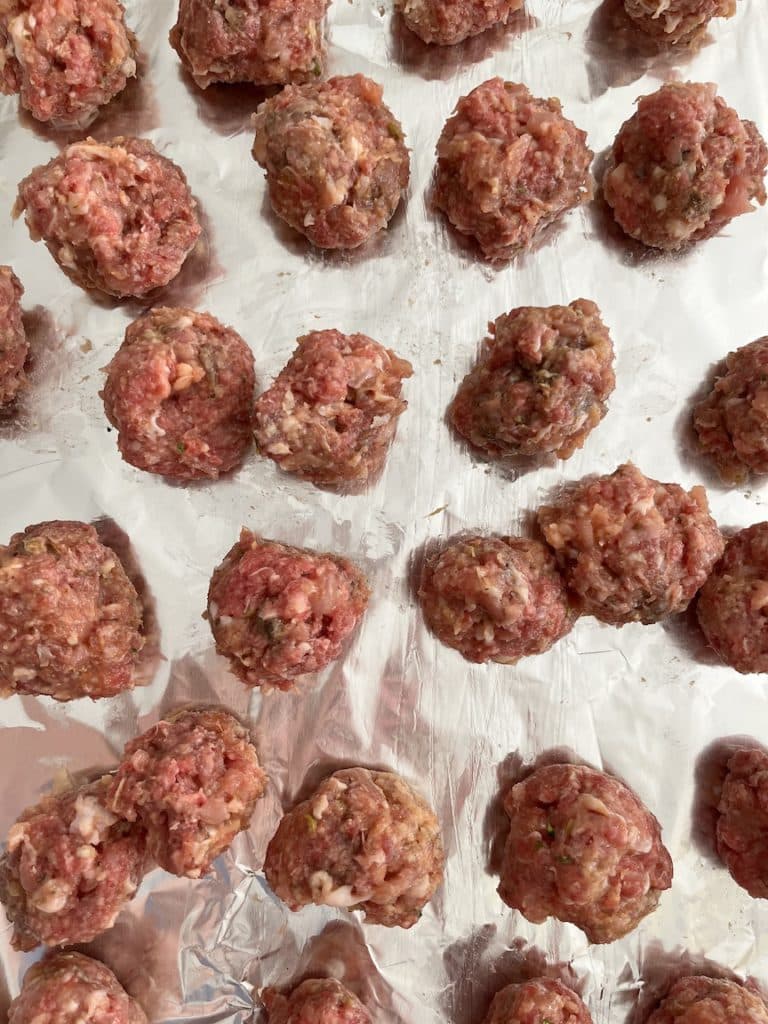 Shape the ground meat mixture into small balls. Place the balls on a baking sheet lined with foil or parchment paper. Keep them on the sheet until you're ready to cook.
Cooking the Italian Sausage Meatballs to Perfection:
Italian sausage meatballs can be cooked in different ways. One common method involves browning them before adding tomato sauce.
The other method is to bake them in the oven. Let's go over both.
Pan Searing:
Heat a skillet with a drizzle of olive oil and carefully place the meatballs, allowing them to brown on all sides.
This step not only adds a delectable crust to the meatballs but also enhances the overall flavor profile.
Once the meatballs are golden brown, transfer them to a pot with your favorite tomato sauce.
Let them simmer gently, allowing the flavors to meld together while infusing the sauce with the delicious essence of the sausage.
The result is a rich and hearty tomato sauce that envelops the meatballs, providing a tantalizing contrast of textures and tastes.
Oven Baked:
You can also bake the meatballs in the oven for a slightly healthier option.
To cook the meatballs, place them on a baking sheet covered with foil. Bake them at 400 F for approximately 20-25 minutes.
I like the searing method more for an authentic Italian meatball recipe, even though it's messier.
Perfectly Paired with Al Dente Spaghetti:
The marriage of Italian sausage meatballs and spaghetti is a match made in culinary heaven.
Spaghetti is perfect for soaking up tomato sauce and highlighting tasty meatballs with its long, thin shape.
Cook spaghetti al dente: firm with a slight bite when you eat it.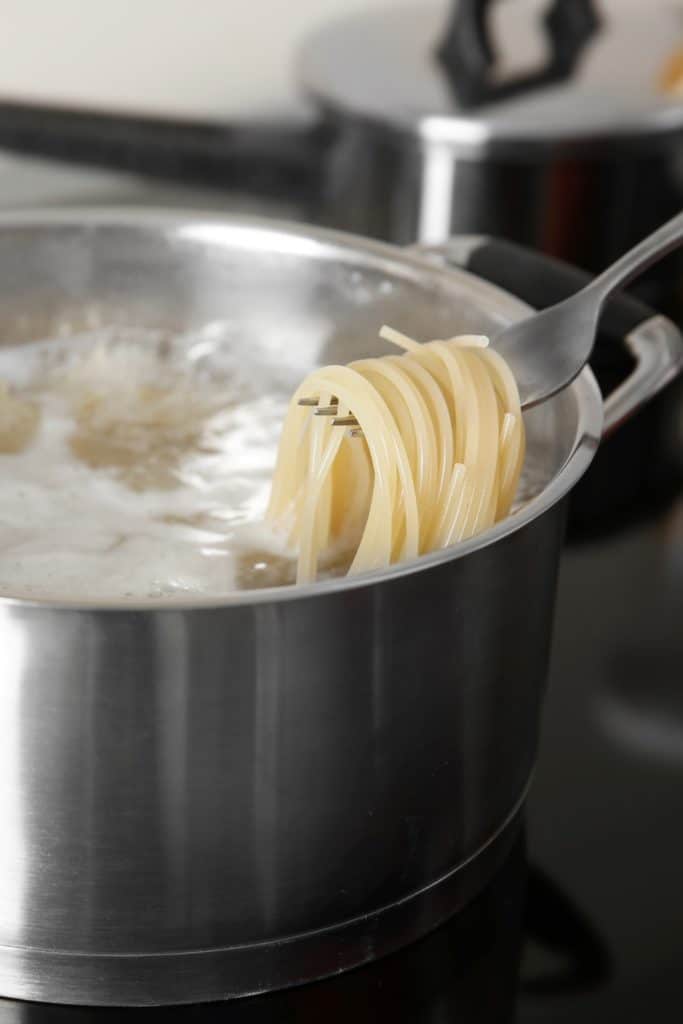 The key to achieving that perfect al dente texture is to cook the spaghetti in a large pot of boiling, salted water.
Make sure to follow the package instructions for the cooking time, but be sure to start testing the pasta a minute or two before the suggested time.
You want it to be cooked, but still have a slight resistance when you bite into it.
Once the spaghetti is cooked to perfection, drain it in a colander, reserving a small amount of the cooking water.
This starchy water can be added to the sauce later to help bind everything together. Return the drained spaghetti to the pot and and immediately add the sauce to prevent it from sticking together.
Bring It All Together:
Now it's time to bring everything together.
Place a generous portion of the meatballs on top of the spaghetti and ladle a generous amount of the tomato sauce over the top.
Gently toss the spaghetti and meatballs together, ensuring that each strand is coated in the flavorful sauce.
Garnish and Enjoy:
To add an extra touch of authenticity, sprinkle some freshly grated Parmesan cheese and fresh herbs like basil or parsley over the top.
The salty, nutty flavor of the cheese complements the richness of the sauce and adds a delightful finishing touch to the dish while the herbs add a delicious brightness.
Serve the spaghetti and meatballs piping hot, and watch as your family and friends dig in with gusto. The combination of tender meatballs, tangy tomato sauce, and perfectly cooked spaghetti is sure to be a crowd-pleaser.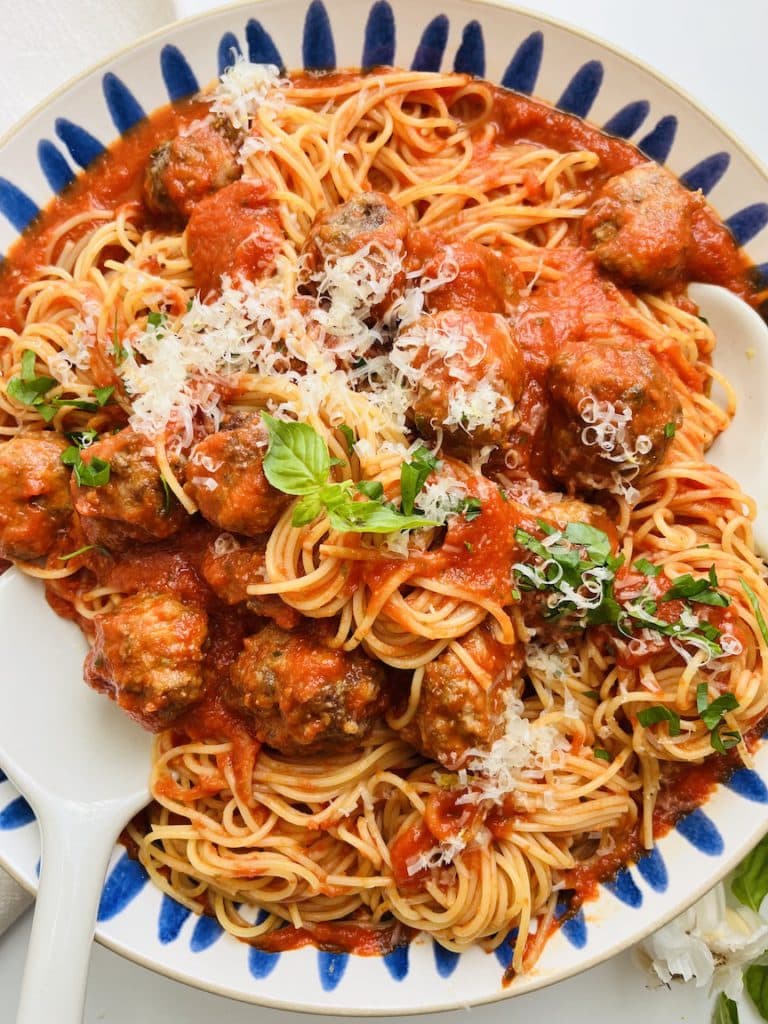 Enjoy the tasty mix of sausage meatballs, cooked spaghetti, and tomato sauce as the flavors dance on your tongue.
This tasty dish goes well with a glass of red wine for a classic Italian experience that is cozy and satisfying.
Spaghetti and meatballs is the perfect recipe for a cozy night at home or for a large family dinner.
Italian sausage meatballs and spaghetti offer a tantalizing taste of Italy, transporting your senses to the heart of this beloved cuisine.
So next time you're craving a comforting and satisfying meal, give this Italian sausage meatballs and spaghetti recipe a try.
It's a classic dish that never fails to impress, and with a little practice, you'll be able to recreate the flavors of Italy right in your own kitchen. Buon appetito
Other Delicious Italian Recipes:
Try out some of my other delicious authentic Italian recipes.
Italian Beef Sandwich Florentine Style
Pasta Carbonara Recipe From Culinary School
Rigatoni Bolognese With Herby Whipped Ricotta
Lemon Pasta Primavera With Browned Butter Sauce
Italian Sausage Meatballs and Spaghetti Recipe:
Yield:

8
Italian Sausage Meatballs And Spaghetti
Ingredients
For The Meatballs:
1 pound mild Italian sausage
1 pound ground beef
4 cloves garlic, minced
1/4 cup Italian bread crumbs
1 teaspoon Italian seasoning
1 teaspoon salt
1 egg
For The Sauce:
2 tablespoons extra virgin olive oil
5 cloves garlic, peeled and smashed
2 (28 ounce) cans San Marzano tomatoes
2 teaspoons salt
1-2 tablespoons sugar (depending on how acidic your tomatoes are)
1 cup fresh basil leaves
For The Pasta:
1 pound spaghetti
parmesan cheese to top
fresh basil to top
Instructions
For The Meatballs:
Combine all the ingredients for the meatballs in a mixing bowl.
With a 1 oz scoop, scoop the meatball mixture into balls and roll softly. Place on a foil lined baking sheet.
Scoop the remaining meatballs and set aside until you are ready to make the dish.
Preheat a large cast iron skillet over medium high heat.
Add 1-2 tablespoons of oil and sear the meatballs on all sides until caramelized and brown. Don't worry if they are not cooked all the way through. You will finish cooking them in the sauce.
Drain the meatballs on a paper towel lined baking sheet while you make the sauce.
For The Sauce:
In a stuch oven or large shallow saucepan heated over medium heat saute the garlic in the olive oil for 1 minute (be careful not to burn).
Add the tomatoes, salt and sugar and bring to a simmer for 15 minutes.
When the tomatoes have reduced a little, blend the sauce with an immersion blender (make sure the head of the blender is completely submerged in the pot).
Add the basil and blend until smooth.
Taste for flavor and add more salt or sugar if needed.
Finish The Dish:
Bring a large stockpot of water to a boil.
Add your seared meatballs into the pan with sauce. Cover and let cook while you cook for 10 minutes.
Add a couple of tablespoons of salt to the boiling water and add the pasta. Cook to package directions.
When the pasta is done and al dente (to the tooth) reserve about a cup of the pasta water.
Then strain the pasta and add directly into the meatballs and sauce.
Toss to combine completely. You can add the remaining pasta water if it is too thick.
Transfer the pasta and meatballs to your serving plater and then top with grated parmesan cheese and fresh basil.
Recommended Products
As an Amazon Associate and member of other affiliate programs, I earn from qualifying purchases.
Nutrition Information:
Yield:
8
Serving Size:
1
Amount Per Serving:
Calories:

511
Total Fat:

30g
Saturated Fat:

10g
Trans Fat:

0g
Unsaturated Fat:

20g
Cholesterol:

107mg
Sodium:

1341mg
Carbohydrates:

27g
Fiber:

1g
Sugar:

5g
Protein:

31g