My go-to Fall breakfast recipe is this No-Rise Caramel Apple Cinnamon Rolls with Salted Caramel Frosting! Nothing beats freshly baked homemade cinnamon rolls.
Cinnamon rolls are a staple in our home on cold, Fall days. They are gooey, delicious, and full of salted caramel goodness. Think of a caramel apple meeting a cinnamon roll and having a baby and the result is my Caramel Apple Cinnamon Rolls. It's the perfect combination to create a festive Fall recipe.
You can also make this recipe without the caramel frosting. Instead substitute it for a cream cheese frosting to make the perfect easy, homemade apple cinnamon rolls. Either way, you won't be disappointed! 
If you're not into apples in your cinnamon rolls, try some of my other cinnamon roll recipes, like these pumpkin cinnamon rolls or my delicious no-rise cinnamon rolls with cream cheese frosting. 
Are you ready to make one of my favorite Fall breakfast recipes? I think you will LOVE this one. Above all, they will definitely satisfy any caramel apple craving and are delicious and easy to make! 
Let's talk about some tips for making these cinnamon rolls:
Don't skimp on the filling:
The filling may be a little watery. Let it cool completely before putting it on the dough. This is a must, or your dough will become soggy and you won't be able to roll them well! 
Do not let it rise:
These cinnamon rolls are no rise for a reason. Because there is quite a bit of yeast in the dough if you let the dough rise for more than 10-15 minutes, the yeast will start fermenting the dough and give it a fermented flavor, which doesn't taste great in my opinion.
If your cinnamon rolls are falling apart it is okay!
These apple cinnamon rolls will naturally be more likely to fall apart because of the filling,  but they still bake perfectly! You just want to make sure the filling is completely cool and that you roll the cinnamon roll tightly and quickly. 
Make sure your cream cheese and butter are room temperature:
Cold cream cheese will cause your frosting to be lumpy. Let it sit out at room temperature, or you can even throw it in the microwave for 30 seconds.
Caramel Apple Cinnamon Rolls: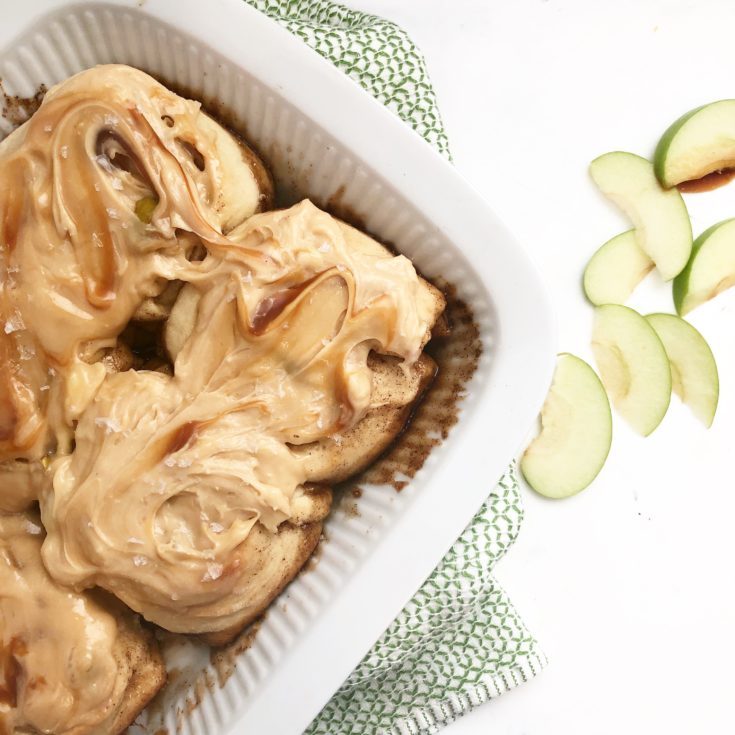 Yield:

16
No-Rise Caramel Apple Cinnamon Rolls with Salted Caramel Frosting
Easy, Fall breakfast recipe.
Ingredients
FILLING # 1: (you can make ahead and refrigerate)
¼ Cup Unsalted Butter
3 Cups Green Apples, Peeled, Sliced 1/4 Inch Thick
½ Cup Brown Sugar, Packed
1 Teaspoon Vanilla Extract or Vanilla Bean Paste
2 Teaspoons Cornstarch Mixed with 1 Tablespoon Water
FOR THE DOUGH:
1 ¾ Cups Warm Water
3 Tablespoons Dry Active Yeast
½ Cup Vegetable Oil + 2 Tablespoons (for rolling out)
½ Cup Granulated Sugar
2 Eggs
½ Tablespoon Salt
5 ¼ Cup Bread Flour
FILLING # 2:
1 Cup Brown Sugar, Packed
¼ Cup Butter, Softened
Sprinkle Ground Cinnamon
FOR THE FROSTING:
½ Cup Unsalted Butter, Room Temperature
1 (8 oz) Block Cream Cheese, Room Temperature
3 Cups Powdered Sugar
½ Cup Salted Caramel (I like the one from Trader Joe's)
Optional: Maldon Finishing Sea Salt
Instructions
1. Preheat a medium nonstick sauté pan over medium heat. Melt the butter and then add the apples. Sauté for 2-3 minutes. Add the brown sugar, vanilla, and cornstarch mixture, and cook for 7-10 minutes or until the apples are soft. Let cool completely in the refrigerator.

2. In an electric mixer fitted with a dough hook, mix together the first four ingredients for the dough. Let sit for 10 minutes. Add the rest of the ingredients, and turn on low for 3-5 minutes until the dough is silky (it will be a little sticky). DO NOT LET RISE!

3.Smear 2 tablespoons oil on a clean work surface (I use my counter) and roll out the dough ¼ inch thick in a rectangle shape. Top with filling #2 (spread the softened butter on the dough, then top with brown sugar and sprinkle generously with cinnamon). Lightly press the filling down. Then top with filling #1 (apple mixture with all the liquid) and spread out evenly.

4. Working quickly, roll the dough to form a log. Starting on the end closest to your body, roll the dough away from you. Continue to roll the dough (as tight as possible, but being careful not to break the dough) until a long log forms (some of the liquid will spill out, and that's okay).

5. With a bench scraper, cut the log in half and then cut each half in half. Continue this process until it yields 16 rolls. Place the rolls in a greased 9x13 baking dish. Let the rolls sit for 10 minutes while you preheat the oven to 400°F.

6. Bake for 13-15 minutes. Remove the rolls from the oven and top with frosting (directions follow).

Optional: Sprinkle with Maldon Sea Salt.

To Make The Frosting:

1. Beat together the butter and the cream cheese until smooth.

2. Add the powdered sugar and mix to combine.

3. Add the caramel sauce and mix to combine.
Notes
You can also cut the rolls by using unflavored dental floss. If your cinnamon rolls get smashed from cutting, simply reshape while putting them into your baking dish.
Recommended Products
As an Amazon Associate and member of other affiliate programs, I earn from qualifying purchases.
I've got lots more easy fall recipe ideas on my blog, including Easy Pumpkin Pie Bars and Pumpkin Cinnamon Rolls with Maple Cream Cheese Frosting.